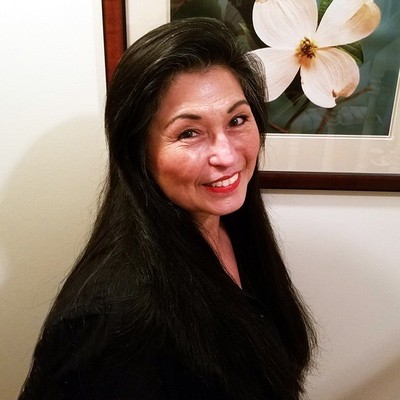 Nancy Chen Long
Poetry
Nancy Chen Long is the author of Light into Bodies (University of Tampa Press, 2017), winner of the Tampa Review Poetry Prize. She is the recipient of a National Endowment of the Arts Creative Writing fellowship, a writer residency at Ox-Bow School of the Arts, and a scholarship at the Provincetown Fine Arts Center. You'll find her recent work in Third Coast, The Southern Review, The Adroit Journal, Valparaiso Poetry Review, Ninth Letter, Alaska Quarterly Review, Pleiades, and elsewhere. She works at Indiana University in the Research Technologies division.
Eight Ways of Looking at a Man-Kite
after "A Girl with a Kite" by Algis Griškevičius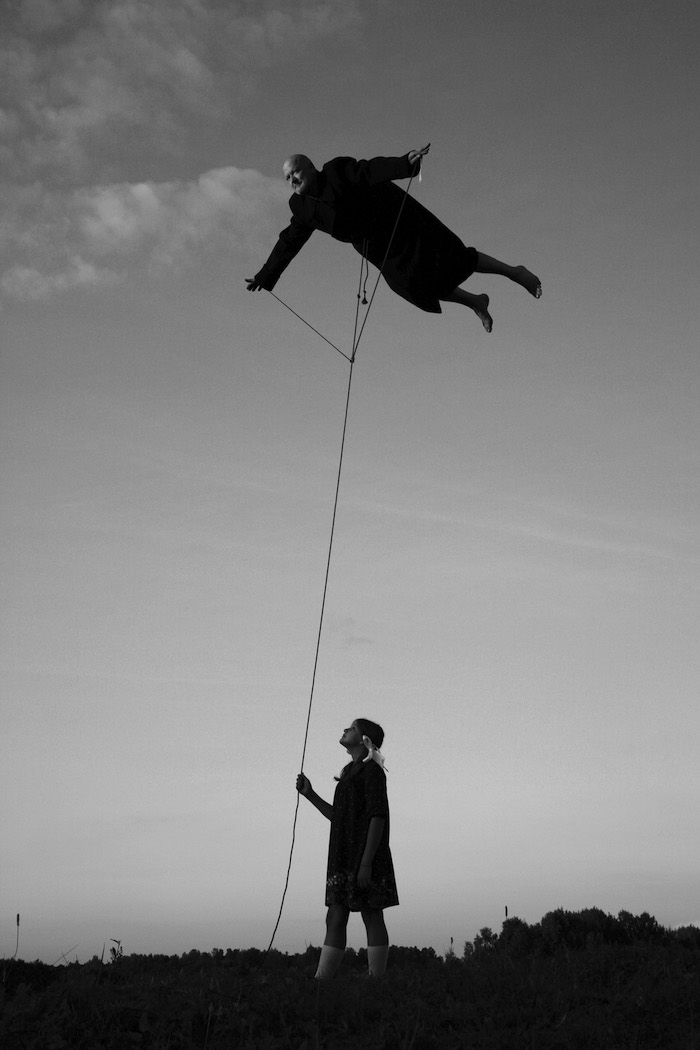 1. Her newly-surfaced father might simply be a quaint idea, the inkling of family erased the day he bolted. He's giddy to learn she's become an architect of bridges. Both of them wary he'll fly away again. Both conscious of the tether that now anchors him to her. Earning her trust through stories of place—horizons unable to keep their secrets, parables of being unbridled. He's content to bob in the air as she guides him with string unfurled from a gyroscope. Later at the bistro, she'll speak of archways and compass, surprising him with her tensile strength, her breadth of knowledge —more remarkable than any place he's ever lived. 2. Everyone spends their days at the hotel. Her mother tends the kitchen. Vichyssoise and salad. Butterscotch sundaes in the service area. She's a chance child of science, trained in flight, the use of air as a method of escape. No father but in her friend the concierge who longed to be airborne. One day, in the name of friendship and science, in the service of homework, she cobbled together a kite—fashioned a sail out of terrycloth scraps, bolted into place a frame from old curtain rods, knotted hotel linens together to form a tether. And when she sent her friend up into the prevailing winds, he, happy to be wearing a kite-robe of hotel hand-me-downs, wondered why he hadn't worn any pants. 3. Because he fears falling. Because at 70, age urges him to be scientific as well as sincere, while progress urges him to be the student— he will skip the hat and wear a kite, rising high enough to strike the lenticular clouds, while friends wave up to him like residents of Oz hailing the Great and Magnificent. Because he wants to be like his young neighbor, wizard-kind—airborne since birth, she dares to strike out on her own. Because, wind-guide, she teaches, tightens every harness. Because she loves longshots and nighttime somersaults across zephyr winds. Because even storm- riddled, she flies untethered, no string to strike. 4. You can count on the air to sustain your uncle's heft in the same way you can count on the copperhead draped across your shoulders to lick your neck at sunset. Yes, most days are amazingly dull. Oh, it's pleasant enough, this girdled view from the ground. Life must surely be more than a reckoning. Most days, all that counts is the breeze kicking up. Rare is the man who doesn't require a good bat suit in order to stay aloft. But all that's needed for you to fly are patent leather shoes and your trusty snake, if only your uncle would let you. 5. I can soar higher than any O'Keefe, Matisse, or Magritte. I'm the Picasso of Wednesday hot-air balloon races, a winner, the one to back. Happiness is not the point—I have enough fantastic articles on flight, enough science strung with bits of art, enough snarky answers to make every foe back down. But first, I must suffer my rival. Really, she's from the Addams Family. Why else would she call me Uncle Fester? I'm ready for my next great feat—my easel, the high-noon sky blazed with cayenne. Not this mocking kite-dream. Punish this. No—publish it. My importance makes me dangerous. Why else would my rival fly me like a kite? Why else would she turn me into an
objet d'art
? 6. He's the type of uncle that's wrong. She's the type of niece that has shackled him onto a red kite. As she smiles, she pulls and he dips. She releases just a skosh and where is he? Repentant, gnawing his nails to the quick. In due time, a cyclone will cause her to ground him. He'll see she's grown into a hawk or a wizard. He'll attempt to free himself from himself, separate the quick from the dead. But for now, puppet uncle, he howls and flails. And when she grins, she scares the shit out of him. 7. For childhood friends, happiness is an act of courage, a trust experiment. One must be kite- ready, compass in hand—the next adventure just a jet stream away. She's the one grounded this time, antsy for her turn to jet into the cobalt. He depends on her, guided by wind-tufts, to navigate him safely over the ridge. Tumbling in the clouds, he dreams of their last escapade—cashews, beef jerky, cherries, oatmeal. Popping in the air like popcorn, he bumps into a hawk, grateful it wasn't a jet, realizes he really has to pee. What a dilemma! Later, chess. Cheese sandwiches and gherkins, cookies and Tang—drinking like astronauts. 8. A Wednesday wind once floated in, carrying a father. He stood on clouds of trees, spun stories through the breeze, theories tied to a rope around his waist. Afraid of tornadoes.
If you believe it, then you will be it
. And wasn't he always so busy believing in air? He said his family was the thing that weighted him.
Cut me more slack
! he commanded. Rope in hand, her grip loosened as he hovered over the pale, straw-stippled prairie. Up, up, up, he soared. She thought that day of letting go, letting him bob to Kansas or Kentucky, free herself to find a solid father, not one invested in wind.
" This poem was inspired by A Girl with a Kite by Algis Griškevičius, http://algisg.lt/en/. More often than not, the one on the ground is the one who wants to fly. "