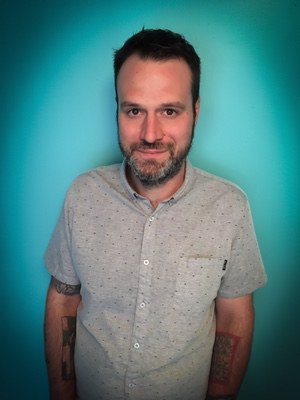 John Sibley Williams
Poetry
John Sibley Williams is the author of eight collections, most recently Controlled Hallucinations, and the editor of two Northwest poetry anthologies. A five-time Pushcart nominee, John serves as editor of The Inflectionist Review and Board Member of the Friends of William Stafford. A few previous publishing credits include: American Literary Review, Third Coast, Nimrod International Journal, Hotel Amerika, Rio Grande Review, Inkwell, Cider Press Review, Bryant Literary Review, Cream City Review, RHINO, and various anthologies. He lives in Portland, Oregon.
The House Winter Built
This is the gap
between houses
spiked by fences
where certain birds gather
into a crowded warm plural
while others—today it just happens
to be a blue jay—are as kindled by solitude.
*
Standing here, divided by glass from a dawn
clouded as an early Polaroid, I count
two strands of footprints helixed for a while
ground down to one then to a faint red after-stain, everything
gradually erased by snow. In time
a
becomes
the
, as in
a fawn used to eat
the green from my lawn
, as in
all the deer
are gone now
. I am haunted
*
by the space my body fills
and how little it matters
when my breath on the window
cools to winter.
If home is an invented place
why does it hurt so much
to leave?
*
There's a pool of bells in the distance.
The knitted spine of a sycamore naked
and gray. Above the fence a thin slice of sky.
Above the sky a single galaxy uncoiling into millions
of lights. Many of the birds are as silent as light
but today on the fence between us there's a blue jay
bold and alone, like someone I know I will lose
and still burn for.
" Through various interconnected snapshots, 'The House Winter Built' endeavors to weave together a number of natural transitions in order to erase the false dichotomy of x or y. Autumn to winter, animal to human, life to death, together to apart, memory to the actuality of home, all exist on the same spectrum, often simultaneously. "