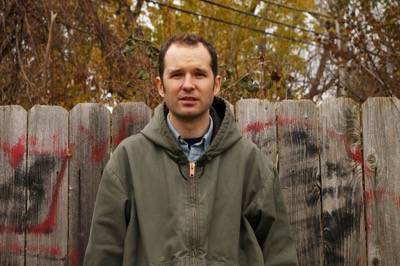 Cal Freeman
Poetry
Cal Freeman was born and raised in Detroit. His poems have appeared in many journals including The Journal, Commonweal, Berfrois, Birmingham Poetry Review, RHINO, and The Drunken Boat. His first collection of poems, Brother of Leaving, was recently published by Antonin Artaud Publications, an imprint of Marick Press. He lives in Dearborn, MI and teaches at Oakland University.
Our Father, the Lost Geometer
Down near the creek, Euclid Avenue floods
with brown-green water. I rest my right hand
on his
Elements
and swear that my life
will always be this circumscribed and small,
a rite that goes by many names,
among them allegiance, temperament, weather.
My sister wanders out in a fog of obtuse angles.
She wears a Gore-Tex slicker to bear
the heavy rain that's falling from the north.
Cataracts echo in the culvert;
the submersible pump emits its steady hum.
Last August I watched the mud of the creek bed
dry to shaved ridges of bone
from the west-facing doors of my mother's house.
These drastic riparian shifts drown
and erase the stories nobody wants told.
I keep referring to Euclid as our father.
I keep guessing where the edges of this life
fall off into ensoulment. In bisecting
the city he made us who we are,
a terminal series of squares and birthing lines,
as if this town were the geometry of grief
and we were blameless.
" Ecorse Creek in Southeastern Michigan runs a circuitous path off the Huron River in New Boston southeasterly through Dearborn into Lincoln Park and Allen Park, eventually meeting the Detroit River in the post-industrial city of Ecorse. It sits on a bed of stubborn clay that doesn't absorb the rainwater well, tabling it high, and as a result the creek often floods my Dearborn neighborhood in spring. I like to walk to the end of my street after a good downpour and listen to the current echo off the macadam bridges and banks. In Lincoln Park the creek runs beneath Euclid Street, my father's road. My father is a cantankerous old man who often complains about the flood insurance he is forced to pay. If I get a call from him in April or May, it is typically about the goddamn creek refusing to heed its banks. I walk down there with my sister and her border collie almost daily. "
To be Sung at Certain Funerals
Black trusses of the drawbridge
gleam in river mist, that span

of iron work between Trenton and Grosse Ile.
My friend Brad Morris

drives his VW Rabbit forever
from the mainland to nowhere

listening to mix tapes and considering
the wild anachronies of heaven.

~

Radial tires of the procession
rumble over grates.

The Trenton Channel
swifts around the jetties

toward the big lake.

~


The family asked me to play guitar
and sing at the funeral. I hadn't spoken

to Brad in nearly ten years.
I felt like an impostor.

I wouldn't have wanted me there
if I were them. His father

was moved to tears,
explaining that I was a real friend

to Brad because I hadn't been
his friend during the bad times.

Some version of tough love,
some mess of grief and logic.

~

In the middle of the night,
in the floodlit shadow of a spire,
Brad pulls into a parking lot

and sees a deer's glowing eyes
in the shallow woods
behind the church. Votive candles

light the stain glass windows
of the atrium. He scrolls
the contacts in his phone,

looking for a high school
girlfriend's name, thinking he
has typed her in and she will

show up here, halated
like the dawn, to nurse him
from narcosis, that inveterate

track marks might sew themselves
of the needle's wake.

~

I picture him turning blue
after injection and the jaundiced woman
with the face tat and lip rings
shoving an ice cube
up him while dialing 911.

~

Each song is a vague guess
at its own meaning.

~

He is in in in
the many predicates
such as spirit, and night

predicated upon several
hours of naked daylight,
which leave us translucent

as gobies or saints,
finds all that inheres
and all that only seems

to disappear until somebody
breaks into sobs, or sings.

" A little over a year ago, I lost an old friend to a heroin overdose. His father asked me to play guitar and sing at the funeral. Brad and I had played in a band and written songs together as teenagers, and both the family and I remembered those as good times. Still, I felt very much like an impostor, not having spent any time with Brad in over a decade. I was glad to sing and reconnect with old friends though. When somebody dies at 34, there is nothing good or comforting to say, and singing is invested with enough feeling to stop short of sense; it seems better than platitudes about someone being in a better place or being free from pain, though I don't blame anyone for offering those on such occasions. While writing this poem, I had the theme from Roethke's 'Elegy for Jane' in mind: 'I, with no rights in this matter, / Neither father nor lover.' There is a fine line between honoring the dead and arrogating somebody else's grief. "