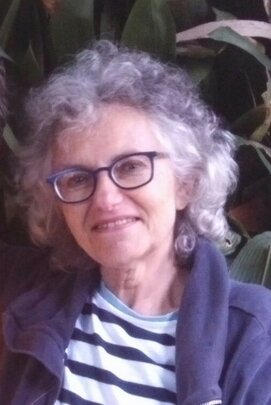 Susan Messer
Creative Nonfiction
Susan Messer has had fiction and nonfiction published in Triquarterly, Glimmer Train Stories, North American Review, After Hours, Colorado Review, Creative Nonfiction, Fourth Genre, and Another Chicago Magazine. Awards include an Illinois Arts Council Fellowship in prose, an Illinois Arts Council literary award for creative nonfiction, and writing prizes from Moment magazine, Chicago Public Radio, Glimmer Train Stories, and the Center for Yiddish Culture. Her first novel Grand River and Joy was chosen by the University of Michigan Honors College as the summer reading book for freshman. She lives with her husband in Oak Park, Illinois, and works as an editor. You can learn more about her by visiting her website: www.susanmesser.net.
An Extended Definition of Unclassifiable Knowing
When my husband and I bought our house, it had a clanky black metal mailbox screwed into the stucco near the front door, and we hadn't lived there long when we found a letter in it for people with the last name Southwick. The people we bought the house from were named Elsass, so it wasn't for them, and (at that point) we didn't know anyone named Southwick, so I wrote NO SUCH ADDRESSEE on the envelope and put it back in the box.
Our address was 328 North Lombard, and our house was built in the 1920s. It had the Prairie School elements that flourished in our town—broad eaves, bands of windows, rectilinear woodworking details—all echoes of Frank Lloyd Wright, who had for many years lived and worked here. It was a quiet neighborhood, and it was a solid house with many good features—lots of light, big closets, an extra room upstairs on the back, what they call a tandem, where I could have an office or the child (I was pregnant when we bought the house) could have a playroom, and in the yard was a large willow tree with lacy, swaying branches.
As we settled in and made the house our own, more mail arrived for William and Judy Southwick. Some Southwick letters were addressed to 328 North Lombard, where we lived. Others didn't specify north or south. And the third cluster were addressed to 328 South Lombard, which I discovered by looking in the phone book—something people still did in the 1980s—was the correct and rightful address of someone named Southwick. These were business-type letters, mass mailings from banks, and credit card solicitations, so it didn't seem that much was at stake when I wrote DELIVER TO 328 SOUTH LOMBARD on the envelope, with triple underlines below South, and returned them to the mailbox, to make their way back into the US Mail system and eventually, I hoped, to their rightful addressee, about six blocks south of us.
Maybe seven years into this, say it was the mid-1990s, the situation advanced. I'd established my office in the tandem, the baby was now a child, enrolled in the elementary school a few blocks away, large branches of the romantic willow had broken off and fallen through our garage roof at least twice, prompting repairs and tree trimming at great expense, and I was expecting a FedEx package from a client. All morning I waited, checking the porch, looking out my front window for the FedEx truck, finally calling the client, learning that the package had not only been sent but recorded as delivered.
"But not to me," I said. And then the hand-wringing and the pacing and the maddening frustration, and then my phone rang. The voice of a calm man, asking for me. Bill Southwick, he said. Of South Lombard. He had received my FedEx package, and he would bring it right over. And soon there he was, at my door, a trustworthy-looking man, perhaps ten years older than myself, my hefty FedEx package in his hand, his wife, Judy, waiting in the car, and me expressing gratitude.
Some years later, the Southwicks received a bouquet of flowers intended for my high-school-aged daughter, and they brought it to her. A few years beyond that, around Christmas time, we received a big package of holiday foods, wrapped in cellophane and adorned with ribbons, intended for them, and I delivered it.
The letters from banks, the credit card offerings, the travel catalogues intended for them continued to arrive, but with these lower-ranking deliveries, I usually called to make sure it was junk before I recycled it. I remember that one time, I didn't call. I misjudged something from a bank as junk, and Judy called me, looking for it.
Our phone calls to each other about these things were brief. Judy didn't seem to hold the one-time judgment lapse against me. We laughed as we tried out different terms for our relationship: "your reverse mirror image" or "your polar opposite." Alter ego. Double helix.
Twice, when we ordered cabs to go to the airport, the drivers showed up at South Lombard while we waited nervously to the north.
~
About fifteen years into this, the "knowing" advanced yet again. This was 2002, and a story ran in the local newspaper about a woman named Laura Southwick, who had grown up in our town. At age 33, a designer of fashion shoes, she had fallen ill and died while on a business trip to China, and Bill and Judy, who, the story revealed, were her parents, had at first been unable to get many details about her death. It was an unimaginably difficult situation, and the newspaper story ended with a quote from Bill, saying that he had been a minister for all his work life, but that he had lost his faith after his daughter's death, and that it would be difficult for him to find his way back to belief.
Faith, which I took to mean something along the lines of belief in a benevolent God, was a perennially suspect concept to me, but I admired and was moved by the courage of a minister who publicly revealed the extent of his despair. In my own life, from the Jewish rituals of death and mourning, I'd learned what I considered a more trustworthy concept: respect for one who is grieving, the onen, a person pulled from normal life and flung into deep distress, so I sent a note, deposited with a sense of faith, I suppose, in the US Mail. I wanted the Southwicks to know that even a person tied to them in such an undefinable way knew and cared about their loss, cared about them, and thereby crossing us over, if the note was ever delivered or if they could even comprehend it in their agony, into some new dimension of emotional connection.
A few years later, I read in the newspaper that they had launched the Laura Southwick Foundation, in their daughter's name. The purpose was "to encourage and support young people who have shown an interest in the applied or fine arts so that they might begin to discover their own style and start to shape their aspirations."
What a wonderful purpose, I thought. How fortunate I am to "know" these people. I made a donation, and Judy Southwick wrote to thank me.
A few years later, 2009, when my first novel was published, Judy wrote to tell me she had read it and enjoyed it very much.
~
Ernest Hemingway, who was born here, in Oak Park, and stayed on as a boy and a teenager, is reported to have called this a town of "broad lawns and narrow minds." Perhaps that was true in his day, but in my day, some lawns are far broader than others, and most minds are what I consider broad, at least along the left end of the political scale. In the 1960s, well before I lived here, Oak Parkers made an intentional decision to resist the white flight to the suburbs that was occurring all over the country, including in Chicago, just over the eastern border.
Back then, people who lived in Oak Park chose to welcome integration rather than flee it, and the village leaders designed policies to encourage stability. Homeowners could not post for-sale signs on their front lawns, and the village set aside funds to compensate homeowners if they found their property values had declined as a result of changing neighborhoods. And the schools implemented busing, to achieve a racial and socioeconomic mixing between students from the east side of town, where the narrower lawns lie, and students on the west side, where you find the broader lawns, including those on the magnificent Frank Lloyd Wright homes.
Over the years, Oak Park built on its progressive vision. It gained a reputation for being welcoming to interracial and gay families. We voted to become a nuclear-free zone, and our village trustees voted to become a sanctuary city. And perhaps most dreamy-eyed of all, several years back we voted yes on a resolution to repeal the Second Amendment—a move initiated by my across-the-alley neighbor.
These experiments, especially as related to racial equity, have been far from flawless. Our schools struggle with an academic achievement gap between Black students and White, and statistics show disproportional discipline applied to Black students. Crime, including that involving handguns, spills over from the economically challenged west side of Chicago. Some Oak Parkers are being driven out by ever-increasing property taxes and an infusion of expensive high-rise apartments and condos. A few years ago, the public library added a social worker to its staff because so many homeless people spent their days there (pre-Covid, of course). And intense conflicts erupt around many issues, from defunding the police to the trimming of trees on the parkways. But overall, when I strike up a conversation with someone on the street or at the farmers' market, or when I form a bond, for lack of a better term, with someone around the phenomenon of misdelivered mail, I can generally assume I am connecting with a kindred spirit, someone who shares many of my social and political values and dreams. And this was clearly the case with the Southwicks, whose mail continued to arrive at our house.
328 SOUTH, I'd write on the envelope.
Everyone receives misdirected mail, but I never have understood why for decades, so much confusion so consistently surrounded our two addresses.
~
Perhaps it was 2011, and a letter came for Judy, from the oncology department of one of Chicago's big hospitals. Not a good return address. And also likely something she would want right away. So I drove over, thought about ringing the bell, but instead, an attempt to respect her already somewhat-violated privacy, slipped the letter through the mail slot. Is Judy okay? I wanted to know but had no one to ask.
Then: 2012, and my husband and I were just back from vacation and going through the piled-up mail and newspapers when I saw the obituary.
Judith Ann Southwick, 73, died on Aug. 27, after a long struggle with cancer.
The memorial service had already occurred, or I think I would have gone. But I learned the outlines of her life from the obituary—born in 1939, married to Bill in 1963. Worked as a journalist, a literacy volunteer, and a civil rights activist. Mother of two (the daughter, Laura, had predeceased her).
I wrote another note—this time, just to Bill, picturing the stoop and open hands of a gentle, grieving man, with a face I would not likely recognize if I found myself sitting beside him in the park, as I had barely ever been face to face with him over the years. So I overlaid my father onto him, his vulnerability and loneliness after my mother died.
This felt something like knowing someone. But, say, I was at a party and someone asked, "Do you know the Southwicks?" I wouldn't have had a short answer.
~
One day, a hand-addressed note in a flowered envelope arrived for Bill. You see them so rarely these days. It was during the terrible Chicago winter of 2013, when we had the polar vortex, and every day another layer was added to the mountains of snow. It was a year after Judy's death, and thinking again of my own father, and how lost he was after my mother's death, I wanted Bill to have this pretty letter, so I drove it over. The next-door neighbor was shoveling his own walk as I maneuvered up the Southwicks' porch steps.
"He's out of town," the bundled-up neighbor said.
"Well, I've got a letter for him."
"I can take it," he said, holding out his hand.
I gave it to him, but then fretted that I'd made a mistake, that he would never give it to Bill. He would forget about it. Or he wasn't trustworthy. A nosy neighbor. But then I forgot about the letter until early spring, when I was at the eye doctor, for my annual checkup, dilation drops in my eyes, waiting to be examined. Myopic folks know that increasingly blurry look of things.
"Bill Southwick," a nurse called out.
"Bill Southwick?" I said, as if the name of a long-lost relative had been called, and I sprung from my seat looking around through the blur.
"Yes?" he said, his vision likely as compromised as mine.
"It's me," I said. "Susan Messer."
"Oh, yes," he said, and we shook hands. But even then, I couldn't see him clearly enough to be sure I would remember his face.
The nurse stood waiting for him, and I'm assuming that all the dilated eyes in the room were on us.
"Did you ever get that letter I gave to your neighbor?"
"Yes," he said. "Thanks. I was away for the winter."
"He told me. I'm so glad you got it."
But then he was ushered off to the examining room, just around the corner from where I sat, and where the doctor told Bill, in a voice that was louder and more cheerful than seemed appropriate, that he had a cataract, but that it was up to him whether to do something about it now or wait until it became a more significant problem.
I wanted him to wait (why go through a surgery unless you absolutely need to?). I hoped that Bill would be as wary of medical practitioners as I was. After all, a Chinese hospital had failed to save his daughter. The Chicago oncology department couldn't even get his wife's address right. But I worried that Bill might not have the strength, on his own, to resist. I wanted to go to his examining room, to give him the support I imagined Judy might have given, when I heard him say he would wait. And so I sat, holding my increasingly inscrutable magazine, grateful for Bill's wisdom, wondering how I would now answer the question "Do you know the Southwicks?"
"I know he has a cataract," I might say.
~
So it was almost not a puzzle a few months later when my doorbell rang, and I ran down the stairs from my tandem office to find two workmen on my front porch, saying they were here for the sewer remediation and I had no sewer problems.
Shortly thereafter, however, it was slightly more of a puzzle when I found a big, heavy box on my front porch, addressed to an unknown woman at 328 Lombard, with no indication of north or south. My husband said to mark it "No one here by that name," but I had a feeling about it, so I took it over to Bill's. I rang the bell, and he answered. I showed him the box, and he laughed, quiet and gentle.
And thus he told me, as we stood at the door to his house, of the new woman in his life, someone he'd met through a friend. One day he'd wanted to go to an art exhibit in Milwaukee, but didn't want to go alone, so he'd taken a chance, called this new acquaintance, and she said yes. One thing led to another, and now she had moved in, the box was for her, from her sister in Kentucky, they'd have to tell the sister about the North-South muddle. But also, he told me, they were moving to Bellingham, Washington, a town they both liked very much. A new start. It would be a while, though. He had a lot of cleaning out to do in his house—possessions accumulated over many years, antiques his parents had collected.
~
So this was it, I thought. The end of this other-imposed link between us—a halt to whatever forces had conspired to reveal so many events of his family's life to me. I told him I'd thought about him often over the years. I'd done some writing about our connection. I'd told a friend about it, said I'd been wanting to finish off the essay, but I didn't know how. "Why not invite him over for dinner," she said, "and see what develops?"
So with this possibility in mind, I asked him if he'd like to sit for a few moments. And we did, there on his porch, the box for his new partner on the floor beside him.
We recounted memories of our interactions—that first FedEx package, the flowers for my daughter, the letter from the oncology department. He'd forgotten some of it. I had retained more of the details, as I'd been writing them down.
I asked him about the sewer remediation, and he laughed. "You even know about that?" He told me he'd been out of town when the basement flooded. What a mess and a hassle. He was still settling with the insurance company.
We joked about telling the new people, the ones who would someday buy his house, about their polar opposite, their alter ego, this double helix. And I suggested we get together for dinner sometime—with my husband and his new partner. He liked the idea, but I never followed through.
And so it only stopped me briefly, perhaps six months later, when my doorbell rang, and I once more ran down the stairs from my tandem office, finding a woman on my porch asking if this was the place for the estate sale. And then it didn't exactly surprise me, but it stung me, a quick moist rush to the eyes, on a quiet evening in July 2016 when I drove past, on the way to my local open mic and saw moving trucks parked outside Bill's house.
Ah, I thought, then that really is it. I'd reached the outer boundary of this thing between us: all these years—close enough to know their trials but not close enough to offer comfort. Done. Finished.
Until a letter and then a package arrived for the Popelkas.
" A friend who lives in New York told me this story: For years, she took the same long commuter train trip to and from work. Over time, she came to recognize certain people—their faces, coats, beverages, newspapers, books. One day, my friend was called for jury duty, and when the judge entered the chamber, she recognized him as one of these commuters. During the screening process, each person was asked whether they knew any of the parties. My friend became confused. Was the judge considered a party? Did she know him? Was she legally obligated to disclose what she knew? Would it seem silly or stalker-ish to do so?
I have often wondered about such hazy categories of knowing. The man who washes my windows every spring. The person who tunes my piano twice a year. The dentist I visit two or three times a year. I know these people because of the services they provide, but over the decades I have also come to know about their lives—their children, grandchildren, disappointments, travels, hip replacements, food preferences. The Southwicks, however, became part of my life for a very strange reason: 30 years of confusion over addresses.
Sometimes a writer just has to sit where she is, and a story presents itself like a gift. This is that kind of piece. "