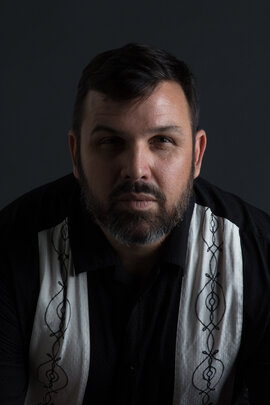 Gregory Byrd
Fiction
A Fulbright fellow (Albania, 2011) and Pushcart nominee, Gregory Byrd's poetry and prose have appeared widely, recently in Apalachee Review and forthcoming in Saw Palm. His current projects are the World War I novels Where Shadow Meets Water, about a pilot from Florida, and Long Train Home to Scarborough, about a reporter and a nurse. Greg's recent poetry chapbook, The Name of the God Who Speaks, won the Robert Phillips Prize from Texas Review Press. Greg teaches writing and humanities at St. Petersburg College in Clearwater.
Dita e Verës
You can't walk around anywhere in Tirana without being reminded of sacrifice. Try to walk somewhere—go ahead. You'll find yourself walking Dëshmorët e Kombit, Martyrs of the Nation Boulevard. Go far enough one way and you'll find yourself in Sheshi Nënë Tereza, Mother Theresa Square. Go the other way and you'll find Skanderbeg, George Kastrioti, sitting on his 15th-century horse with his sword raised and his big beard pointed into the future. Or you'll find the park of the three Frashëri brothers, or the streets named after them. There are only three of them but it seems like there must be a dozen. Talk to the right people and you'll hear about the couple thousand people who died in 1998. Walk by the Prime Minister's building near the Pyramid and you'll pass the place where three protesters were killed six weeks ago. The blood from their gunshot wounds has been washed away and the flowers left for them are gone, but you can still see the marks on the street where cars were burned. So even though I was hoping that Dita e Verës, the festival to celebrate the end of winter, would help me forget, I kept seeing signs of sacrifice. The posters for the holiday with the young child holding a daisy seem a lie.
I would actually prefer to go into work at the bank and help the vice-manager with the reconstruction of the auto and home loan procedures that we'd been working on. It was a sweet gig. I'd found the job online through a listing for USAID in Europe. I'd been out of work for four months and with the economy in the tank, no one was interested in hiring a bank VP. My master's degree in Finance and Banking Systems was about useful enough to wipe your butt with until this ad came up at the bottom of other ads: "USAID seeks banking executive to help overhaul and implement new procedures in developing European country. Housing provided. Generous salary."
"You should go for it, Dad." Madelyn had smiled brightly over my shoulder as she looked at the laptop screen. I imagine she'd watched me searching for jobs a lot while she got ready for school.
"You want to go to Albania?"
"It's in Albania? Where's that?" Well, she and I learned more about Albania in the next few weeks than I could have imagined, but it was a surprise to both of us when we decided that she would stay in Wendover and finish her senior year while living with her best friend while I worked in Tirana. At least I would be able to pay our mortgage and for her prom dress.
It was going to be a much better prom dress than she had imagined, though Maddie would have to fly all the way to Albania to pick it up. That was going to be my big present to her. The dressmaker had been working in her little, bathroom-sized shop on some tiny rruga off Rruga e Elbasanit to get the basic dress made for her. Maddie would have flown in tomorrow for the fitting, and we would have spent a week traveling in Italy before she went back just in time for the prom.
I find myself in front of the dress shop, though I don't remember how my feet had directed me here. I had only been thinking about Maddie, and the dress shop, like most things, was closed. The dark blue dress shimmered on its padded hanger along with coats and dresses and blouses in different stages of finish, which were also waiting for their owners to try them on, get the final fitting, put some life into them. I could imagine how she would look in that dress, how I had planned to get a picture of her in the dress and me in my suit before she left for the States. I would only have the pictures of her and the other girls that she would send me after the prom and would not be able to send her off and tell her to be careful and not to drive if she'd been drinking and to be careful about boys. Be careful about boys. Could I have told her to be careful about that boy? Even if I weren't here, would I have been there? When she was little I imagined myself shooting boys who would try to hurt her, putting a hunting knife to their throats and telling them to get the fuck lost. But I wasn't there and I couldn't even think of violence anymore, as angry as I'd been since yesterday. Even if they catch him, I don't feel like killing anymore.
Before catching the flight back tomorrow, I will pay off the dress and take it with me. She can wear it one last time.
I find my way back to Dëshmorët e Kombit, where all of the people are. They have blocked off the street, and children in strollers and parents and kids kicking balls and flying kites are everywhere. On the street is vendor after vendor selling Elbasan cookies. The secretary at the office told me about them. They're only available for Dita e Verës so I assumed they'd be something special, with poppy seeds or nuts or something. I am hungry. It's noon and I haven't eaten all day. I don't remember when I went to sleep last night. People kept calling. I talked with my mother for two hours. I talked with Maddie's friend. She thinks it's all her fault because she didn't pick Maddie up from school that day, and I had to talk her out of all that. I'm usually more calm the worse things get. When the tornado destroyed our house when Maddie was seven, I remember calling Joan and telling her, "Don't come home. A tornado came through and our house is gone." She was going to come home anyway, figuring that it was just damaged or at least there were things to salvage, but except for the cellar it was like the house was never there. Perhaps that's why she left me, but I think it has more to do with work being so busy. Or maybe we never really got along. When we talked last night, she didn't blame me straight out, but I know that she thinks that if I had stayed at home that Maddie would have never taken a ride with that boy or if Maddie had chosen to move to Phoenix with Joan and Ed that she'd be alive today.
The cookie is really just a sugar cookie. It's good and not too sweet, but it doesn't have anything special in it. Sometimes things are best that way. Just plain and without anything special added. My aunt made cookies like these, but no one ever got the recipe. A thought strikes me that she was Albanian and no one in the family knew it. Imagine the scandal in that little Pennsylvania town in the 1940s! I'm almost done with the cookie when I remember (how do I forget this sometimes?) that I'm hypoglycemic. On an empty stomach, I'll have a headache and feel fuzzy for hours. Add to that no sleep. I saw the sun come up this morning over the parti-colored buildings before the traffic started honking and the crisp young men at the café downstairs started making Turkish coffee.
I am almost down to Sheshi Nënë Tereza, where I hear more music. I buy something that's a cross between a sausage and a hot dog on a fresh baked bun. They sprinkle something that looks like hot pepper, paprika, and salt on it. It's good and the protein will help me. I walk up to the university building where the statue of Mother Theresa, Albania's favorite daughter, stands. She is leaning forward, stoop-shouldered, as if patting someone on the shoulder. How did she get to be so old working among the poor and diseased? What was it she caught that bent her so? Or was it maybe all of that suffering that she shouldered, whatever load God couldn't take? I feel like I know her. Maybe God's like a big, strong friend, but he can't carry everything and sometimes you have to carry the heavy stuff for him. Sometimes maybe he has a hernia or something and you have to carry the heavy stuff so much that it bends you down and puts your body in a permanent question mark so that, even if you're not even five feet tall, you reach down to pat someone on the head. No one is looking when I let the statue pat me on the head. This Theresa is probably seven feet tall. She's bronze. I wish I were seven feet tall and bronze. Maybe I could shoulder all of this and carry the dress, too. I keep thinking of Maddie in the shallow grave, as they said, but I think of how she hated to be dirty that way and how she would be wanting to take a shower. An image of the camp shovel buried in her shoulder comes to me and I fall at Theresa's feet. I want to hold Maddie in my arms and wash her off.
Music is playing in the square. I hadn't noticed it before. One amplified tent is for a Greek energy drink, and people are gathered around some musicians playing something. Soon I am part of the crowd around the musicians and I can see that it's some sort of Native American music, though the performers are dressed more in what Albanians would expect of American Indians. One has a full headdress and another wears buckskins. One is playing some sort of congas, the one in the headdress is singing and the one in the buckskins is playing a pan flute. It sounds much more like Ecuadoran or Bolivian music to me but it has something infectious that the young Albanians like. Someone leaves and I'm shuffled to the front. An old woman is walking around inside the circle where the performers are. She is hawking CDs for the group. When she comes to me, I hand her a thousand lekë. It's about ten bucks but she hands me three CDs. She sees the crossed Albanian and American flag pin I wear on my lapel. She says in a very standard American English, "Are you American?" I nod and say yes. She rubs her hand across my forehead, my cheekbone. "You are Indian." I nod yes, though I don't really know this. It's only a story in my father's family.
Suddenly I am pulled in the center of the circle. She says something I cannot hear to the other musicians, and the drummer is drumming more loudly. She takes my hand and makes me sway with her. The singer in the goofy headdress makes me repeat whatever he's saying in Lakota. I sing it and I don't know what it is. I realize I'm crying as I'm singing and I don't care that anyone sees me. The man in buckskin puffs into the pan flute. I don't know what I'm a part of. I'm looking down as I'm singing and watching my tears fall on the dry pavement. The old lady strokes my head until the music dies to all but the drum beating like a heart and the crowd clapping with the drum. I see the people's faces and I whirl around. I see their mouths moving and soon I hear nothing but the drum pounding in the same beat as the thumping in my chest. I see Maddie in the desert, crying too, her silent mouth open and singing. I see the sun on the horizon, but I cannot tell if it is rising or falling. I feel an old woman's hand gentle on my head.
" In winter/spring of 2011, I taught creative writing in Tirana, Albania as a Fulbright Fellow. Tirana is a vibrant city but bears the scars the dictatorship of Enver Hoxha as well as a long history of surviving invasions by Greek, Turkish, Italian, German, and other groups. On some blocks, buildings are simply missing. One finds small, dome-shaped machine gun bunkers in the oddest places—next to a nice restaurant, on a scenic mountainside. Streets are named for heroes and martyrs. While I was there, my mother sent news that my cousin had been murdered in rural Nevada, her body buried in a shallow grave. About that time, we attended the Summer Day festival and it seemed ironic in a sort of T.S. Eliot way, that there would be a celebration of life while I was thinking of my cousin's murder. Perhaps thinking of how my own daughter would soon be twelve and was growing more and more independent, I conflated some of the things I was thinking into this story. The Albanian tailors and dressmakers make highly crafted custom-made clothing. There actually was a Native American band playing in Sheshi Nënë Tereza (Mother Theresa Square). Perhaps the tone of the story owes something to my reading the stories in Ismael Kadare's Agamemnon's Daughter. "