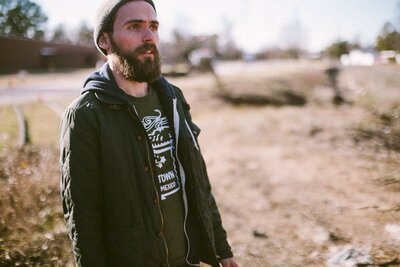 Bryce Emley
Poetry
Bryce Emley is the author of the prose chapbooks A Brief Family History of Drowning (winner of the 2018 Sonder Press Chapbook Prize) and Smoke and Glass (Folded Word, 2018). A Narrative 30 Below 30 poet and a recipient of awards and residencies from the Edward F. Albee Foundation, the Glen Workshop, the Wesleyan Summer Writers Conference, and the Pablo Neruda Prize, Bryce works in marketing for the University of New Mexico Press and is Co-Editor of Raleigh Review. Read more at bryceemley.com.
St. Felicity Watches St. Perpetua's Executioner
–after The Martyrdom of Perpetua (watercolor, unattributed)
She folds herself like a prayer and he hesitates, as if counting the knuckles of her vertebrae were the task at hand, as if he might bow to touch her cheek, kiss her brow, whisper into her hair. His weapon readied at his hip, quivering in his hand— he could almost be alone with her, and I could be a stranger passing, paused to see through a window a dimly lit room where a wife braces before the coarseness of her man. Struck, she buckles then rises, presses the tip where her neck sings open. What, I wonder, does the blade belong to: the hand or the wound? He looks as if he has no answer for this, but is asking. He looks as if he wants to belong to a god naïve enough to forgive.
" A few years after my mom died, I started writing poems about the female martyrs named in the Roman Canon's Commemoration of the Dead as a way of writing about her. I saw her in the stories of these women whose holiness, like hers, was measured in suffering, who were revered for devoting themselves to a historically patriarchal religion. Felicity and Perpetua were executed for their dedication to that religion, and some scholars think they might have become romantic partners while imprisoned together. Studying the scene of their execution showed me a little more of my mom, someone who gave herself to an institution that has so often failed to protect those most faithful (and vulnerable) to it. "