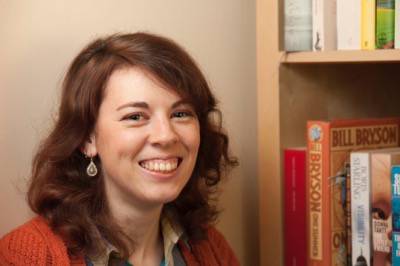 Roisin Kelly
Poetry
Roisin Kelly is an Irish poet who was born in Belfast and raised in Co. Leitrim, and has since found her way to Cork City via a year on a remote island in the west of Ireland. Her poems have appeared in The Stinging Fly, The Timberline Review, The Irish Literary Review, Synaesthesia, The Interpreter's House, Aesthetica, The Penny Dreadful, Bare Fiction and POETRY magazine's Young Irish Poets issue. More work is forthcoming in Banshee.
Ballycotton
It was on a July evening last summer
that I realised the impossibility
of owning another person. I'd spent
too long in the city, in a state

of nauseous heartbreak, and as the streets
filled with the dust of people
coming home from work, my friend
drove us out to the country,

to the Ballycotton cliffs. We walked
apart—I was some way
behind, watching her long hair
brush her back like grass that reached

from either side of the path
and was swept aside by her knees.
My bare arms and the shorn fields
were evening-light golden

while the sea below
crawled in and out with
the sound of water in darkness
because the cliffs were already in shadow

and young boys from the village
poised to jump from a rock down there
were shivering, all lean
white chests and skinny arms.

As the lighthouse in the bay
slowly opened its red eye, I watched
the boys and thought about one of them
growing older; wondered

if he'd ever hold a girl to him, if
she'd listen to his heart and if, without
his knowing, she'd love him
in the way a man can be loved.

I wondered, too, if she'd ever be this
summer evening to him:
at once the oily water, the cold
plunge, damp rocks echoing

with his friends' cries, and high
above him—the day's last shreds,
the silhouette of an unknown woman,
an amber sky.