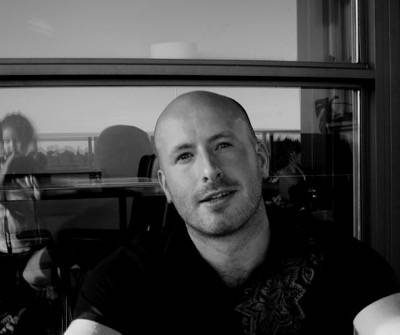 Michael Johnson
Poetry
Michael Johnson is from Bella Coola, British Columbia. His poetry and essays have appeared in The Southern Review, The Fiddlehead, Weber, Shenandoah, and The Malahat Review, among others, and been selected for the Best American, and Best Canadian poetry anthologies. His first collection, How to Be Eaten by a Lion is forthcoming from Nightwood Editions. He works at a vineyard in Okanagan Falls.
Sitting on a Fallen Cedar
It has taught us sway, unsway,
to mimic its crown
browsyful in the banqueting wind.

The last storm laid it down, here,
where dew nests in the grass
like the eyes of a field of serpents.

There must be a word for how light finds one
sitting on a fallen cedar,
the stand in their burled tongue

adding a verse in the dusty croon of us,
the moon candling in the clouds
and wandering through the trees,

everything painted shades of soot
and raven, of obsidian and snakeback,
the wind a suggestion of cello,

the low chorus of rot building, a vigil of ants
marking the mossroot concourse
through lilytongue and hellebore —

if you slow their song, the crickets become
tremulous, vibratory, haunting as a choir
where no choir should be,

where the ants gauge our footfalls,
everything bated,
and as we move, they move.

Heir
It was the field, rock by fucking rock,
hauled fenceward, and the field, finally, fenced
and the tender blessing of their knickering
out there in the grass, the tympani of hooves
flushed from the barn, the moon and shadows
pennons in their nightly cantering.

It was hayrakes tidying the mower rows,
the muscled teens by chugging balers cursing
the dogged days, dreaming scantyclad river drifts,
heaving horsefeed onto the roving balecarts.

Later the gnawn fruit and garden growth
bribed from the deer and bears
with apple husks and squash rinds,
pumpkin skins oozing in the compost.

And the lowtide mussels sunning like butterflies
plucked and broken by gulls from their heights
across the saltskeined bedrocks,
the snow waning across the tattered ridges
and cedars playing their shadow theatres
on the mossy skins of stones
and ravens singing old myths and lusting
after salmon eyes in the gasping shallows.

It was the dreaded cellar door,
hay bale hives and gunnysack itch,
potato pile scree in the bins, horse pucks
petrifying in the nightshade stalls,
the shelves specimened with mason jars
like trophies from some orchard apothecary.

It was the 20° below, mice treading
the tunneled walls with mousely abandon,
wind bawling on the roofcorners,
the ache of coveted window displays,
Sears catalogue fantasies,
everything envied, everything craved.
Through the brittle bones of our want
there were kingdoms we wished for.
Keep them. I have my kingdom.