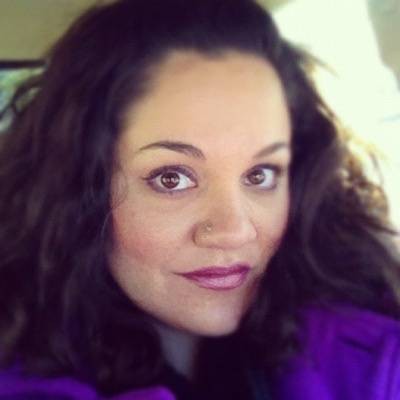 Jennifer Givhan
Poetry
Jennifer Givhan was a PEN/Rosenthal Emerging Voices Fellow and a 2015 National Endowment for the Arts poetry fellowship recipient, as well as the 2013 DASH Literary Journal Poetry Prize winner, an Andrés Montoya Poetry Prize finalist, and a 2014 Prairie Schooner Book Prize finalist for her collection Karaoke Night at the Asylum. She earned her MFA from Warren Wilson College, her Master's in English from Cal State Fullerton, and her work has appeared in over seventy literary journals and anthologies, including Best New Poets 2013, Prairie Schooner, Indiana Review, Rattle, The Collagist, cream city review, and The Columbia Review. She teaches at Western New Mexico University and online at The Rooster Moans Poetry Coop. You can visit Givhan online at jennifergivhan.com.
Ritual With Fish Water
When the doorbell rang this time, she knew
it would be different. The driftwood
of his shoulders knocked his rigid chest
like hooves. Her floating man. "This
rotten world," he said almost before she could
react, "it's half-gutted, isn't it?" Did
she nod? She opened the door wider, allowed
him in—dragging his fish, his strings of light,
his wounds—from the rain. She didn't feel hope,
exactly, nor dread. "A drink?" she asked.
"Scotch," he said, folding
to unfold as an origami lantern on her couch,
muddying her pillowslips. She said nothing.
She'd gone on living without
his good nights beating against her
like a broken radio signal. "I've missed you—"
She watched him hold his glass restlessly,
a bit of brine pooling at his pant legs, his loafers.
"There's albondigas on the stove." Out of habit,
"Will you stay? Can you eat?" He set down
his empty glass, picked up some walnut husks
from their little basket on the table
and began cracking them on his knees,
her prince of gnats and ache, her shining
mollusk king, debuting from death in
minor latch and key. "Hey, look. Dorothea—"
But she lurched toward him anyway. There'd be no
confetti tonight. No clean pears on the windowsill.
"You need to know what I'm here for," he tried
again, not quite pushing her back, not quite
accepting her embrace. "Never mind that,"
she said, her neck growing scaly, salt
spindling her hair. She waited for the drowning—
" Culturally and personally, the Latin American myth of La Llorona has long haunted me, and at the time I composed this poem I'd been studying Robert Frost's 'Home Burial' for its use of dialogue and gesture, of its shifting power dynamics, as a means of deflecting sentimentality while embracing emotional resonance. I'm also influenced by the Mexican surreal painters Remedios Varo, Leonora Carrington, and Frida Kahlo—and their work is always with me as I write. "