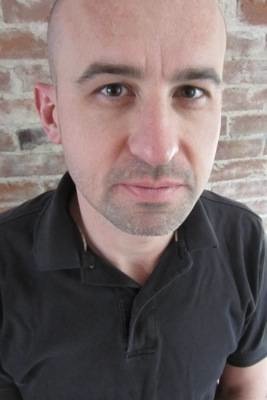 Piotr Gwiazda
Poetry
Born and raised in Poland, Piotr Gwiazda is a poet, critic, and translator. He has published two books of poems, Gagarin Street (2005) and Messages (2012), a critical study James Merrill and W.H. Auden (2007), and a translation of Grzegorz Wróblewski's book of prose poems Kopenhaga (2013). His poems, essays, reviews, and translations appear in many journals, including AGNI, Chicago Review, Denver Quarterly, Jacket, The Nation, The Southern Review, the TLS, and XCP: Cross Cultural Poetics. He teaches modern and contemporary poetry at the University of Maryland Baltimore County.
The Propertyless
One pushing a shopping cart. One writing furiously
on a small piece of paper. One sleeping
under the Washington Bridge. One
munching a plum.

—

This tangelo tastes better than the last one.