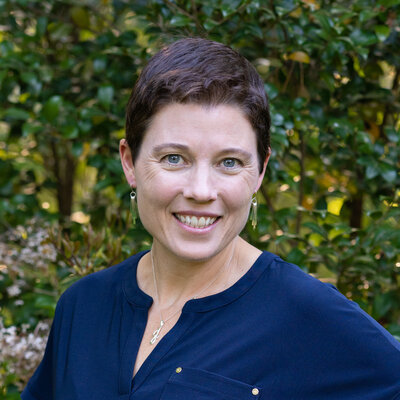 Jill Witty
Fiction
Jill Witty writes novels, short stories and nonfiction from Richmond, Virginia. She received her MBA from UCLA and her BA in English from Yale. Her writing appears in Catapult, Pithead Chapel, New Flash Fiction Review, Atlas & Alice, and elsewhere. She loves running and eating dark chocolate, though not simultaneously. Connect with her at her website, jillwitty.com.
The Unraveling
January
Mom once told me, after attending the funeral of a fellow dancer, that it takes twelve months to overcome grief. Now that it's my turn, I figure knitting a blanket might help the time pass, even though knitting and I have never gotten along. I chose a diamond honeycomb pattern from one of Mom's books and bought a blue-gray merino blend from the yarn shop down the street. The shop ladies recognized me from my picture, hanging there on the wall, in a nubby green sweater Mom knit me. One rubbed my shoulder and another, tear in her eye, asked me to come knit with them any time.
February
My knitting is slow and clumsy, not effortless like Mom's. She would have knit two blankets by now, all flawless stitches.
When it was clear that I couldn't stop her from dying, I gave her a sticky pad for anything she wanted me to remember. Instead of timeless wisdom, she wrote things like, "Sherry isn't just for soups." She hid them all over the apartment like a treasure hunt, which missed the point.
I've never lived here without Mom and even though it's rent-free, I won't stick around much longer. I made a pile of her old dancing clothes to donate, but then I put a pair of her cozy leg warmers on, and I lost heart for the Goodwill trip.
March
The bamboo needles crack and clack under my cold, dry fingers. They remind me of Mom's brittle bones. I hate knitting on Mom's bones, hate the slate-blue yarn that reminds me of her eyes. The stitches slip and I don't know how to fix them.
Mom's old meds still line the bathroom shelves. I'd clean them out, but a note on her face cream said, "Never throw medicine in the trash." Unhelpful.
A college classmate, Heather, lost her mother during our sophomore spring, and by the fall, she was stumbling around campus, trailing a hand-knit scarf, drinking from a bottle-shaped brown bag at all hours, shouting at the pigeons or stomping on flowers, until one day she wasn't. We never knew whether she dropped out, or got expelled, or what. Maybe she went back to her motherless home. Maybe she got stuck.
April
A red-breasted bluebird came to the window as I was knitting, and he perched on the sill in a one-footed arabesque. I dropped a stitch and swore out loud. He cocked his head. Then he opened his little beak to chirp, but out came this big, throaty caw. I swear it was Mom teasing me. I went to swat at him, but he'd already flown away.
I pulled the stitches off the needles and tugged at the yarn until I had taken out every stitch, three months' worth of work, endless strands of kinked tangles on the living room carpet. Then I searched the cabinets and found a half-full bottle of cooking sherry. I drank it until I felt sick and dizzy but at least the sight of the yarn didn't hurt. Take that, Mom.
May
I lugged the mass of tangles back to the shop and tried to give the yarn back. They grimace-smiled like I'd made an unfunny joke, but then I explained about the Mom-bird. The teary one turned the tangles into neat skeins while explaining that, as a first-time knitter, I should try an easier pattern, seed stitch, and she showed me how, and I almost broke down when she handed me back the perfect skeins.
Back in the apartment, I found a note at the bottom of a canvas grocery bag. "A smile goes a long way." If the bluebird were here, I'd roll my eyes at him.
June
Seed stitch is easier. I still hate knitting.
July
I've been making a lot of soup in Mom's stoneware pots because "hot soups cool you down," according to a note in the ice tray. She taught me you can make a soup from anything, even leftover butcher's bones and dandelion greens that grow between sidewalk squares. My soups don't taste like Mom's. While the soup simmers, I knit, but the wool is warm and my sweaty fingers lose their grip on the needles.
I found a note on the fan in Mom's closet: "Light a candle." What, this second? How would she even know if I did? I collected all the candles I could find and threw them in the trash, then covered them with the chicken carcass so I wouldn't change my mind.
August
The blanket is growing too big, too heavy. I've set it aside. I bought two more bottles of cooking sherry and finished them both. Good tip, Mom.
I've often wondered what Heather was thinking the first time she ditched her classes to get drunk on the quad by herself. Did she think she would stomp out her sadness? Or did she, too, expect to find her mother at the other end of the yarn?
September
I dropped by the studio to watch the new class of pointe students. My ear mistakenly expected Mom's raspy bark. Instead, a taffy-voiced woman called, "Pas de cheval, sous sous," and the line of long-limbed girls stepped like baby horses. I trotted home.
Was it the new-school-year energy? Did I have something to prove? Suddenly, I couldn't stop knitting. I finished the blanket three months early, but now I can't bring myself to use it.
The nights have turned chilly. Mom loved the fall, the onset of cold weather. When I was little, she would buy oversized, moth-eaten sweaters at the Goodwill for a dollar each. She'd unravel them and start from scratch, knitting her own designs, and I'd end up with a wooly pullover, scarf, hat, and mittens. So much more than I'd started with.
October
I arrived at the yarn shop twenty minutes before closing, hoping I could drop off the blanket undetected.
The teary lady, wrapped in a fall-colored mohair stole, recognized me right away.
You can have this. I thrust the paper bag toward her. Take it apart and reuse the yarn. She'd make more of it than a holey blanket.
She withdrew it, examined the stitches like Braille. You've inherited her gift. She draped it over my shoulders and took my picture for their wall, and I grimace-smiled but I couldn't bring myself to stop her. She sent the blanket back home with me, along with a new pattern and extra yarn.
November
I left the blanket on the stoop in a cardboard box, with a "free to good home" sign, but the box sat there for a week. I added "handknit with love" and a smiley face to the sign. After a few days, someone put the box on my welcome mat, along with a candle and a note saying, "Stay warm." The handwriting was loopy like Mom's. I brought the blanket back into the apartment.
December
Today the heat in our building went out. I lit the candle and dressed in two pairs of wool socks and one of Mom's knit hats. Still cold, I took the blanket from the box and canopied it around me, pulling it tight, like I was a present ready to be opened. Through the holes in the weave, I watched the candle flame plié and relevé.
Mom was wrong; grief doesn't last twelve months. It will probably last my whole life, if I'm honest. But it feels different every day, more manageable, the way loose yarn takes shape as it's knitted.
I pulled out a box of Christmas ornaments, and on Mom's favorite one, a handknit Big Bird with googly eyes, I found her most cryptic note yet. You'll love it, she wrote.
" My grandmother was a knitter. A child of the Depression, she found economical ways to raise her five children. She passed along her love for knitting, and her thrift, to my mother, who handed them down to me. This story is inspired by them. "