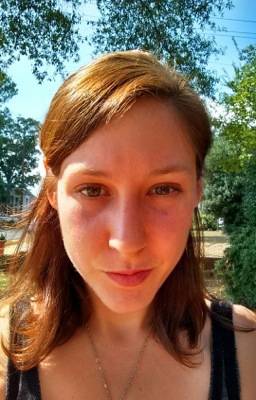 Maggie Nye
Creative Nonfiction
Born and raised in Gaithersburg, Maryland, Maggie Nye is a current MFA candidate at the University of Alabama in Tuscaloosa. Her fiction appears in Paycock Press's anthology Defying Gravity. This is her first essay.
Mourning with Strangers
On our second trip to New Orleans, my mother and I sat with a stranger at the covered bus stop on St. Claude at Poland Avenue. She was an older black woman, worn-out looking but tidy in her appearance. A dark floor-length skirt and her grey-streaked hair pulled tight and tucked away. My mother later called her dress conservative. It was her teeth, she said, that made her look old. Her mouth was caved-in. I don't remember her mouth particularly, but my mother is careful always to note the qualities that make a woman look old. I do remember thinking I ought to give the woman my seat and that she accepted it. My mother and I were riding a bus to the streetcar that would take us to the Garden District and Lafayette Cemetery No. 1 and we were mourning. When we are together, no matter what we are doing, we are mourning, always and evenly as breathing.
~
Without knowing it, we picked New Orleans to be the center of our mourning. Historical places are good for that—they let you nestle your small sadness inside their larger sadness, grief consecrated with plaques and statues. How many times did we say He would have loved it here?
Altogether, the city and Orleans Parish are 380 square miles, only 180 square miles of which is land—the rest is water, bayous and the Mississippi. And dispersed along the 180 square miles of land are 40 cemeteries, a cemetery every four and a half miles.
I am from an affluent suburb in Maryland where death is unsightly and grief, like shame, is a private affair marked only by the delivery of white lilies on a doorstep. Far enough North to have inherited Puritanical sensibilities, modesty in all things. There, we keep ourselves so far away from death that as children, when we passed graveyards, we held our breath so that no molecule of death could enter into us.
In New Orleans, I seek a new culture, whatever isn't native, not to wring out but to filter myself into. I cannot say why it is I am compelled to graft my loss onto a city that owes me nothing, to inscribe my tribute of mourning in the margins of necropolis marble.
Every walking tour there wanders through one of the cities of the dead—the name the living city gives its counterpart, as prominent as an afternoon shadow. Indeed, many of these graveyards resemble a city in miniature. The gated crypts in their rows like streets, sturdy and ornate, all have front doors. And the walls of vaulted graves, stacked neatly, each with its own entrance, appear like marble motels. You can imagine a mailman in funeral black navigating the overgrown alleys between the cryptic houses, delivering dead letters—offers for credit cards with no spending ceilings.
On such a tour, we paused in queue as our guide explained how the city's high water table necessitates above-ground burials so that the dead do not float out of their coffins after the first posthumous rain. To prepare for the homecoming of a new body, space must be created. As for the old corpse, said our guide and demonstrated a two-handed plunging gesture, which meant down they go.
~
Corpse is a cruel word when applied to any body with whom you've shared a bath.
~
The word corpse, from the Latin corpus referred, in Middle English to the living body. I do not know how we, the speakers of modern English constructed such grim associations, but I hate the word. Now, only the pronunciation of the letter 'p' distinguishes our verbal understanding from the word 'corps,' a group of people united by a common purpose, or, in French, as in Middle English, simply a body.
~
We suffer from the plosive sound of 'p', that necrofying consonant.
~
In the weeks following my brother's death, my mind played tricks on me: I heard him sing down the sidewalk outside of my mother's house in goofy falsetto, I smelled him everywhere: a combination of old man undershirt and sweet sausage. And, of course, I saw him. At a crosswalk, at the grocery store, in the parking lot, I would stop and stare into the faces of young men I did not know, dissecting their features with scientific concentration to disprove the impossible. In these moments, the resurrecting silence of 'p' and he became corps, living briefly in the bodies of strangers, glancing at me through strange eyes.
I still experience these illusions sometimes, even after twenty months. Recently, I stole a long look at one of my students while he was occupied by a quiz for which he had not studied. He had the same over-stuffed cheeks and rounded chin and the same pointed nose. He lacked, however, the look of perpetual inquiry my brother had when he wasn't too stoned to focus. These days though, I'm more interested in the similarities—in trying to reconstruct his face from the collected features of passers-by.
~
The correct procedure for making space is as follows: the remains of any body entombed for over two years may be removed from its casket and stored in a burial bag, which is transported to the back of the crypt to make space for the new body. In four more months, when my grief will have shrunken and softened, I should be ready to accept new grief, to advertise the coming vacancy.
~
We fussed over who would pay and the woman watched us.
Four dollars for an all-day and you can ride the rails until 3 am, she said, nodding at us, but don't give them a twenty and expect change. They won't give you any.
We fingered through the bills in our wallets. Neither of us had singles. Hurry over and buy something at the Dollar General, said the woman, while the bridge is up.
Run, said my mother and I did, right across the traffic of Poland Avenue.
~
My brother was a voracious and unbiased listener. He listened to smooth jazz radio personalities, documentary film makers, idiot friends, conspiracy theorists, pseudo-scientists, and YouTube spiritual gurus and rejected nothing. It was even possible for him to embrace contradictory beliefs, accepting the logic of both as unequivocally valid.
So unlike me, he was a generous vessel. Bodily too, only an inch taller and over a hundred pounds heavier, accepting into his mouth whatever was accessible regardless of nutrition or taste. Where I reject whatever is beyond satiation—selfishly I cherish the limits of my container, admit only what satisfies, he had no limits but stretched always, widened as he grew older to make room for more.
~
Therein lies the danger of being over-filled. The elasticity of his belly skin bearing the purple-white scar bolts.
~
To a lesser extent, my mother also possesses this ability to accept and to hold. She is a woman with an alarming ability to unbody secrets from strangers. As Epsom salt can painlessly bring a splinter to the surface of skin, so too can she. It makes sense that such a gift should be passed matrilineally as women, I believe, are both better witnesses and have a deeper reservoir for the storing of sadness. Though truly, I am not her inheritor.
When she calls, the secrets of strangers slide down the East coast and empty themselves into my room. A shin-deep flood. The other day, she told me a neighbor woman whom she had met only twice revealed to her that she had caught her husband grinding himself against a younger lover as she was bent over and illuminated in the midnight light of the open refrigerator. Some of these strangers are victims of infidelity, some of loss. All of them grieve.
~
What else but grief is a secret?
~
Above all things, my brother listened most hungrily to jazz, that arterial music that conveys its blood so generously. Miles Davis, John Coltrane, Pat Metheny, Wes Montgomery, Herbie Hancock, Victor Wooten, Theolonius Monk.
I confess I have never understood jazz in all of its nuances, even finding it boring at times, like a long story that refuses conclusion.
Down the street, the Saint Claude Avenue Bridge, a bascule bridge, which connects (or separates) the Upper Ninth Ward to the lower was drawn over the industrial canal below. I read that in the days following the aftermath of Katrina, people took refuge from the flood atop the bridge. I can't find any pictures to corroborate this report and I think about the article writer, shivering alone, on top of the bridge, nestled in a soggy sleeping bag, looking down into the fast brown water before he sleeps and wondering what unseeing eyes might be looking up.
It was a windy day in late March and the sun, still a little feeble at mid-morning, couldn't dry up the fine gray mist that lingered on from winter, a saturating lens on the grime layered over this part of the city. I was happy for the errand, the urgency of this race against the bus. I like to be in motion and I preferred to be dodging traffic, unresting, than to be sitting at the stop, talking with a woman I didn't know.
~
On the last night of my brother's life, a rumba played on the car radio. I wanted to change the station. For me, the music was excessive in its happiness. He swatted my hand from the dial and said there was no such thing.
~
There is no too much. To distinguish what is desirable from what is excessive: this is a fiction of privilege.
~
Jazz, which thrives on improvisation does not adhere to the meter of desirability in the way that classical music does, for example, executed with fine muscular control. Instead, it is porous and flexible, temperamental even, absorbing atmosphere, bending time and space to express all impulses from the nearly silent to the utterly explosive. Buddy Bolden and blue note.
Behind a chain-link fence in Mid-City, a chipping white wooden sign announced HOLT CEMETERY in blue letters punctuated by cartoony red asterisks like a sign for a pop-up Christmas shop. My mother and I went there, behind the parking lot of Delgado Community College on a recommendation from Bywater minor celebrity and self-proclaimed folk artist, Dr. Bob, whose day-glo Be Nice or Leave signs, with their bottle-cap frames hang on the walls of nearly every restaurant in the city. It's all Spanish moss and shit, he told us. You'll love it—or your camera will. And he was right.
I took dozens of pictures of the potter's field cemetery where the Live Oaks gave shade to graves like sandboxes, small squares of land framed simply with wooden beams, some of them littered with dead children's toys: molding stuffed dogs and dark-skinned dolls, their plastic faces fading pale. The uncelebrated cemetery with its underground burials and makeshift headstones on painted pedestrian street signs and wooden paddles. I read that shallowly buried bones sometimes burst through the soft ground, companions, in spring, for the yellow dock and clover. A cemetery with no regard for permanence, like the dead buried there, the city's poor, for whom the tides of storms change all histories rooted to the ground.
Holt, in German, means to fetch or take away. Even the cemetery's most famous resident, the enigmatic jazz cornet player, is absent from his body. Only his name, Charles Joseph "Buddy Bolden" is contained in his memorial, which, unlike the handmade others, mimics the look of expensive graves in other parts of the city. Bolden's body, separate from his stone-carved name, lies in an unmarked grave nearby. In memorial, in absentia, after 83 years, whatever remains of him there has given itself over to the cemetery's other dead. What goes on there underground, in those unlined graves, how the bones trade places and how they embrace.
~
There was a worm-holed chicken crate in the basement of my childhood home, which my brother and I would lock ourselves into, wound around each other, indistinguishable. Though we would fast outgrow the space, I'm sure we fell asleep like that.
~
In his 1976 novel Coming Through Slaughter, Michael Ondaatje imagines the disparate pieces of Bolden's mythos into a man fighting to keep himself together. Ondaatje imagines him a communal repository in life, permeable and limitless: His mind was the streets and now, here in Holt, slums of the dead, so his body is the city. And the music that rises is unbridled, uncontainable. On Bolden's gravestone: THE BLOWINGEST MAN SINCE GABRIEL.
~
The bridge was still up when I exited the dollar store. My mother, I knew from across the street by the way her hands moved so excitedly, was deep in conversation with the woman. And because my mother inspires such candor in strangers, I returned to hear the woman's account of the personal devastation she had suffered. I lost three, she told us, though mostly she told my mother.
Her dad, her nephew, and her daughter, also named Katrina. Ain't that funny? She lived in the Upper Ninth Ward and the three she lost, just across the bridge. There was a mandatory evacuation and she went to Houston but her dad, she said, didn't want to come. He had lived through Betsy in 1965 and he just didn't want to come.
~
Tennessee Williams writes of blue piano in his famous New Orleans-based play A Streetcar Named Desire. There are seven mentions of blue piano in the play, though one feels, reading the script that in fact, the tinny piano being played with the infatuated fluency of brown fingers never stops, nor never truly begins, but exists in perpetuity, organically as birdsong or the noise of traffic.
I do not know if Williams' insistence on the brownness of the fingers is a visual contribution to his focus on colors, if he intended to exoticize the sultry atmosphere of the Marigny neighborhood for his all-white audiences or if he meant to suggest that such blueness could not be achieved by white fingers. Of the blue piano, Williams says only that it expresses the spirit of the life that goes on here.
Blue piano is Williams' invention. The blue note, however, or worried note, as it is sometimes called, is a common jazz device, though to call it a device suggests an artifice that does not exist in jazz in the same way sonic devices exist in strictly scripted music where a composer's cresc. denotes an increase in volume on the part of the musician and, as it is conventionally understood by an audience, emotion. The blue note is played or sung at a pitch just below the major scale, typically a semitone or less. A spasm of unconscious chill deforms the thin skin of the neck and next to the mouth until the muscles find ease again.
I understand the measured temperament of the aria, the comfort in the possibility of precise duplicability, pure, arithmetical beauty that vibrates in the cavities of the face. In high school chamber chorus, my best friend and I would play a game where she would sing a sustained note and I would sing an overlapping note a half-step below her and we would slide our voices, as slowly as one breath would allow, toward one another, willfully resisting unison. This dissonance requires force of will. Our classically trained ears were desperate for harmony and could not maintain contradictory truths. Our voices collapsed to vocal embrace. We could sustain our breath for 20 seconds before our voices began to waver. We had to focus so intently on the space between our individual pitches that I wondered, even when I knew we had resolved, if our voices could ever meet, if we could ever really shudder off our blueness.
~
I sometimes found my brother's blue notes around the house. Written on car dealership envelopes, smeared in the clumsy left-handed graphite smudge of a child: Because my mind was off the bad part for a while, when I came back to it I got scared and thought that feeling good had brought some feeling bad when really it was there the whole time.
~
The woman's eyes welled up and the tears that passed over her cheeks did not make her lip tremble, did not make her raise a compulsory finger to dab at her eyes, did not make her turn her face away. They were matter-of-fact tears and they belonged to her story.
The hurricane hit at three, four in the morning when you're getting that real good sleep.
I asked my mother later what the woman's name was and she said it had seemed too personal a question to ask.
~
On the car ride back to my new home in Tuscaloosa, I listened to an interview with New Orleans neo-soul singer Ledisi. The interviewer, pleased with Ledisi's adherence to melody over flourish, asked her about the intentionality of her music. To which Ledisi replied, I always focus on if you can whistle it. Like if you're on a bus . . . I want to be with you everywhere. This desire for omnipresence, I found so striking. The album's titular song, The Truth, opens with the lyric Like a hurricane, without warning. The confrontation of a relationship's end—the transition from love-death to the unnamable aftermath, which she describes as a kind of joyful release. Her melodic company imparts her personal loss on her listener, not as a burden, but a generosity.
~
To lose together with a stranger is a gift of love.
" I wrote this piece, perhaps in vain, to articulate what has always felt distinctly unsayable to me. To celebrate, to mourn, to understand, and to love my older brother in the best way I know how. "