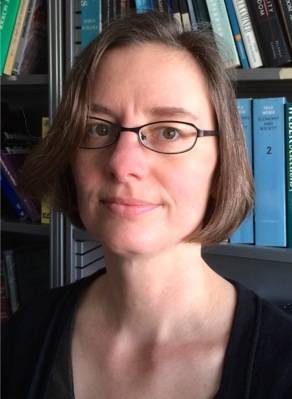 Danielle LaVaque-Manty
Fiction
Danielle LaVaque-Manty lives in Ann Arbor, Michigan. Her fiction has appeared in Glimmer Train, The Alarmist, Punchnel's, Great Lakes Review, and Midwestern Gothic, and is forthcoming in The Pinch.
Starfish
A starfish spins on the ceiling in Sheila's father's bedroom. Pulling the chain makes it go fast, faster, fastest. Sheila likes to sit in the breeze it makes but worries that the starfish will get dizzy. Her father made it for her mother, wrapping an old fan in layers of paste and paper that he molded until they looked alive, painting them in shades of cream and brown and gold until they shimmered like wet sand. He said it would be the best present ever.
Sheila's parents met on the beach. Her father told her the story while she watched him make the starfish in his workshop: he was collecting shells for a sculpture when he noticed a woman in waders poking around in a nearby tide pool. Her mother, who had been some kind of student back then, was collecting sea cucumbers for research. She wore her hair in a braid, thick as a rope of seaweed, to keep it out of her eyes when she studied in her lab. When Sheila was born, her mother dropped out of school to take a real job as a manager at the aquarium. Sheila still isn't clear on the difference between real jobs and fake ones.
Sheila's father installed the starfish on her parents' fifth wedding anniversary. "Five is the luckiest number, isn't it, Sheil?" he said, while she watched him twist the wires. He'd learned earlier that day that a gallery downtown would be taking five of his works. The kind of gallery, he said, that could sell absolutely anything. Which meant that her mother would be able to go back to school again soon.
Sheila thought the fan was beautiful. So real! But when her mother came home she said, "Starfish live on the ocean floor, you know." She bent over and looked up at it from between her legs. "You've turned the world upside-down." She gave Sheila's father an upside-down smile.
The day Sheila's mother moved out, her father sprawled on the bed like a four-armed starfish while the fan whirred overhead. On the Discovery Channel, Sheila learned that starfish can grow almost anything back as long as they haven't lost their centers. She's been watching her father closely since then, but she still can't tell for sure how much of him is missing.