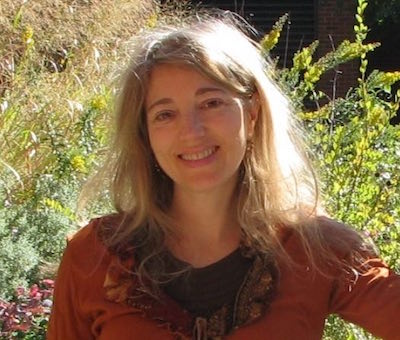 Amy Wright
Poetry
Amy Wright is the Nonfiction Editor of Zone 3 Press and Zone 3 journal and the author of four poetry chapbooks. She received a Peter Taylor fellowship for the Kenyon Review Writers Workshop, an Individual Artist's Fellowship from the Tennessee Arts Commission, and was recognized as an Emerging Writer at the Southern Women Writers' Conference. Her work appears in a number of journals, including Brevity, DIAGRAM, Denver Quarterly, Drunken Boat, The Kenyon Review, McSweeney's Internet Tendency, Passages North, Quarterly West, and Tupelo Quarterly.
Scientists Film Inside A Flying Insect
"If we can reproduce it..."
–BBC News
An x-rayed blowfly
in action wheels inside, buckles,
a mid-stride Derby horse
pleasuring itself
against the air. Slowed
for the human eye,
miniscule muscles
bend the whole rower
the way a neck
rocks a wooden horse
or a girl
on the swings
pushes her arches
to the sky.
The pull
of life
recognizable
now by fried
mother boards, one
hundred little deaths
attempting to lift
a tiny electric
aeronaut, buzzing,
from the earth.
" We inhabitants of this age, who read the popular news, recognize our circumstances changing in ways we may not survive—unless we take clues from species that have inhabited this planet for hundreds of millions of years. For those who would like to see the film of a blowfly's insides mid-flight, it is archived on the BBC News's Science and Environment website: http://www.bbc.com/news/science-environment-26747914 "