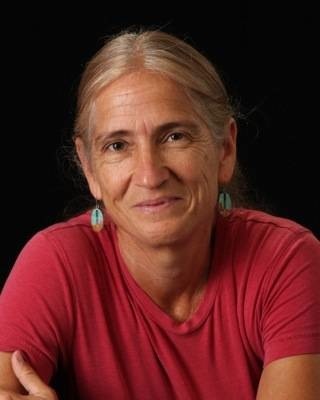 Sharman Apt Russell
Creative Nonfiction
Science and nature writer Sharman Apt Russell teaches fulltime at Western New Mexico University in Silver City, New Mexico, as well as in the low-residency MFA program at Antioch University in Los Angeles. Her books include Standing in the Light: My Life as a Pantheist (Basic Books, 2008); Hunger: An Unnatural History (Basic Books, 2005); An Obsession with Butterflies: Our Long Love Affair with a Singular Insect (Perseus Books, 2003); Anatomy of a Rose: The Secret Life of Flowers (Perseus Books, 2001); and others. Her work has been translated into Chinese, Korean, Russian, Swedish, Spanish, Turkish, Polish, Portuguese, Italian, and German. Her awards include a Rockefeller Fellowship, a Writers at Work Fellowship, a Henry Joseph Jackson Award, a Pushcart Prize, and a Mountains and Plains Booksellers Award.
Icarus
This morning I get a photo in the mail of the rocket-powered X-2 hanging in the sky in 1956. I know my father is in the cockpit of that plane and in a few minutes he will be flying three times the speed of sound—briefly the fastest man on earth—before crashing and dying in the Mojave Desert at Edwards Air Force Base in southern California. Dropped at 30,000 feet from the belly of a B-50, the experimental X-2 was designed to glide until its engine powered and exploded and pushed it forward into the unknown. Then what would the plane do? That was the question. That was the test. At the end of this flight, the X-2 was supposed to glide again, the pilot landing it dead-stick on the hot desert sand.
But that would have been a different future, an entirely different day.
Many people have pictures of family and friends taken just before they died. We stare at the image with a frisson of knowledge. We hold onto the moment before loss, in this case for someone I never knew but internalized, as perhaps all parents are—mythic figures who live in our psyche. Mel Apt was the hero, the test pilot, the right stuff. He was also the father who would have always loved me, the father who would have never let me down.
Of course, I can't really see him in the cockpit. But I know what he looks like from other photos, a small balding man posing before a F-105 Starfighter or F-86 Sabrejet, publicity shots from Bell Aircraft and the U.S. Air Force. I know him from articles in iconic magazines: Reader's Digest, the time he rescued another test pilot from a burning plane also crashed in the Mojave Desert; Aviation Times, where he was described as a "do-it-yourselfer" who had "paneled the den, put in a patio, and nursed along a striking flower garden"; Cavalier, specializing in hard-boiled true-adventure which highlighted those last moments, "The sand was coming up at him like a blazing yellow wall. Still conscious, still in his seat, fighting for his life to the very end, Captain Milburn Apt struck the desert." As a child, I read every word and became a writer because some other writer had made my father real, a gift for which I remain grateful.
The man who sent me this photo was the pilot who flew the B-50 over a half century ago, the man who dropped the X-2 into that blue sky. Standing at the kitchen table, having just gotten the mail, I think about time and how we capture moments of time in photography, stopping the world. I think how writing isn't like this since words just add to life, creating new worlds and making more time, more worlds, different worlds. I think—at the age of fifty-nine, having written several million words myself—that what I really wanted to do was stop time, not extend it. So I should have become a photographer.
Casually, deliberately so, I put the photo in a drawer. I am a mother now with grown children, and my thirty-two-year-old father is more and more like a son to me, someone for whom I feel an angry tenderness. What were you doing, I scold, going about the rest of my day, risking your life with a wife and two little girls waiting at home? Do we really need to go faster and faster? To be the fastest man on earth? What was the point?
The lesson—they tell me, everyone tells me; we all know this—is not to think about the past or the future. Because that moment in the cockpit is where we all live, between celebration and extinction, in the bubble of a moment stopped in time on a planet racing around the sun which is hurtling around the center of the galaxy which is plunging toward a region of space 150 million light years away. Everything goes fast. Everything. My father knows this. "Here's to the lucky-son-of-a-gun who they let ride the X-2!" went a party toast at one of the base's many parties. My father feels the enormity of his luck.
" As writers of memoir and creative nonfiction, we may find some subjects barred to us. For example, my mother prefers I not write about my childhood. I would never myself reveal the private lives of my husband and children. Recently, though, the subject of my father and his death has 'opened up' in my writing life, and I have begun exploring his legacy and role in my psyche. This last summer, I was allowed onto Edwards Air Force Base in order to donate his flight suit to the museum there—and to leave memorial flowers on the exact spot where the escape capsule from the X-2 crashed in the Mojave Desert. Even in the middle of a heat wave, the temperatures climbing rapidly on that early morning, the landscape was profoundly beautiful—those personable and strange Joshua trees, the bare-boned mountains rising in the distance. "