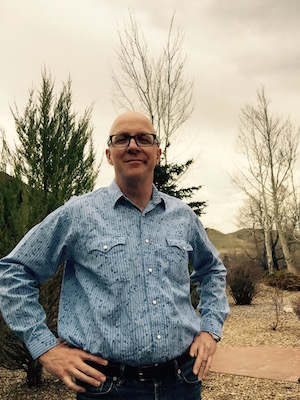 Gary Hawkins
Poetry
Gary Hawkins is a poet, teacher, and scholar who grew up in the suburbs of the West. His debut collection of poetry, Worker, is forthcoming from Main Street Rag in 2016. His poetry, pedagogy, and criticism have appeared in Virginia Quarterly Review, Third Mind: Creative Writing through Visual Art, Emily Dickinson Journal, Los Angeles Review of Books, and other venues. He teaches creative writing and serves as associate dean at Warren Wilson College; he sets type in the letterpress studio; and he lives in Black Mountain, North Carolina. With his wife, the poet Landon Godfrey, he edits and produces Croquet, an occasional letterpress postcard broadside.
The Surveyor
Who says the eye loves level,
loves plumb, loves the stiff weeks
in spring when the tractors
cirrus the grey hills,
dragging under the grey sun,
loves the dashes terraced into slopes,
the stooped women back of houses
staking their rows, and their cellars
where lidless jars align the shelves,
loves the split rail and the culvert,
loves the section line running out to the county seat,
loves the thin border of macadam and weeds
that a collie runs a full mile
defining his property from me—I who love
to wander the river trails,
to meander and bend,
to slow in the mud of red clay,
to cut off the sky deep in the hackberry and the low mesquite,
to lose my way.
" When the poets Ross Gay and Patrick Rosal came together to Warren Wilson College where I teach, they engaged in an open dialogue on race, community, and poetry. My notes from that day remind me of their questions: 'The poet names what is love—can you name what others love?' 'How do we re-imagine our mythologies?' These were ringing in my head, even though I can't claim that 'The Surveyor' takes on race. Rather, it is one of many 'worker poems' that attempt to inhabit different personae and re-imagine their work, their loves. The landscape of central Oklahoma, where I lived for a while, is overlaid by the ruthless one-mile-square plat of the Public Land Survey System. It's almost impossible to get lost, but I thought: What if you could? "