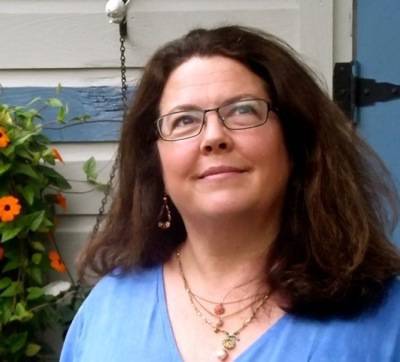 Suzanne Simmons
Poetry
Suzanne Simmons is a poet and essayist who lives in the lakes region of New Hampshire. She holds an MFA in Poetry from New England College. Her work has appeared or is forthcoming in Calyx, The New York Times, Talisman, Fifth Wednesday, Smartish Pace, and other journals. Her work received the Editor's Prize for Poetry from Fifth Wednesday (2008) and has been nominated for the Pushcart Prize. She teaches English at Manchester Community College.
Hospice
"Who is coming for him?" the nurse asked,
and in my confusion I thought the gulls were
angels rising and falling through the fog.
Or, they could have been fighter planes from
an old movie reel. Flyboy, I swear the moon
stopped climbing, sat like a whole note between
the power lines. One. Two. Three. Four. I counted
seconds between your breaths. The strength of your
heartbeat still shook the bed. Later, pulling
into the driveway, my headlights caught possum
slipping behind the shed, his long pink tail
curling into shadow. Then the moon rose.
" My father was a fighter pilot in World War II and greatly preoccupied with that event at the time of his death. The nurse's question threw me; I thought for a moment that he was going to be transferred out of hospice. Of course, what she meant was, who would come from the dead and bring him over. I still wonder about that. "