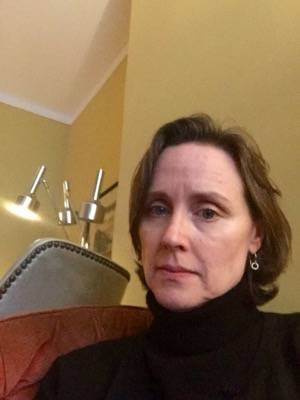 Sarah J. Sloat
Poetry
Sarah J. Sloat lives in Germany, where she works in news. Her poems have appeared in numerous publications, including Birdfeast, Beloit Poetry Journal and DMQ Review. She used to run every day and also to smoke, and of the two it's smoking she misses more.
Industry Lap Dog
Where do you winter, when
not running

the company, not exhaling a veil
of cigar smoke on a buttoned blue sofa?
You fall for an industry

magnate but stay married
to the antique joy of slumber, lying
coiled in crushed fur.

You tell time by the weight
of cadavers arriving by aircraft.

A rolling mill,
they descend in clandestine flight.

You would howl unencumbered
but succumb to the master's soft fist
which splits

like a blossom; gently
it rearranges
the crowd with gunfire.
" I wrote this poem on a trip to France, where I was struck by exquisite old buildings, a bridal party crowding the steps of a church, and the relentless news of the world. "
The Quiet Car
The day distills the faint cold of museums.

The tram runs quiet.
A throat is cleared.
Footsteps mix the grit and small pebbles of winter.

There are sculptures within these windows,
a fleeting installation, summed up in a final snow.

Blue mitten, black cap.

A woman applying eye pencil
along the Main River.
" I spend a lot of time on Frankfurt public transportation. There's one tram that crosses the Main river on a bridge overlooking a row of museums, one of which includes some rich portraits by the Old Masters. When on the tram I think of its long cars like the corridors of a museum, and when I'm in the museum I think of the aisles of the tram. As on any public bus or subway, you'll often see someone pull a little pencil out of a purse to touch up the artwork. "