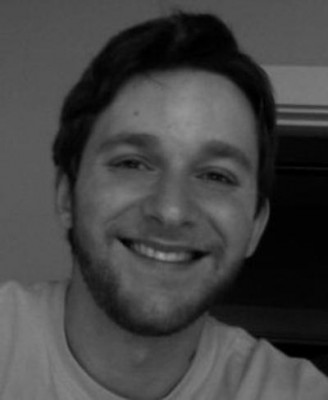 Adam Scheffler
Poetry
Adam Scheffler grew up in Berkeley, received his MFA in poetry from the University of Iowa, and is currently a PhD candidate in English at Harvard. His work has appeared in the Colorado Review, Conjunctions, The Cincinnati Review, The New Delta Review and elsewhere; it is forthcoming in The American Poetry Review, The Massachusetts Review, and Southwest Review
Walking Around: The Sixth Wave of Extinctions
Afternoon in February mild hangover after the decade no one knows
still how to name, and the sunlight spending itself
lavishly on the first elm leaves like nipples willing a body around them
and the birds won't shut up a hundred tiny nameless and yet
unconfused, as if entitled to this sunlight to rise and settle back in
wire, elm, wire. And right out the door children with green plastic
soldiers – they still make those – guarding the edges of
flowerpots which I guess are islands and the dirt is the sea.
And now by the shops the streetman has attached 30 strings to his body
which go rattling ornaments, bristling kinetic sculptures, pinwheels,
horns, stars, shaking and tingling. It is the end of winter, it is a kind
of sharpening, a glow that turns from pain's swizzled core, from the
sixth great wave of extinctions, man-made, right onto Brattle street
and the great mansions of the Tories, Robert Lowell would once
write glumly of – to this good errand of buying Valentine chocolates as
a girl so beautiful walks by – and then one of the gloves hanging on
the wintry bush its cryptic commentary one encounters every so often
on all the blunders plugged into the variable of the earth. As for the sky
it is layered red-pink-blue like a science project as the old women
in front, scared by my brisk pace, look behind so I am the feared thing –
I knew it, a headline. How the woman tripped and fell into the Picasso
and reduced its value by half. To fall into a Picasso! Exactly how
yesterday at the museum the meteors were all getting named after the
places they crash into, and so yesterday became the Day of the Museum's
Extinct Snake Skeleton, its three hundred vertebrae like a spiral banister
in hell – which would really be better to see with the person you're
sleeping with – and for an instant now I feel as though every loved place
or good fact or right person is a mirror shard of the Garden and if
we could only gather them back – but already the sun like a
bright coin is going round and round the funnel of the sky into
its hole and collection drawer, and already the buildings and trees
are pure dark outline against a sky gone black to blue to palest seagreen
(Schuyler: "another day, sob, dies") (Leonardo: only spirals are both
active and passive!) and I am feeling alert and only a little neurotic as
the car motions me on past the tiny art gallery the size of a woodshed.
At home the keyhole is dark and I read how the last great auks, maybe
a mated pair, were clubbed to death in 1844, and how the Dawn Redwood
which was thought to be extinct two million years ago was found
alive in China for no other reason than sometimes things come back.