The Empty Nest, or Sending My Stepson Off to School
by Cal Freeman
A post in our Milestones series from past contributor Cal Freeman.


"We saw the risk we took in doing good,
But dared not spare to do the best we could
Though harm should come of it…"

- Robert Frost, from "The Exposed Nest"



Late last summer my wife and I dropped my stepson off at college at Lake Superior State University in Sault Ste. Marie, a town on the northeastern tip of Michigan's Upper Peninsula. Sarah had Ethan at seventeen. I've known him since he was two years old.

I have not been a good stepfather. Let me get that out of the way. I am not patient. I am not particularly kind. The best that can be said about me is that I've been dutiful. The worst: that I've been borderline alcoholic, more patient with our family's Jack Russell Terrier at times than with my stepson. So dropping him off at school for me was an exercise in regret and a bitter reflection on the irredeemable nature of passing time.

The location of the school was important to Ethan. He wanted to be somewhere where he could study the ecology of The Great Lakes hands-on. He'd been fascinated by The Lakes and the invasive species plaguing them since we took him to Ludington and Silver City on childhood trips, towns on the shores of Lakes Michigan and Superior, respectively. When he was in middle school, he read Jerry Dennis's beautiful natural history/ecological tract/memoir The Living Great Lakes and knew that he wanted to spend his life on these issues.

In many ways Ethan and I are a lot alike. We are both anxious people who think too much about death. We both suffer regularly from sleep paralysis and find ourselves awake at odd hours of the night. In the first couple years after Sarah and I were married, Ethan would beg me to kill the insects he spotted in our house. He'd see a centipede perched on the crown molding above his door, or a spider crouched in a corner of the bathroom ceiling and want me to smack it with a magazine or shoe. I'd patiently explain that spiders and centipedes had no interest in us, that they mostly ate other, more obnoxious insects, like cockroaches and flies. With some of the more harmless looking spiders ("house spiders," I called them, though this was nowhere near taxonomically correct), I'd opt for relocation over killing, coaxing them into beer bottles that I'd then leave on the front porch, trying to console him that the bugs were outside where they belonged.

When Ethan was ten and I was 27, we were both going through a phase where neither of us slept. I'd sit up drinking coffee or beer trying to read my eyes tired. He'd create excuses to turn on lights or get up for water. I'd do my best to be patient, but I'd always end up shouting at him to go to bed. My wife, Sarah, was magically able to sleep through the night and not hear the noises of our feet creaking over the hardwood floors or my eventual shouting reverberating through the thin walls of our bungalow.

I'd sometimes put our little dog in the room with him. That seemed to help. When Benny died last winter, Ethan sobbed, saying how much Benny had comforted him when he was little and afraid. We talked about the dog and our mutual fear of dying and bonded over our grief. Grief is never solely about the dead. We are not that altruistic.

Our house is quiet now most days. You'd think this would be good for my reading and writing life, but I tend to waste the afternoons shuffling from the kitchen to the living room of the unpeopled house, an unread book on the table, black coffee in a white ceramic cup, the television or stereo blaring to keep me company until Sarah gets home from work.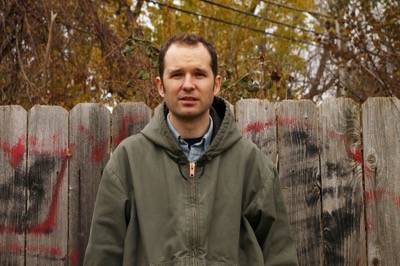 Cal Freeman's writing has appeared in many journals including The Baltimore Review, Passages North, Commonweal, The Journal, Hippocampus, Ninth Letter, and The Cortland Review. He was the recipient of the Howard P. Walsh Award for Literature, The Ariel Poetry Prize, and The Devine Poetry Fellowship (judged by Terrance Hayes). He has also been nominated for Pushcart Prizes in both poetry and creative nonfiction. His first book of poems, Brother of Leaving, has just been published by Antonin Artaud Publications, an imprint of Marick Press. His chapbook, Heard Among the Windbreak, was selected by Dr. Todd Swift for Eyewear Publishing's Aviator series.
Comments: