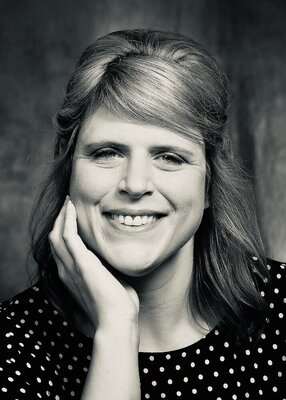 Sara Henning
Poetry
Sara Henning is the author of View from True North, cowinner of the 2017 Crab Orchard Series in Poetry Open Competition Award and the 2019 High Plains Book Award. Her latest collection of poems, Terra Incognita, won the 2021 Hollis Summers Poetry Prize and will be released by Ohio University Press in March 2022. Her honors include the Lynda Hull Memorial Poetry Prize, the George Bogin Memorial Award, the Allen Ginsberg Poetry Award, and awards from the Sewanee Writers' Conference and the Vermont Studio Center. Her work has been published or is forthcoming in journals such as Quarterly West, Alaska Quarterly Review, Crab Orchard Review, Witness, Crazyhorse, Meridian, and the Cincinnati Review. She lives in Texas, where she serves as coordinator of the BFA Program in Creative Writing at Stephen F. Austin State University.
Letter in the Shape of a Banyan Tree
I always felt like a bird blown through the world. I never felt like a tree. —May Swenson A year before my birth, Mother, you wished for a son to grow inside you. You'd call him banyan tree, strangler fig, boy strong as my father. When I came, you knew a chickadee starving for love could carry no one's legacy. You called me daughter who named animals as if they were children, daughter who knew everything she loved could hurt her—street cats, possums hissing in the dark. For consolation, you dressed me in pink, as if I'd be your perfect girl. But I was tomboy, all skinned knees and tangled hair. Mornings, you'd smoke while braiding me, smooth elastic, Indigo Girls on the radio. Around my body, the ghost of a son grew. Jealous, I butchered my Barbies with scissors, played Atari all afternoon—Donkey Kong, Double Dragon in my bean bag chair. Sunlight seethed with me, lasered our duplex windows. Love meant learning to run. Mother, where does it end, this story of us? Nightmares are death still hatching its secret inside of you. Only now, my prayers are bioluminescent, tractor beams luring your ghost planet back. But my memory keeps you breathing, quiet metronome for cicadas flexing their tymbals in the yard. I talk to you relentlessly, fevered questions about bodies, children, every sacred destruction. Blood that won't stop. When will you answer me? Aristotle said time is how we position ourselves relative to change, but I want to believe any universe flexes like Heteractis Aurora, turquoise Beaded Sea anemone. Space only valley of muscle, and we are the clownfish slipping through each other to another world. What is a day without darkness? When tumors clustered your x-rays, Mother, you became infinite. I am not your banyan, but I root and sow. I'm a bird blown through the world. Zeroed from Earth, I will not let you go.