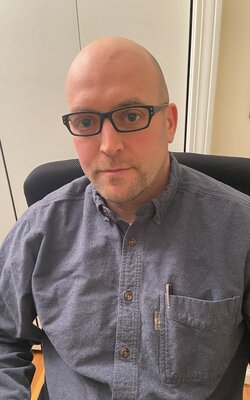 Dan Hodgson
Creative Nonfiction
Dan Hodgson writes and teaches. With his wife, he also chases their son and daughter up traprock peaks. His work has recently appeared or is forthcoming in The Southampton Review Online; Cease, Cows; Quarterly West; and MoonPark Review.
Bread: an offering
I'm sure you've heard: Bread is credited with building civilization. A companion is one with whom you break bread. Bethlehem is the House of Bread. Jesus said, Take this bread, and eat for it is my body. In Egyptian Arabic the word aish means life and bread.
You might remember: A loaf of bread injected with quicksilver and dropped into a river will lead you to the drowned. A loaf of bread injected with the sins of a dying rich man and served with a bowl of beer to a poor man will lead you to absolution or damnation. Seven loaves of bread baked by Utnapishtim's wife and injected with the neglect of sleep will lead you to the inevitability of death.
But I bet you have never heard of: The man who fled a civil war in Chad to prune boxwoods and crape myrtles. He is real and alive in Northern Virginia. He sings to one and all the rapture of never again needing a gun. Why would he? He now has fresh bread to offer. And who wars with a man offering fresh bread?
I must tell you: I first baked a dry, sandy soda bread for a home ec assignment in the seventh grade. I then half baked an Easter Bread, overstuffed with sausage and cheese. I dabbled with flatbreads in nonstick pans for years. I felt skilled by the instant-yeast breads that I could get to crust and ear. I thought I had a history baking bread.
I must also tell you: I escaped a snowstorm into a bakery. The place was cramped and hot and dark. Flour dusted my shoes. I walked in to the firing of the second bake. Fifty plump and rested loaves were pushed into the maw of the wood burning oven. I was the only one bundled in a jacket. The baker wore a tank top and Crocs and had a wild beard and a ponytail. I bought a French batard, not wanting to leave. There was a book of poetry for sale next to a rustic wheat. I started talking about my history of bread baking.
The baker told me: You do not bake real bread. It is unbread. Real bread is alive. It is of the air. It farts. It fucks. It multiplies. It is history. Its mother can live forever.
I now tell you: A mother lives in a loose-lidded jar on my counter. I provide her warmth. I feed her equal parts flour and water. She commingles with the living air. And in return she offers me: A forever companion. A civilization. A salvation. A cure for drowning and damnation. An antidote for guns. An answer to the inevitability of death. A community. And a history in my kitchen.
Hear me: I share my mother with family and friends, with strangers, with anyone who asks and with many who don't. So, live not alone. Let me share her with you and together we will offer you: Aish.
" Bread is wonderful, transcendent, and communal. I used to teach a weeklong course about bread, and it was a brilliant experience. I miss it. This piece is an attempt to figure out what about bread's relationship with me (& you?) is so fundamental and necessary and to offer it up to the curious. "