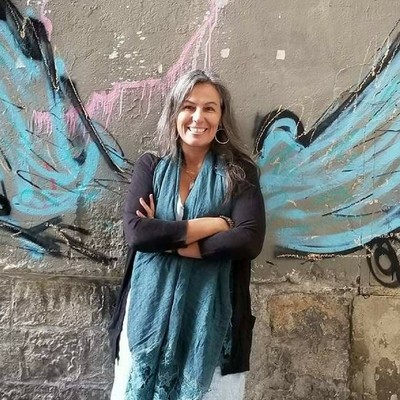 Lupita Eyde-Tucker
Poetry
Lupita Eyde-Tucker was raised in New Jersey and Guayaquil, Ecuador. She writes poetry in English and Spanish, and has studied poetry at Bread Loaf, the Palm Beach Poetry Festival, and is a Fellow at The Watering Hole. Her poems have appeared in Naugatuck River Review and Glass Mountain, and in 2017 she was nominated for a Pushcart Prize. More links to her poems can be found at NotEnoughPoetry.com.
Rules of Engagement
Pssst!
Mijita . . .
Niña, oye niña
Hey— little girl . . .

When my mother drags me
by the hand through El Centro,
her heels clomping the concrete

as she weaves to avoid
water dripping off the
air conditioners from
the buildings above,

I do as she does.

I squeeze her hand,
mimic her glazed-over eye
pretending not to hear
not to notice,
lips together, teeth apart
is rule number one,
we never talk about.

Some men give up easily,
but others persist.
At 12 I discover
my look of disgust
is received
as encouragement.

Without words, we advance
through the heat. Even the men
pissing in the corners
of buildings in the bright
downtown daylight
bombard us with wet
kissing sounds

Cochinos.
Their eyes
cling to us
like sweat.

My mother gives no quarter,
wears the armor of silence and stone.
I fall in step with her stride.

We skirt the buildings, lock and load
sending bullets of indifference
spiraling through the air

Stoic on the surface.
Trigger-happy inside.
" In October 2016 I heard Claudia Rankine read from her book Citizen at the Dodge Poetry Festival in Newark, NJ. This poem is the offspring of that experience—her work put me in touch with the feeling of helpless rage that I had long ago buried. I had to bring these experiences out of the silence of forget, and give myself the voice I was never allowed to have. "