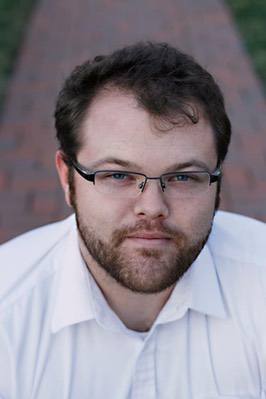 Calvin Olsen
Poetry
Calvin Olsen holds an MFA in Creative Writing from Boston University, where he received a Robert Pinsky Global Fellowship for translation from Portuguese. His poetry and translations have appeared in International Poetry Review, The Missouri Review Online, The London Magazine, Tupelo Quarterly, Columbia, and other journals and anthologies. A recent Pushcart Prize nominee, Calvin now lives in Chapel Hill, NC, where he is poetry editor for The Carolina Quarterly. His current projects and other work can be found on his website, calvin-olsen.com.
Hammer Strikes
Like coyotes at a kill, the neighbor's thwacking
ricochets from several places, spiral nails
groaning as the grain gives way.

Looking over my fence, full of slivers, I see him
hammering. The angle and the length
betray something substantial, but that is all.

Pliable, splotchy, more than likely pine, it tilts
under pressure from his glove. The piece he pushes
does not stutter—it stays put with a thud,

the other end pointed at an archer's angle.
Birds chirp again in his reposition. He bends and lifts
a conjoined twin from the grass by his side.

The cross-section slab is the size of a door.
He props what are now sides with a straddle,
slides his hand from the ruts and smacks them shut,

each nail's finality echoes deeper at the crux.
He caps each end and the box emerges, impossible
to see in from afar. I think that's it:

six-sided, unadorned—he drops the hammer, steps inside.
Prostrate now, he fidgets, checks the height, rises
satisfied. The casket lies unsanded, left to cure.
" This poem is half memory and half fiction. I grew up in Idaho, and when I was in elementary school my parents moved into a house with wood fences on either side and a barbed wire fence separating us from the fields. I wasn't old enough to interact with the neighbors, but looking through the fence I got tiny glimpses into their lives and interests. 'Hammer Strikes' is a practice in imagining looking over one of those fences in the present and seeing something fascinating and strange as the world I constructed in my childhood. "