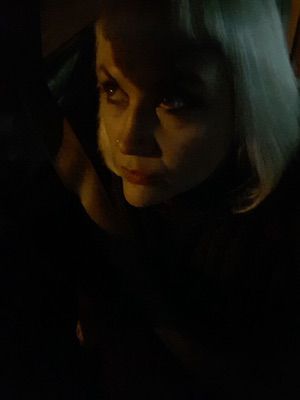 Allie Marini
Contest - 2nd Place
Allie Marini is a cross-genre writer holding degrees from both Antioch University of Los Angeles & New College of Florida. She has been a finalist for Best of the Net and nominated for the Pushcart Prize. Her masthead credits include Lucky Bastard Press, Lunch Ticket, Spry Literary Journal, The Weekenders Magazine, Mojave River Review & Press, and The Bookshelf Bombshells. She has published a number of chapbooks, including Pictures from the Center of The Universe (Paper Nautilus, winner of the Vella Prize) and Southern Cryptozoology: A Field Guide to Beasts of the Southern Wild (Hyacinth Girl Press, finalist for the SFPA's Elgin Award for 2 consecutive years.) In addition to her work on the page, Allie was a member of Oakland's 2017 National Slam Team. A native Floridian now freezing to death in the Bay Area, Allie writes poetry, fiction, and essays. She can be found online @kiddeternity or to book, contact Sugar Booking Entertainment, sugarbookingentertainment@gmail.com.
Kitchen Kisses
—after Günter Grass
in the kitchen, after fighting, this is how I kiss you:
open mouthed, wet as a fish
humming breath instead of singing
tongue, dumpling soft
shape the bitterness round against the roof of your mouth
until it crumbles like sweet shortbread
bite your lips
harder,
stiff as bone beneath the skin
breasts firm and lean as cooked meat
lips teeth tip of the tongue
threads of saliva, glossing over an apology
passed between us, from your lips to mine
Tough as a skirt steak,
chewed over a hundred times
run through the grinder,
how practical our teeth
this kiss is ravenous.
Travel these things under incisors, molars, canines:
flakes of fish
olives with their pits intact
Brazil nuts, brown-skinned and bitter
pomegranate seeds
stone fruits: peaches, plums
barley bread
all of it awash in wine
pink peppercorns milled over a rope of mozzarella
sour, sweet, piquant, tart: shared in my kiss.
You, laid out on the bed,
despondent and weak:
feverish with jealousy.
Me: washing up, eaten alive
by the thoughts in my head.
Brought back to life by a platter of
amuse-bouche
,
again and again: each taste a kiss—
never will you feel hunger;
never will anything bland find your tastebuds.
Again and again, you bring me answers, disguised as groceries:
scrambled eggs, rice pudding,
bacon cooked crisp and crumbled into creamy grits.
Once, we shared a smoked mullet,
the whole fish, picked apart and licked off our fingertips,
all the way down to a clean spine,
skin folded out like a sheet of satin.
Once, we shared a roast chicken,
standing over the sink, gnawing the meat of
drumsticks and wings down to ivory spokes.
Again and again, we kissed each other,
a bowl of barbecued beans, chilled from the fridge,
over buttered toast:
always after the same old fight, fried in the pan,
crisp as lace on the edges of corned beef hash
In those days, when you washed your memories and miseries
down in a purple river of cheap wine,
staining those lips, sweet and plump as Georgia peaches—
we had make-up sex on the kitchen floor,
vinegar and brined, bread-and-butter pickles,
pepperoncini, capers—
we shared all of it, until our lips puckered and burned from the salt.
In another life, I was your cook, and you were an alcoholic:
I kissed your mouth, soft as a pastry,
and tucked a slice of bread in your pocket
in the hope that you'd leave behind crumbs
to guide you back home to me.
" 'Kitchen Kisses' is a poem from a manuscript comprised of 'response poems' to the poems collected in Gunter Grass's The Flounder (1977), a groundbreaking poetry-prose hybrid chronicling the war between the sexes, accompanying my own transliterations of Grass' poetry.
The events of The Flounder are a collection of past memories, recorded over a 9-month period. The 'real-time' events of The Flounder are divided into two narrative arcs: The Flounder, who represents the Zeitgeist of power throughout history, is on trial, called on by a tribunal of (post-liberation) women to account for his 'crimes against women,' which the tribunal asserts have come from The Flounder's choice to provide counsel to men and free them from the matriarchal society of pre-history, giving rise to the advent of patriarchal society, the concept of nationalism, and organized religion.
After The Flounder begins advising mankind, the opportunities for equality or active exercise of power by women are limited to the two spheres in which women are allowed to move freely: sex and cookery—the EveryWoman spirit of the feminine takes on different names and histories through each lifetime, each of whom are referred to as the 'nine and more cooks.' Grass' poems are written from the perspective of Edek—the EveryMan—spirit of history and time. Awa—the EveryWoman spirit of history and time—does not have a voice, except through Edek, who proves himself to be an unreliable narrator. With these poems collection, I have attempted to create a dialogue between the sexes, instead of just a monologue of one man's journey through history and patriarchal structures of power. 'Kitchen Kisses' is the feminine mirror to Gunter Grass' poem, 'The Cook's Kisses.' "