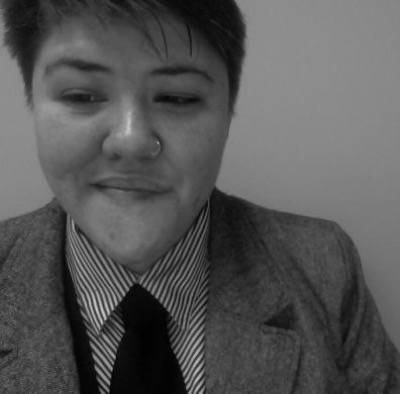 Joy Ellison
Fiction
J.M. Ellison is a writer, scholar, and grassroots activist. They are interested in using stories, both fictional and true, to build community, document social movements, and imagine a liberated world. Their work has been featured in Lunch Ticket, Chicago Literati, Racialicious, Story Club Magazine, Polychrome Ink, and other publications. They are currently finishing their first graphic novel, a timely nonfiction account of the power of community in At-Tuwani, a small Palestinian village. J.M. believes that storytelling is integral to healing, transformation, resistance, and survival. Their work is available at http://jmellison.net.
Sitti's Scars
My grandmother's fingers are covered with scars. Some are short and delicate. These nicks Sitti gave herself while cutting tomatoes for fattoush salad, my father's favorite. Others are round and red, like pomegranate seeds. She burned those marks into her flesh when she baked loaf after loaf after the Israelis demolished our neighbors' tahboon oven.
The day that the army drove their bulldozer to our village, my brothers and I ran after the soldiers. We wanted to see whose home they were coming to crush into rubble. My father followed, too. The whole village gathered to yell and to cry. Only Sitti stayed inside. She seemed to know that the soldiers would pick the Rishmawi family oven. She started mixing dough before the demolition began.
"They were fortunate," my father said. "Only that old pile of stones. They will survive."
My grandmother thought the future of the Rishmawi family was not so certain. Bread, she told me, is a serious matter. So, she baked and baked, burning three of her fingers. When she finished, she wrapped her hand in white gauze and wrapped the mound of bread in a white towel. She delivered the loaves to Mariam Rishmawi, who cried as she accepted them.
Sitti's food is delicious, but her hands pay the price. My father complains that he suffers too. "Mama, stop cooking," he whines. "I don't have time to drive you to the hospital."
Sitti laughs. "I have my hospital right here," she says, shaking the box of band-aids she keeps by the stove.
My grandmother's fingers betray all her secrets. Still, she feeds our family and the rest of the village, too. She rolls grape leaves, stuffs zucchini, and mashes hummus. She serves us maqulbeh, carefully placing a plate on the top of the pot of chicken and rice. She holds the plate on tight, flips both over, and removes the pot. Some of the rice spills onto the floor.
While I help Sitti sweep, my father watches from the doorway of the kitchen. "Don't listen to her," he calls out. "How can you learn from someone so clumsy?" Sitti pretends she doesn't hear him.
"Shway shway," she says. "Slowly, my love. You must always be careful, but not too careful."
" In 2008, a dear friend of mine watched as Israeli soldiers demolished her tahboon oven. The Israeli government claimed it was built without a permit. It was—because the structure dated back to the Roman era. I wrote this piece to remember that oven. I want to celebrate the bread my friend made in it and all of the ways that she continues to struggle and survive. "