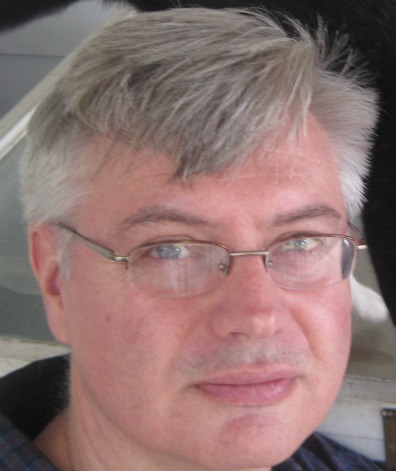 Ned Balbo
Poetry
Ned Balbo received the 2010 Donald Justice Prize, selected by A.E. Stallings, for The Trials of Edgar Poe and Other Poems (Story Line Press/WCU Poetry Center). His previous books include Lives of the Sleepers (U. of Notre Dame Press, Ernest Sandeen Prize and ForeWord Book of the Year gold medal) and Galileo's Banquet (WWPH, Towson University Prize). He is also the author of a chapbook, Something Must Happen (Finishing Line Press). He has received three Maryland Arts Council grants, the Robert Frost Foundation Poetry Award, and the John Guyon Literary Nonfiction Prize. He teaches at Loyola University Maryland.
Dark Horse
This moonlit night we've come upon a horse—
his equine profile looms above barbed wire,
so close we might have touched him accidentally
as we pass along this country road
on foot, our flashlights small moons flicking off.
We don't want to startle him: he's still,
and we can't see his eyes—is he asleep,
awake and watching us, or in the grip
of dread? He might be dangerous at night.
By day, he's chestnut-brown, but now, he's shadow,
eyes invisible, mane moonlight-tinged,
the hills behind him dim, vertiginous
with all the history his kind have known
entwined with ours, each day and every darkness.

" The story of 'Dark Horse' couldn't be simpler. My wife Jane and I were spending part of July and August 2008 at the Virginia Center for the Creative Arts, the artists' colony where we've met so many talented people and gotten so much done in recent years. The property--on Mt. San Angelo, a foothill of the Blue Ridge Mountains--is on what used to be a farm, and large areas are still let out to local farmers as grazing land for cattle and horses. One night, walking from our studios to the residence in country darkness, we were startled by the horse whose presence we'd almost overlooked. As fans of the late George Harrison, we think of 'Dark Horse' as the name of his record label and one of our favorite songs, so in various versions I resisted the present title with all my might: it seemed too jokey, or likely to evoke the racetrack. Finally, I just gave in: the pull of the phrase was too strong, and I thought the title might lend the poem a lighter touch. "