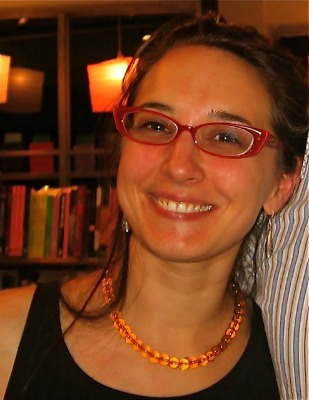 Sonya Huber
Creative Nonfiction
Sonya Huber is the author of two books of creative nonfiction, Cover Me: A Health Insurance Memoir (2010), finalist for the ForeWord Book of the Year, and Opa Nobody (2008), shortlisted for the Saroyan Prize. She has also written a textbook, The Backwards Research Guide for Writers: Using Your Life for Reflection, Connection, and Inspiration (2011). Her work has been published in literary journals and magazines including Creative Nonfiction, Fourth Genre, Crab Orchard Review, Hotel Amerika, The Chronicle of Higher Education, and the Washington Post Magazine. She teaches in the Department of English at Fairfield University.
Glass Beads
In the green fake-velvet jewelry box I got sometime in high school, I keep two smooth blobs of glass about the size of grapes. They rest heavily in my palm and make tiny tik-tik noises when their surfaces touch.
The clear glass of one captures a crumpled swirl of blue. The other freezes a looping whirl of red. When these blobs of glass were heated to a near-liquid state, glowing dully, their surface tension dropped and you folded each top down into its body, where it joined and grew together, making a loop that serves as a hole for stringing a cord through.
The fact that you made me two beads is touching, even now. I held them in my palm and admired them. I tried stringing both of them on a long silver chain, but they bunched together strangely, and when I held a book or laundry basket for a moment to my chest I felt a shock like a knuckle against my sternum. So then I took off the blue and left just the red. But I never really liked how it looked. It didn't look right. It didn't look right because I knew.
It was as though those beads had been dipped in an invisible coating of grime. I knew you experimented with glassblowing while building tables at a studio, and you told me that the glassblowing set-up was used to create elaborate pipes and bongs in lovely ropes of starburst colors.
I had always loved the idea of glassblowing, and my family visited a glass factory with my mom when my brother, sister, and I were young—the glassblowers who made cranberry glass in West Virginia—and it was beautiful and fantastic to watch the glow that swirled and morphed sluggishly against the drag and torque of spinning, the way the surface bloomed and captured motion as it cooled. I loved the way dirty, smudged hands could create with sand and heat an utterly smooth and mirrored surface. The most graceful art, I thought.
But then I cringed to see a row of pipes in a head shop, glass blown not for the art but for function, cheesy color combinations like children's balloons. It made me resent these glassblowers. They have a right to do whatever they want with their free time. The art of glassblowing is still beautiful. Why do I care? It was jealousy, I think. The way you craved and smiled at and stroked a new pipe, the sheer fondness you had for it. You never got irritated or angry at a pipe. You never blamed a pipe for anything. The world was never the fault of the pipe or the bong.
I love beads. I collect them and string them, making necklaces and earrings and taking them apart. I like surprising combinations, and I love their durability and their pointlessness, only they are not pointless. On dark days I would loop a string of confetti-colored beads around my neck, and that yoke of sun would maybe make a cashier smile and say, "I like your necklace," and then we would smile and I would say thank you. Beads are like flowers. They make human contact. And in the mirror, their thin breakable strings reminded me to act as-if, to string my own energy and words and sentences and desires just a touch farther than I felt able.
Those two beads were blown in a studio stocked with tools you touched and tables you built. The tools were touched by a man and his brother high up in that city's marijuana trade.
Those brothers bragged to you that they murdered someone who didn't pay his drug debt. And then there was a kid missing, and he made the news because he was a white college student. And you said, "That was him." Eyes semi-wide as if you didn't know what to do with this information, but telling me not to tell anyone. But not scared, of course, because all that matters is that you stay on the same side as the murderers.
At the time I was so stunned that I didn't know what to do with this information linked to a dead young man. At the time I knew the dealer's last name. It is here: __________. Trapped in my head along with a few details about where one of the brothers used to work.
And I did the worst thing imaginable: I compartmentalized the information, put it in a coffin in my head. I felt it as a cold nugget of information that I could do nothing with, like the glass beads that were too heavy and big to wear.
Later I thought a lot about a body that was supposed to have been left in a ditch near a cornfield. I read and searched for news articles about the missing young man. I think I kept looking for them because I kept trying to remind myself this was real. Or maybe the two brothers were talking shit. Or maybe they told you a story you heard wrong. Maybe it was someone else who told them that story. But you said they were dangerous.
It was like I swallowed those cold beads. I wanted to throw them away but I could not do it. They were the last link I had to something of critical importance. But I did nothing, as if the connections between you and these murderers were a white-hot bar heated in a furnace that would burn my hands. I could have picked up the phone, I supposed, though the homicide police had a tip line and were overloaded with tips. Maybe someone else had already reported the information.
Now the name is a space in my head I cannot excavate.
Then another young man—your friend, the one who introduced you to these dangerous characters, the one who went to jail and stunned us every day by still being alive and smiling his goofy smile, the one who honestly had a neck tattoo of two pigs fucking—he overdosed and exploded his heart and died in a hotel room. There was no funeral. You organized a memorial service in a park, small and punctuated with laughter and children playing on the swing set. The crack-addled and the crack-recovered, and you and I came to pay our respects and we cried.
Years later I searched for the name online, the name of the murdered/missing young man, and his parents were still looking for him. I used the anonymous tip line for the police in that city and wrote down everything I knew. I don't know if anything happened. I never heard back from the police.
When my students mention lampwork or blowing glass with a "Ha ha, I made the most excellent bong or pipe," I want to throw up. I drive by the headshop in town and my heart dips. And I want to throw away those two glass beads, but I make myself keep them. They are in my jewelry box, and I will never throw them away. They are my anonymous memorial to the boy who disappeared and to my own cowardice and confusion.
" This was difficult to write. In my current project, I am exploring what it meant to live around drug abuse, but because I don't want to drag anyone else's lives into the mix, I had to do it in a way that was true and yet vague. I didn't think it was possible, but I also wasn't satisfied with a huge issue in my life being untouchable. So I just started to write single sentences of what I could say, and then I started to focus on specific nouns like these beads, which helped me keep the focus on myself and my reactions as much as possible. Thank you for reading it. "