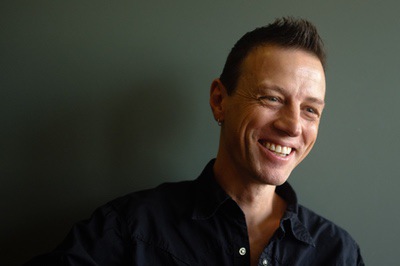 R Dean Johnson
Creative Nonfiction
R Dean Johnson is the author of Californium: A Novel of Punk Rock, Growing Up, and Other Dangerous Things (Plume) and a story collection, Delicate Men (Alternative Book). "The Boys of Midsummer" is part of a manuscript, Poser: A Mostly-True Memoir, and other essays from that collection have appeared or are forthcoming in Ascent, Cimarron Review, Louisville Review, Salt Hill, Slice, and The Southern Review. The director of Eastern Kentucky University's low-res MFA in creative writing program, Bluegrass Writers Studio, he lives in Kentucky with his wife, the writer Julie Hensley, and their two children. For more information, including what you call a guy who uses a first initial but doesn't go by his middle name, check out rdeanwriter.com and @rdeanwriter (Instagram and Twitter).
The Boys of Midsummer
It takes a phone call from somebody else's mother to remind your mother about the trip up to Los Angeles. It's the All-Star Game, the midsummer classic, and it will be at Dodger Stadium for the first time ever. The rumors about what will happen once you get there are fantastic: You're getting a tour of the locker rooms, getting to shag balls in the outfield during batting practice, getting to meet the players on the field and sit in the box seats behind home plate for the game. All of that. Or some of that. Or something like that.
Whatever is supposed to happen, you're supposed to be excited about it. Amongst the hundreds of Little League teams in Los Angeles, this is quite an honor, especially since your team isn't even from Los Angeles. You're in Anaheim, only about thirty miles down the freeway from the stadium, but L.A. County is in a different league than Orange County. It's skyscrapers and tangled freeways, art galleries and gang graffiti, movie stars and for this one day, the best baseball players on the planet all in the same place at the same time. You should be thrilled, and your mother mistakes your anxiousness about the day for excitement. You're eleven. A boy. You're supposed to love all things baseball.
But because your mother had forgotten about the event, and because you didn't remind her, your uniform isn't washed from the weekend. You hope this will be the excuse that gets you out of it. It isn't. A quick wash cycle doesn't remove all the stains, and there isn't enough time in the dryer to get the dampness out of the pants, but you make it to the park just in time for the bus.
~
You're not sure when you first wanted to play baseball, though "always" is a pretty close guess. At first, you were a bench player who could catch but not throw, run fast but not hit. But you stuck with it and your dad stuck with you and you got a lot better, learning to hit some and using your speed and glove to make yourself an invaluable center fielder as you got older, the fields got bigger, and the other boys started hitting the ball harder and further.
As much as you like playing baseball, you don't like all the jock stuff that comes with it—the heckling of guys on other teams, the hanging out an hour after practice to play cup ball, even going to the pizza parties where you're forced to spend an extra hour or two in your uniform with guys you never eat lunch with at school. It feels fake. Forced. Uncomfortable. You know this makes you weird, so you tell no one.
~
As you board the bus, you look for your teammates. They'll be wearing Red Sox jerseys that are bright red and hats with "Sox" across the front. Amazingly, you see Tigers and Twins, Angels and Royals, but no Sox. Then you see an empty seat next to Sammy. He goes to a different elementary school and plays for the Athletics, the team that beat yours last year for the championship. But Sammy isn't a starter, and he isn't one of those guys who yells mean things from the other dugout either. He's also about the same size as you, which means skinny and somewhere between short and average height. You like that and think it'll all add up to him being a pretty nice guy, even if he is on the Athletics.
Sammy is excited about the day. He's hoping to meet Steve Garvey, a Dodger, which is pretty cliché but hard to argue with. Garvey is a great all-around player. Yes, he has this annoying politician smile and his 1950s T.V. dad haircut never seems out of place, and he's an infielder, but at least he's a corner infielder. You don't like all those grown men who play middle infield in the Major Leagues and have little boy names: Davey Lopes, Bobby Grich, Freddie Patek. These are the kinds of guys who bunt a lot or choke up on the bat. It's like they're admitting they're weak. And the more you think about it, the worse it gets: Roy Smalley, Robin Yount, and Tommy Herr.
Your favorite player is Fred Lynn. A lefty, like you, and a center fielder, like you, who plays for the Red Sox. You love the way he uses his speed to make diving catches and leap at the wall to steal away home runs. You love that he looks average sized and that he has a good outfielder name: Fred. Not Freddie or Frederick. Just Fred. You've noticed outfielders tend to have solid names like George Hendrick, Jose Cruz, and Ken Griffey. Some have perfect names, like all the Daves: Dave Winfield—drafted by the NBA, the NFL, and MLB, and whose last name promises you will win on the field; Dave Parker—who plays for the Pirates wearing that beard that makes him look like a pirate and whose very name, Parker (as in, out of the park, a parker), means home run; and then there's Dave Kingman. He's six-foot-six and must weigh more than a Jeep. They call him Kong and Sky King. Neither of which quite gets it. His name is already perfect: Kingman. King of Man. Period.
~
As soon as you found out left-handers can only play first base on a Major League team, you stopped wanting to be an infielder. Then Eric, the second baseman on your team, went into a slump and that, combined with his errors, sent him to the bench and you to the middle infield.
Since you started playing second base, you're nervous before every game. You don't feel like an infielder. You don't like being so close to the stands and the dugout. Everyone can see everything, like when you're watching the stands because Betsy Barthel is there and Coach Smith says, "Bobby, keep your head in the game." Or when Matt Borden is in the stands, and even though he's not as good as his older brother Chris, who was on your team last year, he's got really awesome hair, knows music, has an East Coast accent, dresses cool, and is nice to everyone. And even though Betsy Barthel is at a baseball game, you could swear she spends the entire time talking to Matt and not watching the guys on the field, the two of them looking beautiful and perfect and Coach Smith yelling, "Bobby, bases loaded, Kid! Play in closer." And of course Chris Lacatia is at the plate. Chris Lacatia who has the arms and chest of a college football player and how in God's name is this guy only 12? You feel like one of those idiots in the American Revolution pictures from your history book—charging a loaded cannon with a bayonet and it's not about if your head is about to get blown off but when and how much it will hurt.
~
The further north the bus goes the less familiar everything looks. The excited chatter all around you has died down as the landscaped avenues and office parks of Orange County have given over to billboards for cigarettes and beer, old buildings where there's no vegetation unless you count the weeds growing through the cracks in the sidewalk out front. Every park you pass looks like every park you've ever seen on the 11 o'clock news with a reporter describing the body they found there.
Somewhere past the abandoned Uniroyal Tire Factory—impossible to miss because it's several blocks long and constructed to look like a castle, complete with turrets—the skyscrapers of downtown Los Angeles appear, fortresses looming over the sprawling streets. When you get beyond downtown, Sammy says, "Look at that!" Chinatown with its sloping tiled roofs and honest-to-God pagodas is just outside the window, but that isn't what he means. Chinatown is at the base of Chavez Ravine, a hill on the edge of downtown L.A. with Dodger Stadium sitting atop it like a crown. From this close, you can only see the top deck and the floodlights reaching into the blue-brown haze of summer afternoon L.A., but that's enough to get everyone on the bus chattering again. Even you are starting to feel it, the excitement beating down your nervousness. You really might meet Fred Lynn. You look back at Sammy to say something like "Awesome!" or "This is so cool!" You've only seen Sammy from across a baseball diamond before today, and even though you've been right next to him for an hour, not until now, with his eyes out the window, do you get a good, long look. He's bronzed from a summer of baseball and from this close, you see how perfectly, pre-teen smooth his skin is. His long hair bursts out the back of his hat, light brown with streaks of sun-bleached blonde. He's narrating everything he sees—pagodas and powerlines, signs and banners for the stadium. Your eyes go back and forth, from landmark to narrator. Then he turns to you, a smile revealing two large front teeth, and says, "This is going to be so great!"
~
About the time your parents got divorced, your mom found a new attachment to her East Coast roots. You took a trip to see family in New Jersey and somehow, she cared who was in the World Series. Maybe because it was the New York Yankees. Maybe because they were playing your dad's favorite team, the Cincinnati Reds. You rooted for the Reds because your dad had always been a baseball fan and if that was his team, it was your team. The Reds won that World Series but the Yankees won the next two, and suddenly you're hearing the names of Yankees coming out of your mother's mouth: Reggie and Billy, Goose and Guidry, even a pitcher called "Catfish." But worst of all is the Yankees middle infield: Willie and Bucky.
Your sister, who only likes Olympic sports, who can barely name three Dodgers even though they're on TV all the time, knows who Bucky Dent is. You had to sit through some made-for-TV movie the year before because he had a cameo in it. He's a weak-hitting shortstop. He chokes up. He's kind of short. He lets people call him Bucky. When you were eight and your two front teeth came in and looked really big, your mom called you Bucky Beaver, and it was funny. Then you turned nine.
What bugs you most about Bucky Dent, though, is that he can make an All-Star team. Sure, he's solid defensively, but he can't hit or run fast. It's like being good-looking and from New York matter more than what the guy actually does on the field. It's as if every All-Star ballot was filled out by a sixth grader. Don't adults know that being popular doesn't necessarily equate to being great at something? Don't baseball fans, at least, know that?
~
The bus grinds up the hill to a parking lot the size of Connecticut. It's a sea of undulating asphalt, traffic cones and Jersey walls floating on the surface. Dodger Stadium sits at the center, rising above it all like a tropical island with palm trees sprouting from patches of grass and swaying in the breeze. Behind the right field bleachers there is a line of parked school buses, dozens of them, and yours pulls up on the end closest to the stadium. There are hundreds of Little Leaguers in the other buses. You're not quite as special as you thought, and just in case you weren't sure, they make you wait right there on the bus. The stadium so close. All those Major Leaguers over there, somewhere, in the chambers of that baseball palace.
A woman in a skirt suit walks by. She looks important, a clipboard in her hand and her cadence a tap-tap-tap across the parking lot. One of the other guys on your bus, a guy on the Twins, releases the clips on his window, letting it slide down halfway before it clacks to a stop and he yells out, "Hubba-hubba, ding-ding, baby you got everything." The guys that weren't looking, look. The guys that were looking, laugh. Even the woman in the suit laughs. You wonder how he could get away with it, being so brash. Then you see it's Steve Trull. Steve who has cool hair and listens to bands like The Cure and Echo & the Bunnymen, bands you've never heard on the radio and can't find in the record stores at the Orange Mall.
The woman in the suit, it turns out, is important. She's got a walkie-talkie and she's on it, telling people what to do. The gist of it all starts coming clear. Before the All-Star Game itself starts later today, hundreds of Little Leaguers in uniform will march through a gate in the centerfield wall and make a big circle in the outfield around giant American and Canadian flags. That's it. The boys of summer, literally, surrounding the big boys of summer. You'll stand there during the introductions of the players and the national anthem, then you'll march out, back through the gate to your buses, safely back home in plenty of time for dinner. You won't see the locker rooms, won't meet any players, won't even see them warming up. It's disappointing, especially when you realize how long you'll be here now, but you're kind of relieved, too. It seems simple enough and safe, and at least you'll get to step into the outfield, which is where you feel most comfortable anyway.
~
From second base, you can see your dad in the stands at every game. When you make a good play, you can hear him say, "Way to go, Bobby!" You can also see that he usually sits by himself. He's pretty quiet and while your friends say he's nice, that's about all they say.
You can also see when your mom shows up to your game, often in the second or third inning, sometimes with her Yankees hat on even though you're on the Red Sox and she should know they hate each other. But she says hi to everyone, and you can hear her cheering you on, too. "Come on, Bob. Get a hit."
What you can't do anymore is watch Betsey Barthel. You're too close. It would be too obvious if, somehow, she even noticed you noticing her.
And now that you've got the job you didn't want, you have to deal with the fact that things can happen pretty quick and go really bad if you're not paying attention. You've been bobbling the ball more lately, too. It's good that you're fast and can usually recover in time, but stuff like that never happened in the outfield where you could see everything coming in plenty of time and be ready for it.
~
At the first rehearsal for the All-Star Game ceremonies, they don't let anyone on the grass. You walk into the stadium through a portion of the center field wall that swings open wide enough for an ambulance to drive through. The dirt warning track running between the outfield grass and the wall crunches beneath your sneakers—no cleats allowed. The Little Leaguers fan out in both directions, half heading towards the foul pole in right field and half to the foul pole in left field. The stadium rises gradually around you. The outfield bleachers, as tall as a two-story building, are behind you. The three main decks run at each foul pole and stretch towards the infield where a fourth deck breaks the symmetry and springs up. Beyond that, down the hill and in the distance, the downtown L.A. skyscrapers almost look eye-level with the stadium. Until now, you never realized how smart it was all laid out. How pretty it could be.
After a second run-through, lunch is served in the outfield bleachers—a Dodger Dog, a bag of chips, and a can of soda, all free unless you count the hours of labor you're contributing. After lunch, there's time to play tag in the empty bleachers, play cup ball in the empty parking lot. You don't play any games and though you look around a bit for Sammy, you've lost touch with him. He's probably found friends from his own team, maybe his own school.
~
There are kids in your Little League who show up at Boysen Park, where the fields are, in time for the first game on a Saturday morning even if they're not playing in it. Their uniforms will already be on and they'll have a few bucks in their pockets for lunch from the snack bar. And other than the hour they're on the field, they'll spend the whole day running around the park, playing tag, cup ball, pickle, pepper, and anything else with anyone else. By the night games, their uniforms will be filthy with dirt they didn't pick up on the diamond.
Because your parents are divorced, you spend weekends at your dad's on the other side of Anaheim and don't get to the park until it's time for warm-ups, then leave as soon as the game is over. You never really learned to play cup ball, though from second base you can see guys from other teams playing it on the grass behind the bleachers. It looks fun, but on the rare occasion you're lingering after a game, usually because your dad has to hash something out with your mom, no one asks. You know you'd be good because you're a starter in real baseball, but you feel funny about inviting yourself to play and figure you'd have to leave in a few minutes anyway, so you never play.
~
As cars begin arriving, the Little Leaguers are herded back to the safety of the buses until show time. The lady in the suit is back and she pulls you and Andy Galins aside. Andy is a schoolmate and your teammate on the Red Sox, so you have matching uniforms. At the end of the season, Andy will be voted onto the Little League All-Star Team and you'll make it too, but as a coach's selection. That's as close as you get to being similar. Andy is the tallest guy on your team. He has long, blonde hair and the same, smooth, perfectly baseball bronzed skin as Sammy. He's hit three home runs this year, plays third base, and pitches. In a few years, when you're both high school seniors, he'll be going by his birth name, Andrej, and be voted Prom King. You are Richie Cunningham to his Fonzie. Robin to his Batman. Davey Lopes to his Dave Kingman. You and Andy are led to a small group of Little Leaguers from other cities, about a dozen of you in all. You are each fitted with a leather belt that has an odd little cup attached to it, front and center. In this cup, you are told, will fit a pole holding a banner. Just like rehearsal, you'll march into the stadium in two lines, but when the other kids break left and right on the warning track, you are to march straight into the outfield, not stopping until you reach the line where outfield grass becomes infield dirt. There, you will fan out to the left (Andy will go right), until the banners frame the infield from first to third. You'll be near second base, your adopted home, little more than a long toss from the crowd behind first base. For the length of the Canadian and American national anthems, you'll be a short toss from the starting lineups for each team. You think now about the grass stains on your pants and how messed up your hair must look since you haven't combed it since, well, you're not sure when. It's summer after all. Why is this lady making you do this? And why can't you just say no?
You return to the bus, feeling honored and picked on. Everyone else can relax and kill time by talking and playing games. You'd been so calm when you knew exactly what would be happening, when you knew you'd be in the outfield. Now you're so nervous you can't even think about how close you'll be to the Outfield Daves, how you might be able to see the stitching on Fred Lynn's jersey. All you can think about is how you're on the infield, again, where so much can go so wrong so fast, and everyone will see.
~
Before anyone else on the bus has to move, Suit Lady is back for you and Andy. At the staging area behind the bleachers, your belt is affixed and they hand you the banner. It must be ten feet tall and it spreads out wider than your body. The fabric doesn't actually start on the pole until a few feet up, so there will be no hiding behind it either.
The stadium is filling, the solid blue seats of the upper deck now sprinkled a rainbow of colors as the fans take their places. Behind you, small groups of people are still streaming in from the outer parking lots. The public address announcer's voice booms and echoes as the buses empty the last of the Little Leaguers and two long lines are formed.
Suit Lady says to raise the banners now and place them in the holders. You can't believe how light the banner is, how easily the thing lifts up and slips perfectly into the cup hanging right over your crotch. The other Little Leaguers around you are chatting and laughing as the lines begin to move. You are serious. Your banner has stars and stripes on it, so it's kind of like a flag and you've seen those military honor guards before; those guys wouldn't crack a smile if the Philly Phanatic ate the San Diego Chicken. Even Betsey Barthel couldn't distract you now.
Before you're to the bleachers, a light breeze catches your banner, pulling it away from you and to the right. You look up and see it nearly clack into Andy's banner. He's in the line next to you. His banner looks perfectly straight, completely steady. As you get your banner straightened up, the breeze hits again. This time you're ready, but you overcorrect and the banner swings in the opposite direction. All this as you try keeping step with the kid in front of you. Somebody else with a walkie-talkie says, "Lower your banners as you go under the wire." You've been to a few Dodger games and never seen a wire before but there it is, holding up a big, black tarp so the hitters 400 feet away won't be distracted by the background.
"I can't do this," you say.
"Yes you can," Andy says. "Watch mine."
Andy pulls his banner to the right so it lowers a foot or so. He'll clear the wire easy. You do the same, to the left, grazing the wire, wobbling the banner for an instant until it pops back up into place and you step onto the warning track.
Inside the stadium the breeze swirls in bigger gusts. If you ever go windsurfing, you figure this is what it will feel like. Every other step through the outfield grass, your banner sways three or four inches one way, two or three another. Your chin is up, eyes catching nothing but your swaying banner next to Andy's perfectly straight one. You don't take in the sell-out crowd or television cameras you're certain will zoom in on you as soon as this banner gets its way and flies off like a kite. Even after you turn left just before the infield, hit your mark, and stop, the banner is still catching wind, still fighting you.
The presentation of colors and coming national anthems are announced. The players are already lined up on the first and third base lines, just a short toss away. You risk quick peeks from the banner to the players to see who's on your side of the infield. It's the American Leaguers, which means Fred Lynn's side. He's nearly straight ahead, and you see him remove his cap and turn to the outfield where the giant flags are. His wavy hair looks disheveled even though it's molded into place from his cap. As you glance your way through the starting lineup, the guys batting later are further down the line, closer to you, even easier to see. Then your eyes lock on to the number eight hitter, the last guy before the pitcher, the weak link in an All-Star team: Bucky Dent. His hair is parted perfectly straight down the middle and not a bit mussed or molded. You want to look past him to the National Leaguers, maybe catch sight of one of the Outfield Daves, but every time you're comfortable enough to look away from your banner your eyes only get as far as Bucky Dent. It's not just his hair. In person, he doesn't look like a scrawny little infielder. His arms are thick and muscly, his thighs huge slabs of meat tightly wrapped in the butcher paper of his grey pants. His jersey is evenly tucked, "New York" stitched straight across his wide chest and only interrupted by the deep blue, almost black, Yankees cap across his heart. His head is properly bowed, his hair still not moving. And despite how much you don't want to like him, you see how he fits with all the other players. Deep down, you know he must work just as hard as anyone else to have gotten this far. And when you think about it, you know his name is a baseball name. Is Bucky really all that different than The Babe?
It calms you, somehow, seeing Bucky Dent. Maybe the gusts die down. Maybe it's the thought of telling your sister later how close you were to her heartthrob and how he's even better looking in person. You won't do it in a mean way, more so in the way you talk to some of your teammates about Betsy Barthel—how it's okay to admit aloud she's beautiful because you're conveying a fact but not necessarily an intention.
~
On his 1980 Topps baseball card, Fred Lynn is jogging in from the outfield, his bushy hair sticking out the sides of his cap. That's it. The reigning American League batting champion and he doesn't even have a bat. A gold glover whose over-the-wall catch is part of the opening montage every Saturday on This Week in Baseball, and he's just trotting toward the dugout, almost looking bored. But it's your favorite. You like the way he looks so casual, his eyes so relaxed, his glove tucked into his right armpit, a move you do now even on the short jog out to second base. You also like the way, beneath FRED LYNN, there is an added banner that is not on every card: A.L. ALL-STAR. It's italicized. It has actual stars, one at the beginning of the words and one at the end. You've sat on your front porch with your neighbor, Brian, each with your shoeboxes of baseball cards beside you, staring at this card. You know it's a boring card except for the All-Star banner. But you love looking at the Fred Lynn card. It's pleasing in ways you cannot explain.
~
With the game just underway, there's no traffic in the parking lot and the bus doesn't slow down much until you're on the freeway and heading south, toward home. Your uniform is dry now, you have a row to yourself, and with the familiar voice of Vin Scully calling the plays over the bus radio, your body goes warm with relief and relaxation. Bucky Dent gets a hit in the second inning, and you're honestly happy for him.
Near the end of the drive, Fred Lynn hits a two-run homer and you imagine him jogging the bases, a little disheveled like you, his Red Sox uniform probably stained by now from the grass or pine tar. His face might be happy, though you imagine it is mostly cool, calm, relaxed. Like it is on the card. But you know that beneath that façade, Fred Lynn is serious, intense, a total gamer. He has to be. In seventeen Major League seasons, he'll never once play the full 162 game schedule because when you fling yourself at outfield walls and dive for line drives in the gap, sometimes you make the catch, sometimes you don't, and sometimes you just get hurt. It's how you want to be even if, for now, you only think it's about baseball.
" As vivid as this memory is for me, I never understood what it meant until I sat down to the write the essay. The first draft was in first-person POV, but I thought I was writing about being in the opening ceremonies of a huge event people had seen on television. It wasn't until I began revising that I saw the, at first, unintentional threads about imposter syndrome, masculinity, and socialization. Once I recognized what was going on, I was so happy for me, the writer, and so worried for me, the tweenager who couldn't have understood all he was experiencing and certainly wouldn't have admitted it aloud even if he had. And so, I made the switch to second-person POV, the 'ashamed I,' so I could capture a confessional tone that allows the boy I was to speak freely. "