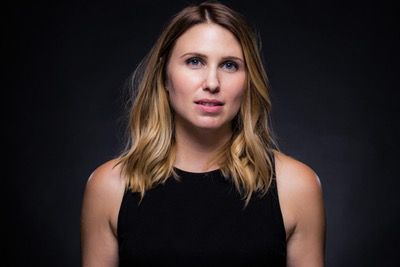 Danielle Mitchell
Poetry
Danielle Mitchell is the author of Makes the Daughter-in-Law Cry (Tebot Bach 2017), selected by Gail Wronsky for the Clockwise Chapbook Prize. Her work has appeared in apt, Hayden's Ferry Review, Eleven Eleven, Nailed Magazine, Animal, and others. Danielle is a winner of the Mary Editor's Prize and the Editor's Choice Award from The Mas Tequila Review. She is a member of the Community of Writers at Squaw Valley and the founding director of The Poetry Lab in Long Beach, California.
Interview with Girlhood Fears
Railroad tracks. Boys & spit. Teacher saying come to the board.
These are the things you fear, girl. Mouth spinning like a top.

Sewers; dip of the street that welcomes the rain.
Clowns named for pronouns: It. Him. They coming to get you.

Avalanche of bees attacking your best friend. & your best friend.
A girl, opening for a beast. The fat rolls of your skin.
& cellulite. Inner thighs wrenched like a Rubik's Cube.

Too hard. Too thick. Trespassers, thieves. Running the mile.
Not knowing how to run & breathe. Run & scream. Going fast.

Going too fast. Slut. Cow. You were a girl once, genie
granting wishes that only came true for birds. No, look closer
you have been eaten by the ones you serve. Boombox, shovel.

To obey; to have the nerve. Soft wet palms, kindness, shins.