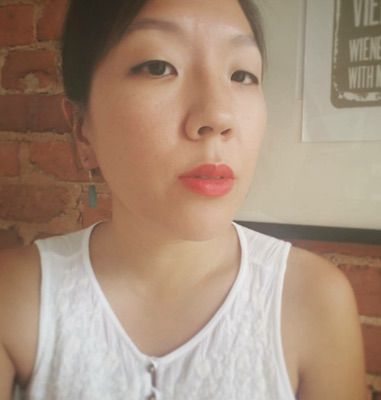 Andrea Ruggirello
Poetry
Andrea Ruggirello lives in Washington, DC by way of Seoul, New York, Boston, and West Virginia. Her writing has been published or is forthcoming in Third Coast, Day One, Catapult, and other journals. Her novel-in-progress has been selected as a semi-finalist for the James Jones First Novel Fellowship. She has recently completed an MFA in fiction from West Virginia University.
Proof
When I was three
I held up my citizenship
Framed in wood.
I stood in front of an American flag
And stared into the camera
With no expression on my face.
We went to Disney World that year.
They had to stop the ride
Because my sister's shirt got stuck
And she couldn't get free
And I didn't know how to help.
And three years later
We climbed the Statue of Liberty
All the way to the crown.
Grey-faced immigrants watched from walls
As I complained for all 354 steps.
And sixteen years later
I craned my neck at the Washington monument
And posed for pictures with girlfriends
Next to Honest Abe.
We all made sure we looked cute
Despite the humidity.
(Am I doing this wrong?)
But wait, there's more:
I've shouted cheeseburger, no pickles into the static of a drive-thru speaker
And wore a flag patch on the sleeve of my jacket
And wrapped care packages for soldiers
And waved sparklers like I was conducting an orchestra
And fucked an air force pilot
And put my hand over my heart
And voted in all the elections
And when Obama won, ran into the street of my mostly-black neighborhood
And we cried Hope and Change like they were lost pets returned to us
And when they asked for his birth certificate
I wondered if his was framed
Or stuffed in the back of a drawer
Because he thought he wouldn't need it—
Wasn't
the rest of it
enough?
" This poem feels timely with the DACA repeal and the national tension around immigration. However, as an Asian-American adopted into a white family, the question of what it means to belong to a place, to a people, has been on my mind for as long as I can remember. "