A Kraków Literary Journal: A Street of Verse
by Michael Downs
Give the pronunciation of Ulica Bracka a try: oo-LEE-tsa BR-R-R-A-tska.
Exclaim your delight: oo! Set free those plosive endings, the slanting rhymes: tsa and tska. Roll the R. Let your stresses climb and descend with the metrical feet: amphibrach and trochee, if you like.
Do this, because Ulica Bracka offers more poetry than does its clunky translation into English: Bracka Street. And Ulica Bracka, arguably Kraków's most poetic street, ought be known by its best poetic sound.
In the medieval heart of this old city, Bracka lasts only one short, gently bowed block. But it begins and ends with writers.
***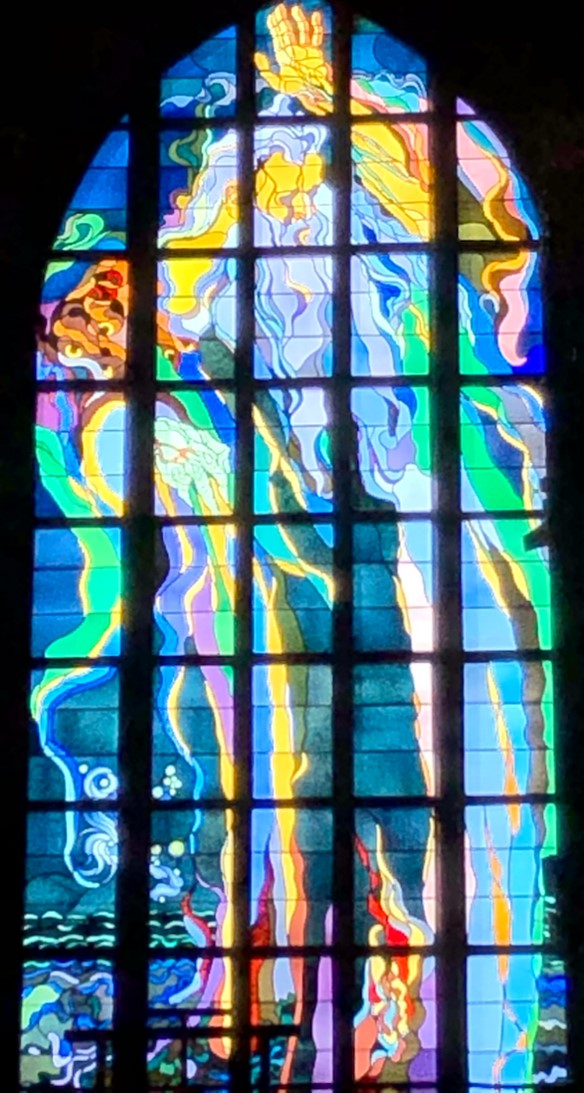 Start at its southern terminus. There you'll find St. Francis Basilica, cared for by Franciscan Brothers since the 12th century. Many sources suggest that the church's religious order (in Polish, Zakon Bracia Mniejszych) gives Bracka (Brothers) its name.
Inside the sanctuary you'll witness the work of a creative genius whose name is a household word in Kraków and in much of Poland. Stanisław Wyspiański – a poet, painter and playwright – wrote Wesele (The Wedding), a symbolist touchstone of Polish and Krakowian culture. But in this basilica, his visual art comes to the fore. In the last years of the 19th century, Wyspiański worked with a friend and rival to decorate the basilica's interior in wall-to-ceiling art nouveau murals. Morning glories and poppies, green hearts and gold stars, geometric shapes repeated endlessly – unlike any Roman Catholic Church you are ever likely to see. Here, Wyspiański's great triumph is his massive stained glass window over the church entrance, which depicts God, wizard-like, waving his arms and looking upon what he wills into being. The window has been called, alternately, "God the Father – Arise" and "God in the Act of Creation." A poet/painter/playwright like Wyspiański might have felt a bit of this majesty when caught up in his own acts of creation.
Purportedly, Wyspiański's model for this god was a street beggar.
***
Leave the church and start north on Bracka toward the central market square. To your right is De Revolutionibus Books and Café, named for Nicolaus Copernicus's world-changing book, De revolutionibus orbium coelestium – in translation: On the Revolutions of the Heavenly Spheres. Copernicus lived in Kraków in the early 1490s as a student at Jagiellonian University, and given the small size of the city then, we can be fairly certain that he walked Bracka, perhaps carrying in his head nascent dreams of the Earth revolving around the sun. De Revolutionibus is a regularly crowded shop with extensive offerings in philosophy, reportage, and art. There are also a good number of English-language books. On a visit with a friend, we picked up the English translation of Murikami's The Wind-Up Bird Chronicle.
***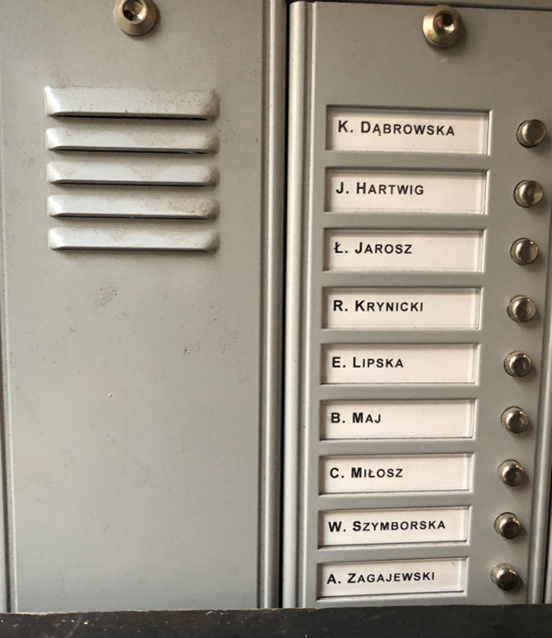 Continue north, go slow. The street is only about 500 feet long; you'll soon reach the end unless you linger. As Bracka bends, look left for a small doorway and the cafe Nowa Prowincja: New Province. You are in the right place if the apartment roster beside the door includes residents such as C. Miłosz, A. Zagajewski, E. Lipska, W. Szymborska – some Nobel winners and other Polish poets of international renown. Press the button to ring a poet's "apartment," and you'll hear a poem they wrote, declaimed in Polish: pretty to hear even if you don't understand the words. The volume is loud enough that all nearby pedestrians will share the moment.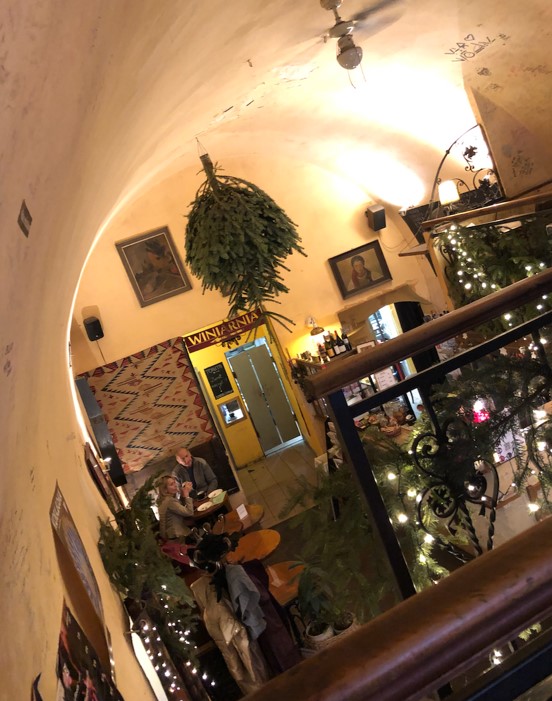 This cafe is well known for having been one of Szymborska's favorites. She may have even given one of her first readings at this address. Inside, the rooms and mezzanine are dimly lit, some walls etched with graffiti, the tables old and chipped, the chairs sometimes rocking with uneven legs. In other words, it is magnificent. Amidst dozens of unwound clocks showing all sorts of times, you'll find Szymborska's photograph on this wall and that. The WiFi password is Sernik77. Sernik is a Polish-style cheesecake; Nowa Prowincja's is among the two best I've tasted.
In other words, come first for the poetic spirit, but come back for the cheesecake.

***
Just past Nowa Provincja is another cafe, this one part of a chain not called Starbucks. Green Café Nero serves reliably good coffee and Bracka's version, like each location of the franchise, is filled with books.
Near the end of Bracka, you will find a wall plaque marking that particular building as the one-time home of Władisław Orkan (1875-1930), noted here as a poet of a particular region of southern Poland. Orkan was a pen name for Franciszek Smreczyński, well known in his time and place, perhaps less so now. He grew up poor in the mountains and succeeded despite a spotty education, building an oeuvre of poetry, drama, stories and a novel. I'm always glad to see this nod to a writer's solid, regional career. We can't all win the Nobel.
***
Across the street from Orkan's plaque are the high walls of a palace. A countess still lives there, I'm told, in rooms toward the back of the palace's courtyard. Potacki Palace is also home to an art museum's bookstore, and it is home to one of the most important literary institutions in Kraków, Kraków Miasto Literatury: Kraków City of Literature. This city-funded organization put the poets' apartment buzzer outside Nowa Prowincja. Annually, it organizes a poetry festival named for Czesław Miłosz and a fiction festival named for Joseph Conrad. It places the names of authors on park benches throughout the city. It sponsors workshops and literary conversations.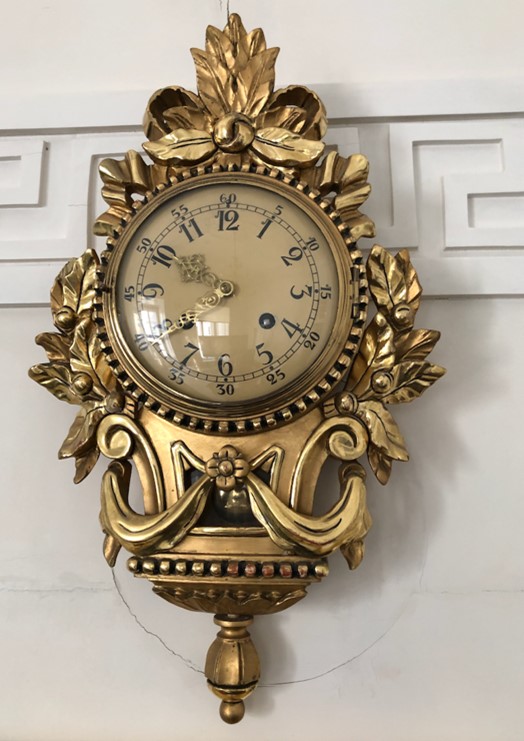 When I recently led a six-hour workshop for Kraków Miasto Literatury, they put our group in a palace room called The Clock Room. The Clock Room gets its name from a beautiful, old gilded clock on the wall, which always reads 9:40 or maybe 10:40 – it's hard to decide given the location of the hour hand. My workshop involved flash nonfiction, how to generate ideas for it and then to write it. Of the ten who attended, six were native-born Poles and four were native-English speaking expatriates, including a Canadian, an Irishman, and two others whose accents suggested origins in the British Isles.
Among the flash nonfiction we studied was one set in Poland, written by an American poet and writer named Jehanne Dubrow, who lived in Warsaw as a girl – the daughter of diplomats. There in the Clock Room, where it is always 9:40 or 10:40, we read Dubrow's line describing a night early in Poland's infamous and deadly era of martial law: "On the wall, the clock hands were flinching their nervous time."
***
It is, of course, nervous time again in Poland. The clock hands flinch.

From Kraków to Ukraine's border is about the same distance as Baltimore to the Jersey Turnpike's Joyce Kilmer service area. As I write this, Putin's mad war has displaced more than four million Ukrainians. Hundreds of thousands have come through Kraków. About 150,000 have stayed, increasing the city's population by about a quarter. Stores post signs in Ukrainian as well as Polish. Ukrainians fleeing the war ride city trams for free. At the largest soccer stadium, refugees can find help with housing, health care, jobs, bureaucracy. Their children attend classes in Polish schools.
Each night for years, Kraków Miasto Literatury has projected illuminated lines of Polish poetry onto the Bracka side of its building, followed by those same lines translated into English. These days, though, on the palace wall at the end of the Street of Verse, the lines that Kraków Miasto Literatury projects are for Ukraine: "Wierze dla Ukraina." The fragments of poems appear first in Ukrainian, followed by a Polish translation, then one in English. On a night in March, these words appeared, translated into English, by the poet Marzanna Kołodziej:

the barbarian is a non-believer
he does not put war crosses
mobile crematoriums follow the army
oh spring
you bloom with blood today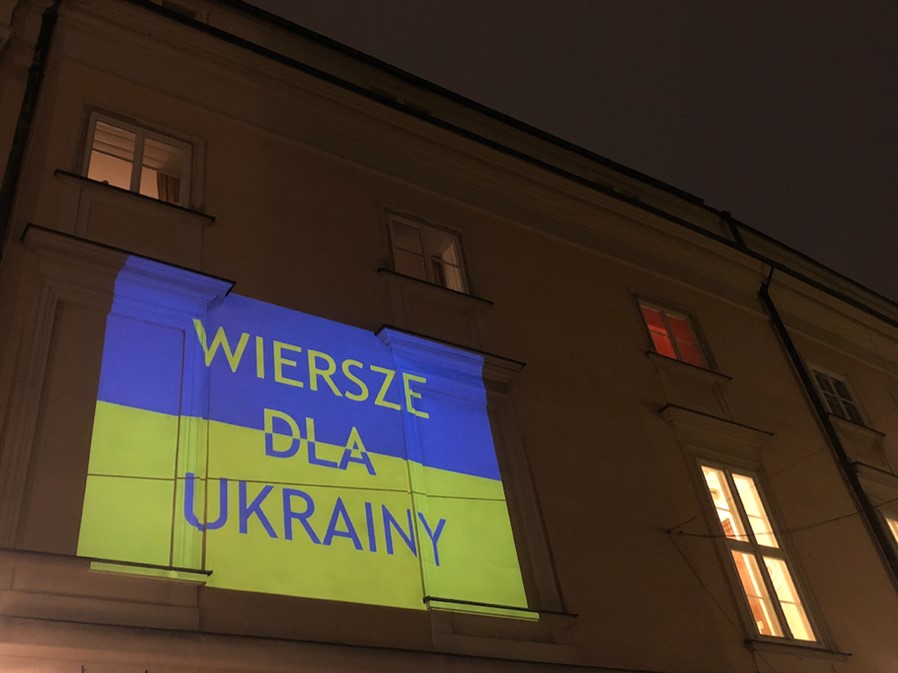 Michael Downs, who serves on the board of Baltimore Review, will spend the next several months living and writing in Kraków as a U.S. Fulbright Scholar. He will periodically write here on the BR blog regarding literary Kraków. He's the author, most recently, of the novel The Strange and True Tale of Horace Wells, Surgeon Dentist. Learn more about him at michael-downs.net.
Comments: