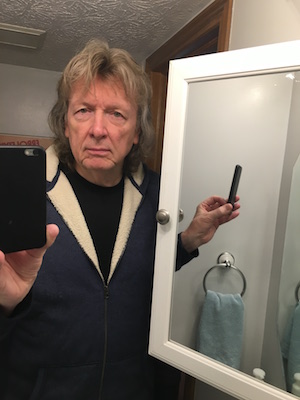 Roy Bentley
Poetry
Roy Bentley is the author of four collections of poetry, including Starlight Taxi (Lynx House: 2013), which won the 2012 Blue Lynx Poetry Prize, The Trouble with a Short Horse in Montana (White Pine: 2006), which was the winner of the White Pine Press Poetry Prize in 2005, Any One Man (Bottom Dog Books: 1992), and Boy in a Boat (University of Alabama: 1986), which won the 1985 University of Alabama Press Poetry Series Award. Recipient of a Creative Writing Fellowship from the National Endowment for the Arts, six Ohio Arts Council fellowships, and a Florida Division of Cultural Affairs fellowship, he has taught in colleges and universities in Ohio, Wisconsin, Florida, Iowa, and New Jersey.
The Keno Caller at the Oxford Cafe in Missoula
stands before a Sony microphone, belts out
The number is 7! A woman in a housedress
lays out sugar packets in rows as she follows
a paper card, a thin square of white she marks
with a blue crayon-half in the bar's spilled light.
The caller is as homegrown as the gaits of horses,
one of which altered the fretboard of his vertebrae.
A tv behind the bar blares that half a million souls
have been disappeared by a tsunami. I'm seated
at a table by a wall. Alone. Under a bison head.
In the glow of a Rainier sign, I'm a boy again:
waiting in the pit area of Kil-Kare drag strip.
I'm waiting for my father and his driver, Lou.
Swales of tire smoke zebra a Crayola-red sky,
a tinny PA system rattling on that Lou has lost
by blowing what the voice calls "a decent light."
The caller at the Ox is sending a spark shower
from Lou's '61 Plymouth, his announcer patter
connecting crayoned-in dots of remembrance.
Limits of time and memory restrict the heart
like the band on the roll of currency a local
sails by to collect. I want a card. Because
I want not to see the caller drag himself
to the door of the Men's room. I want
to see Missoula, Montana and the caller
in a decent light. My father would do that,
look away, when Lou lost or blew an engine.
In a booth the Sugar Lady arranges packets
as if grace is the etcetera we make happen
above the roar and against great odds.