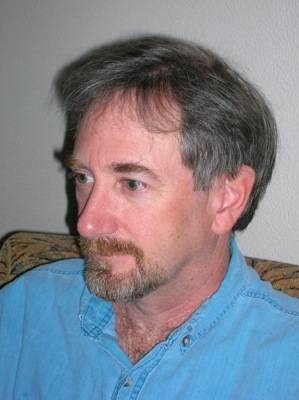 Daniel Butterworth
Poetry
D. S. Butterworth teaches literature and creative writing at Gonzaga University. He has a creative non-fiction book from Algonquin, Waiting for Rain: A Farmer's Story, and a book of poems, The Radium Watch Dial Painters, published by Lost Horse Press. His poetry and fiction have appeared in many literary journals.
Toward Death
Labyrinths of seasons lose us in the cries terns
make nesting on the island out in Ballynakill Harbor,
and the Twelve Bens scale the clouds. We find
our temporary homes brooding on roads the way
we find selves, or maybe the way souls make bodies.
But it's actually bodies that make souls, isn't it,
the brain conjuring all that ghostly meaning? Existence
is a sleeve thought pulls inside-out to discover
 
the invisible is more real than the visible
even though the elemental wind and stone
and sea of a person trump the blown circuitry
every time. Today, for example, it's a woman
carried through town in a black wagon whose
wheels sound like grief and joy at the same time.
Hundreds empty from the church and wind
through the town until the memory of her spills
 
out past the harbor to drown. Ninety-six years
before her cladding crumbled and still against the sky
sea birds speak a language of wind and light
in their raging hungers. The houses move
darknesses across the bay. We have words
for the house, words for the sea, and words
for us. Inside a jar the words are beating
thin against the walls of glass.
" 'Toward Death' arose from seeing a funeral procession move through the town of Clifden in the Connemara region of western Ireland. "