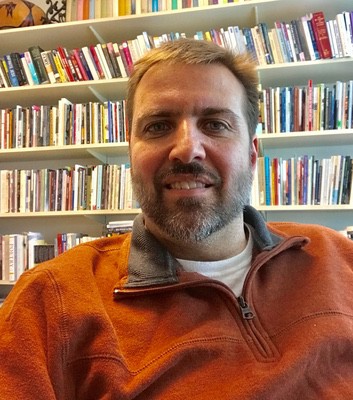 Amorak Huey
Poetry
Amorak Huey, a former newspaper editor and reporter, teaches writing at Grand Valley State University in Michigan. His chapbook The Insomniac Circus is forthcoming from Hyacinth Girl Press. His poems appear in The Best American Poetry 2012, Hayden's Ferry Review, Menacing Hedge, Heron Tree, and other print and online journals.
Scientists Say One Language Disappears Every 14 Days
The gin and tonic on your breath –
so much is lost
to evaporation, translation, replication, the movie version:
these processes that occur only on the surface of a body.
There are cycles we control and those we cannot. Sounds
we make and sounds no one will ever make again.
It's goddamn hard just to talk to each other
some days. To say
only what you want, to give voice to desire: it seems the most basic
purpose of language. Yet it is the thing that escapes,
the warm air that rises.
Seven thousand tongues in the world and all I can think about is yours.
" It's true, the scientists fretting about the world's dying languages, and once they're gone, once no one speaks these languages anymore, they are simply gone. Like any utterance, right? Like life, basically. I think of that art monks make from sand only to sweep it up afterward. Everything is temporary, everything and everyone, and yet we're here right now, we love and crave and desire and create and sometimes we write stuff down to buy ourselves a little more time. "