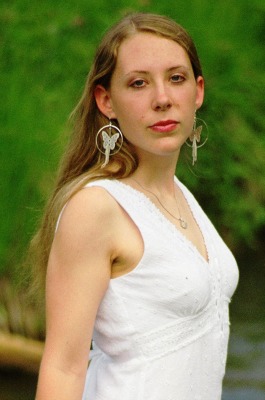 Rachel Linnea Brown
Poetry
Rachel Linnea Brown is currently pursuing her MFA in poetry at Colorado State University. She earned her BA in English with a minor in Creative Writing from the University of Central Missouri in May 2011. Her poetry has previously appeared in or is forthcoming from Subtropics and the Midwest Quarterly. Baby, chocolate Labrador extraordinaire, is Rachel Linnea's companion in all adventures great and small.
To Ply
I gather
a fistful of roving—
guttural bleats, wobble-legged
searching after fat pink teats—
silence as my mother's shuttle
crosses her warp—the pattern
in weave, her whirring fingers—
and drop
my spindle again—
afterbirth I mistook for a lamb
and its legs I folded into earth
after years—yellow lawn chairs
rounding the grave my mother
and I dug in our rooted field.
I will twist into cream
and gray and moorit skeins—
and tuck all
away from moths and dust
for my eventual, casting on—
" This poem is a tribute to my childhood—I grew up, the oldest of three sisters, on a small sheep farm in rural Missouri. Some of my earliest memories are of bottle-feeding newborn lambs . . . and of flying through the air after our ram butted me from behind. Shearing, washing, carding, spinning, knitting, weaving, and other such activities keep my mom busy to this day—but I live hundreds of miles away. 'To Ply' thus combines my past and present into one strand. "