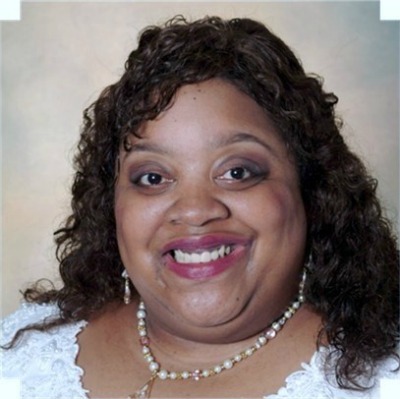 Jo Marie Darden-Obi
Poetry
J. Marie Darden is an Assistant Professor of English at the Community College of Baltimore County, in Baltimore, MD, where she teaches Creative Writing, Composition, and Developmental Writing. She rekindled her love of poetry as part of a recent sabbatical project where she aimed to become either profound or succinct. The plan was not completely successful, as she still manages somehow to be long-winded and silly, but she was able to develop two chap books of poetry: Remuneration for 1973 and Psalms from her Volcano: God, Water Love. A veteran fictionista in a newfound poet's blouse, Ms. Darden has two fiction novels in circulation, Enemy Fields and Finding Dignity, as well as several short stories published by Simon and Schuster's Strebor Books. Her poems are available or forthcoming in a few journals, including Welter Magazine. She holds an MA in English Education from The Johns Hopkins University. 
Crème de Kathleen
For Supreme Opera Diva, Kathleen Battle


a victual of seemliness
lightly salted snow
sounds like a
wisdom- pressed mortar of divinity
sewn with cold wind
thinned with a pestle of honey

infused with still clear air
where bare is the pinnacle- icicle
blue brain dew goes all pink spectacle
hugs, lifts. a mountain top
high five with
God

if there were a wish,
a broth of sin and bliss
a tickle brushed madrigal
rushed from the lips to
itch itch itch in the pucker of the wrist
(how to aspire to music like this?) it would be you

a verbal nutation
a spinning gold dance on crystal
a witness
a manifestation
a conflagration of ice
an asphodel, a jacob's rod

if holy ghosts were sonant
they would intend themselves
to 14 metered pounds of flesh
blend themselves with milk-addled bray
lie awake and pray
to sound like you:

the gentle lifting of shoulders
the fizzling right now that pleads no contest
the sugar-child mama's arms stroke of i'm blessed
the honor of sonorous chocolate. the best
proof that God upended currency and paid with you,
the voice of His own money
Curtis
For Curtis Mayfield


"diamond in the back/sunroof top/diggin' the scene with a gangsta lean, oooh oooh"

that was more than a groove, dig?
dude was deep:
badass in glasses
masterful- hip.
professor curtis on that didactic tip
had the brown skin, knit cap, bell bottom, jean jacket trip
to a tee. he had me
in his pocket
sock it to me, now.
don't sleep.
y'all know curtis was deep.

creeped out from the leather trenches of '73,
when brothers stood on platforms
of ceremony that made no sense:

shovel snow, throw a pinch
seat a brother on the same whack bench
drop a dime kill some time
back behind a chain link fence
(same lie they told you from ever since)
what you gonna do besides hustle?
ain't no muscle in that.

somewhere over the rainbow of this came curtis
and the mayfield experience.
rattle came down like an african swill
ringing new church bells of twilight
highlife horns on a window sill of opportunity
whatcha got to do to beat obscurity?
answer is a call and response
in the trill of the swallow, hallow of a drum
ca coo coo cha, ca coo coo cha
popping off the tongues in the cheeks
wah, wah peddle guitar meets
chicago. hello! got to get mellow, now.

spitting all over the black keys
dude left a footnote on the corner of my history
repaved the walls
of acned, flesh,
bubbled over social unrest and danced
on down like a dashiki wiring my soul
with hcg, impregnating me with the boogie of
"life, more abundantly"

nah, wasn't just about a groove, y'all
dude said keep on pushin because we're a winner
spoke to the inner workings of a mind trap that panders to the grandeur of
something for nothing.
man, ain't nothing free
i learned that back in '73
so superfly types had nothing for me

but curtis? dude sanctified my youth
the music, the message-
curtis was truth.
" These poems began with a sabbatical project to study and write modern poetry. After 12 years of teaching, my soul was bleeding, I was weary from reading so many essays, and frankly my eyes were beginning to cross. I wanted to revitalize and create, but I was just too tired. Music is where I go to get the inspiration and the wherewithal to write, so while I was on sabbatical I reached back to some of my favorite musicians from childhood-James Brown, Michael Jackson, Ray Charles, Curtis Mayfield. In the middle of my nostalgic stint, Gill Scott Heron died. Truly, a part of my spirit went with him. Along with my favorite musicians, Scott's marriage of jazz, word play, and commentary had provided a soundtrack for my life. With some free time on my hands and enough mental energy to reinvent, I left my post as teacher and jumped head first into spoken word. Remuneration for 1973, a collection of poems, is a love song to those icons who engendered my poetic spirit and altered my DNA for the better. "