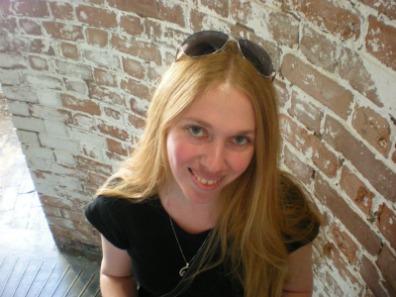 Beth Lefebvre
Creative Nonfiction
Beth Lefebvre earned a M.A. in writing at Johns Hopkins University. She is a former newspaper reporter and editor, and her work has appeared in Cobalt Review and Urbanite magazine. She resides in Halethorpe, Maryland.
An Unwitting Accomplice
The 1988 blue Toyota Corolla is just one of four million to travel American highways since the model was introduced here in the 1960s. Its license plate, 3JFZ283, bears the carefree red script "California"—invoking sand and surf, perpetual playgrounds, Disneyland, and Hollywood.
The pristine tires emit a strong odor, half-sickening, half-sweet. Tiny tread hairs stick up like leafless trees on a barren, cracked wasteland. The interior is spotless, but only because a team has combed every inch of its fabric and plastic surfaces, excavating reams of documents, receipts, and personal letters.
And then there are the jarring details of abuse: a missing passenger headrest, a crack splitting its dashboard plastic from the windshield to the steering wheel, swatches of hood paint removed in a jagged pattern.
The car also sideswiped some unforgiving object, maybe another car, maybe a wall. White streaks slice the driver side. This wound was likely caused by the driver himself, via a simple, frantic shift of the steering wheel.
Despite its unique markings, the U.S. Government's 9/11 Commission report referred to this Corolla, VIN JT2AE92E9J3137546, as "older" and "non-descript."
But the car's purpose was not what the factory intended.
~
Nawaf al-Hazmi came to America to die. The 25-year-old had less than a year-and-a-half, and although he had traveled to Bosnia, Afghanistan, Yemen, and Chechnya, he was about to take his first steps on American soil. On January 15, 2000, he arrived from Bangkok, Thailand, walking off United Airlines Flight 2 into the Los Angeles International Airport's sunny terminal. He passed the sizzle of Burger King and the sweet scents of Cinnabon. He bypassed the Last Stop News Shop.
He likely wasn't daunted by Los Angeles' jumble of bustle and noise. His hometown of Mecca, Saudi Arabia, swells each year to four times' Los Angeles' population during the Hajj pilgrimage, when more than 13 million Muslims visit Islam's holiest city.
Al-Hazmi barely knew English. His childhood friend, Khalid al-Mihdhar, who traveled with him, did not grasp the language either. But they wouldn't let that imperil their version of the American dream. They had overcome larger obstacles before, from fighting in Bosnia and Chechnya to attacking the Afghan Northern Alliance side-by-side with Taliban soldiers.
Money was not going to be an issue, thanks to financing from back home. Together, they applied for drivers' licenses and credit cards, traveled to San Diego, and rented Unit number 150 at the Parkwood Apartments, a compound of chunky light-colored stucco buildings with 175 units.
On February 25, 2000, they bought the 1988 blue Toyota Corolla for $2,300 and eventually registered it in al-Hazmi's name, federal investigators would later confirm. The Corolla was their vehicle to a better life: Al-Hazmi wanted to be a pilot. The Saudi grocer's son had even mail-ordered the training video "How an Airline Captain Should Look and Act." He had a few destinations in mind—perhaps New York City, maybe Washington, D.C.
Not much about this car—pre-February 25, 2000—would matter in 19 months. Not the fact that it once shone like a sapphire rolling off the factory floor, or that it probably was in desperate need of an oil change, or that an Australian auto report gave the 1988 model a worse-than-average safety rating while it received an "acceptable" rating in the United States.
Safety was no longer a priority.
~
The Toyota Corolla was nonetheless dependable, and it would take al-Hazmi and al-Mihdhar to play soccer in the park, to pray at the mosque, and to learn how to fly at two flight school classes in the spring of 2000. Still, the men couldn't break through the language barrier enough to continue training, so they signed up for English classes at the Language Instruction Centrum, across the inlet from Sea World, where the men had season passes.
The four-door Toyota took them to get carry-out at Papa John's Pizza, to shop at Old Navy, Wal-Mart, Macy's, and the Sunglass Hut, and to collect money wired from the Middle East to Bank of America branches in California.
Sometimes, al-Hazmi would linger in the complex's parking lot while the Toyota was idle, talking on his cell phone rather than using the phone in the apartment, according to federal documents.
A few months later, to save money, the pair used the compact car to move their sparse belongings to a cheaper rental home in Lemon Grove, California, a dusty hilltop dotted with palm trees and chain link fences. But al-Hazmi was becoming frustrated after flunking out of two flight schools in San Diego; the English lessons still weren't helping much, and time ticked toward a deadline.
So in December, the Toyota rumbled along the highway to Mesa, Arizona, to let al-Hazmi and al-Mihdhar try their luck at a different flight school. They moved into an apartment at the Indian Springs Village, just a few blocks north of the Fiesta Mall on Superstition Highway. It wasn't a great place to spend four of your last 10 months alive—residents often complained to police and on the Internet about the drug dealing, the roaches, and burglaries. It's likely that several of the Toyota's dings and scrapes were inflicted while it sat in the parking lot at night.
Still intent on flying, al-Hazmi drove the Toyota to Wide World of Maps to purchase charts: a National Geographic road atlas, two Unique Media maps—one of the United States and one of New York City—and a World aeronautical chart covering the entire northeastern United States.
Yet, for all his preparation, al-Hazmi just wasn't meant to fly. He couldn't even stay in a flight school class long enough to get the basics, let alone learn the intricate, difficult maneuvers required to navigate a Boeing 757, especially those needed to steer one into the Pentagon. Al-Mihdhar had gone back to the Middle East. For now, al-Hazmi was grounded, left only to be a "muscle" hijacker, subduing or killing uncooperative passengers.
He now depended on the Toyota, his unwitting accomplice, to help carry out preparations for mass murder.
~
Most drivers would not risk running a thirteen-year-old car across the country, but al-Hazmi—with his 154-pound, five-foot-five frame fitting easily in the compact car—would take it clear to the East Coast, with stops in Oklahoma, Florida, Virginia, Connecticut, New Jersey, and Maryland.
The trip included simple pit stops and ordinary outings. On March 10, 2001, with highs in the 50s and snow still on the ground, the Toyota wound through the Grand Canyon National Park after al-Hazmi paid the $20 entry fee, giving him a tour of what President Theodore Roosevelt said "every American should see."
In a cruel twist, on April Fools' Day, the Toyota, speeding along an Oklahoma highway, was pulled over by a state trooper who checked to see if the Corolla was stolen, looked up al-Hazmi's record, and issued a speeding ticket and summons for not wearing a seat belt. According to records, the police officer then sent the Toyota on its way.
On July 4, 2001, in the dusk hours before the fireworks began and after the parades had wrapped up, the Toyota steered into Newark Airport terminal B to drop off one of al-Hazmi's colleagues, someone who would die the same day: Mohamed Atta.
Atta had succeeded where al-Hazmi struggled, successfully learning how to fly. He now controlled their operation in America, and he would later take over the cockpit on American Airlines Flight 11 and steer it into the North Tower of the World Trade Center.
The two would meet over the course of several months to make plans, transfer money, and conduct surveillance flights—watching when cockpit doors would typically open, exploring weaknesses in boarding and airline procedures. They would take separate flights and meet in Las Vegas; al-Hazmi would travel back to Baltimore/Washington International Airport alone.
Al-Hazmi stayed in Laurel, Maryland, where he settled the Toyota at the Budget Host Valencia Motel on Washington Boulevard, which connects Baltimore to the nation's capital. The Toyota would come in handy to run al-Hazmi from Room 343 to places investigators found he was preparing for the attack: to a nearby Mailbox Etc., to public library computers to check his Yahoo e-mail account, to Gold's Gym to build up his muscles so he could overpower passengers, and to Target to purchase a Leatherman Wave box-cutter multi-tool. Sometimes he took the Toyota on longer drives, including several to Skyline Butcher in Falls Church, Virginia, a market that sells bulk meat. Days before the attack, he drove to a local Kinko's, where he surfed Travelocity's website and purchased a ticket for Flight 77—which would depart on September 11, 2001.
Al-Hazmi did occasionally abandon the Corolla in favor of a rental car – sometimes a cinnamon Chrysler Concorde, sometimes a Chrysler Sebring – but he would return to the Toyota when he needed it most.
The morning of September 11, 2001, al-Hazmi donned a blue shirt, khakis, and dress shoes. He shaved his mustache according to the rules for preparing the body for death. He drove the Toyota to the hourly parking lot in front of the glass-plated front of Dulles International Airport's main terminal at 7:25 a.m. He walked through security. Al-Mihdhar, back in the United States, would later join him on board. Video shows both men would set off metal detectors. Al-Hazmi set off two. A screener passed a wand over his body while another checked his luggage. They cleared him to board Flight 77, and he sat in first-class seat 5E. At 8:20 a.m., the airplane took off, bound for Los Angeles, the city where al-Hazmi took his first steps in America.
Twenty-seven minutes later, Atta plowed his aircraft into the North Tower of the World Trade Center in New York at more than 450 miles per hour. Sixteen minutes later, a second plane hit the South Tower. Meanwhile, Flight 77 took an unauthorized turn to the south.
At 9:37 a.m., al-Hazmi, al-Mihdhar, and three other terrorists took control of the plane. Several years of simple, incremental, planned movements culminated with a shift of the plane's yoke, which slammed the American Airlines jet into the Pentagon, killing 184 of the 2,753 people murdered in the largest terrorist attack in the United States.
~
Before September 11, 2001, Americans rarely considered the use of simple instruments of utility as means to this kind of end. By design, a box cutter helps unpack a crib for the new nursery. An airplane brings husbands safely back from business trips. A Toyota Corolla shuttles college students to dorm rooms and back home again.
Al-Hazmi and the other 9/11 hijackers changed the rules that govern our sense of safety at home, our trust in travel, and the way we search for clues to understand this new form of warfare—and defense.
By the morning of September 12, the Toyota had been sunning quietly for more than twenty-four hours in Row G of a lot meant for quick pick-ups and drop-offs. All across the country that day, airline flights were canceled. So a single car sitting in the hourly lot when there was no air traffic drew the suspicions of Dulles Airport Security personnel, who alerted the FBI. By 3:45 p.m., the Toyota was surrounded. Investigators wearing raid jackets with "FBI" in bright yellow letters swarmed the car, photographed it, towed it, and examined its most intimate areas – in the folds lining the trunk, in crevices between the seats.
All along, the Toyota had been collecting secrets. The small interior held more than fifty documents that detailed the seemingly benign preparations for September 11, 2001: packing slips, checkbooks, a Fry's Club VIP shoppers card, a library flyer, books in Arabic, ATM receipts, calling cards, four-color diagrams of a Boeing 757 instrument panel, a box cutter, store and restaurant receipts, a Flight 77 travel itinerary for al-Mihdhar, and a piece of paper with "Osama 5895316."
The car gave up a letter handwritten in Arabic, which federal investigators translated into English, with instructions for the hijackers' last night, the "second step," and the "third phase." It told the men to shave all excess hair, shower, and forget something called "this world." It asked the men to reflect: "Shouldn't we take advantage of these last hours to offer good deeds and obedience?"
They were told to bless their luggage, clothes, the knife. Al-Hazmi surely followed the instructions to "remember God constantly while in the car."
"Do not seem confused or show signs of nervous tension," the letter commanded. "Be happy, optimistic, calm because you are heading for a deed that God loves and will accept."
"Clench your teeth. ... Shout 'Allahu Akbar,' because it strikes fear in the hearts of the non-believers. … Strike above the neck. Strike at all of their extremities. … Take prisoners and kill them. … Do not cause the discomfort of those you are killing. … If everything goes well, every one of you should pat the other on the shoulder in confidence."
Then, the letter promises, they will all meet in the highest heaven.
~
For the Toyota, however, everything went dark. For nine years, it sat in an FBI warehouse of evidence, a forgotten player.
Then, a crane hoisted the Corolla into the second floor of the FBI headquarters in Washington, D.C., to be part of its 9/11 exhibit. Today, the car's taillights back up to an exterior wall. Its headlights stare at a column that bears a photo collage of more than fifty 9/11 victims, whose unsuspecting faces smile back at the Toyota.
The Nation's Capital, a repository of our country's sometimes violent history, features dozens of museums – from the Smithsonian to the United States Holocaust Memorial Museum – that showcase objects of war and tragedy, items easily identified as instruments of destruction or death: guns, knives, bomb casings, an embroidered Nazi swastika on a soldier's uniform.
But the Toyota shows us that it is not always easy to identify the enemy, especially one so familiar, so mundane, parked squarely in our midst. Within the 9/11 museum's wreckage – bits of concrete from the Pentagon, burnt metal shards of United Flight 175, a twisted New York City lamp post—this "non-descript" Toyota Corolla is the clearest reminder of the simple driving forces of evil.
" As I passed by the relics of September 11, 2001, every artifact, every photo exuded loss. Then, I saw the car. It almost seemed that it was parked there by mistake. But my body knew differently. My stomach felt sick. It is one thing to be close to items that were clearly part of a tragedy. It was another to literally touch an instrument that witnessed it all – from the struggles to learn English to picking up a Papa John's pizza. What the car revealed was the simplistic and rote movements the terrorists made to cause so much destruction. "