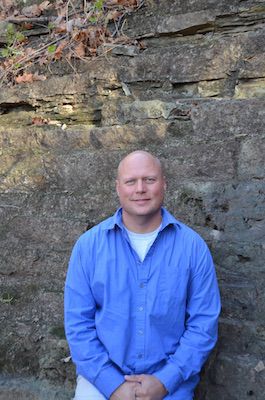 Shane Griffin
Poetry
Shane Griffin is a graduate student at Iowa State University's Master of Fine Arts in Creative Writing and the Environment. He is an award-winning poet and his non-fiction has appeared in Hippocampus Magazine and the Wapsipinicon Almanac. Shane is a firefighter/paramedic in Des Moines, Iowa and he is an Iraq War veteran.
Abandoned Kiddie Pool
We were told to watch out for snipers when we sat
in the kiddie pool on that roof top in Ramadi.
Wes and I wore sunglasses under the hot
desert sun. We sipped water from our canteens
like drinking margs in Las Vegas or mojitos
in Key West. We raised empty fingers to our lips
and puffed expensive Cubans and tipped invisible waiters.

This is the fucking life, huh Griff? Wes said.
Poolside at Ramadi Resort.
A fucking kiddie pool in the mail!
All the way from Arlington, Fucking Mass!
Here's to you, Grandma! We raised
our plastic canteens to the air to toast,
they clanged together like delicate cocktail glasses.
We laughed like civilians in swim trunks.
No body armor, no weapons.

A bullet snapped above, then another. We rolled
over the sides of the pool, dumped water
on that hot roof, low-crawled to the ladder
down into a sandbag bunker. Somewhere
in shadows, just out of sight, Juba laughed
and spared our lives. To remind us of this war
so that we may join him one day for
drinks and cigars, poolside at some imaginary
hotel in Baghdad or somewhere other than here.
" 'Abandoned Kiddie Pool' is from a larger collection of poems I am working on. The poems are about my time in Iraq and a notorious and mysterious Iraqi sniper, Juba. "