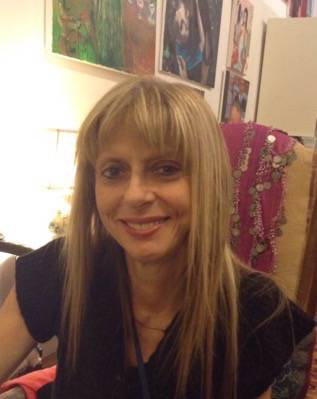 Stephanie Dickinson
Fiction
Stephanie Dickinson is an Iowa native who lives in New York City's East Village. Her novel Half Girl and novella Lust Series are published by Spuyten Duyvil, as is her just-released novel Love Highway, based on the 2006 Jennifer Moore murder. Her poetry and fiction appear in Hotel Amerika, Mudfish, Weber Studies, Fjords, Water-Stone Review, Gargoyle, Rhino, Stone Canoe, Westerly, and New Stories from the South, among others. Heat: An Interview with Jean Seberg is available from New Michigan Press. She has received multiple distinguished story citations in the Pushcart Anthology, Best American Short Stories, and Best American Mysteries.
Big-Headed Anna at the Ice Cream Social
1911. Basswood leaves powdered with dust overhang the courting couples and the table of sweet ices. Farm girls fragrant as peonies in their white mutton-leg-sleeves stroll the country church lawn. In stiff collars and middle-parted hair, the farm boys pitch horseshoes. I wear an apron and my wide-brimmed hat. Between scooping, my hands splash in the wash bowl. The ice cream I helped churn with rock salt breathes its cold kisses into the July heat. I know the seed swells inside me. I hum to myself as I pare the apricots thin and chop the ice fine. The horses unharnessed from the ice wagon graze the blue grass that thickens next to the creek. Couples share the stereoscope and view picture cards of faraway places. They spoon ice cream perfumed with orange blossom into each other's mouths, they touch breath as they sort the picture cards. Snap snap goes the fingers of the pastor's wife. Big-Headed Anna, fetch more ice, then more churning. Anna, we need the wooden crate brought from the water. I kneel next to the creek, fishing for the cream crate. A waggle of boys follows me. They skip stones at the tree stump in the stream's middle that raises its half-drowned massive head, as if a dog lifting its moss-painted muzzle and snout. That's you, Big-Headed Anna. I press cold palms to my flushed face. They see my belly, but will not believe. Who would do that? I wasn't expected to take in the air of this world long, I was left to expire beside my dying mother, and now I carry life inside me. I will name my child after the giant trees that rain insects onto the water, so he or she does not forget the budding and singing in tree-time and insect generations, its chitter and scat. He won't be born in an overcast of sadness, a dead mother in its thickness, and the deeper his childhood rows him, he'll find no weeping. I listen to my heart beating its small river of footsteps. I hug my stomach and wonder if my son, safe in womb-water, will like the color red, the bleed of cherries and mulberries, or will it be green my baby loves, the forest world of frogs and grass. I'll name him so that he will be ever thankful to life, which comes from the giver. If God walks on this earth, He is water.
Big-Headed Anna Gives Birth in a Pasture
1911. I still bleed where you came at the beginning of fall and broke from me like innards from a chicken, there in the pasture grass among the green walnuts and water trough, with no doctor looking on, only a grazing horse crunching a wormy apple. No one besides you, my son, my little seed, believed. Big-Headed Anna has swallowed a wind baby. Her belly is all in her mind. My scowling great-aunt thought me asleep when there were chores still to be done. There I lay in the glary sun and you on my belly, the cord between us yet to be severed. A leaf sound seeped from you and it looked as if you were trying to climb with ten toes. I wondered if your bright eyes were watching the ladybug crawl up the grass blade, which grew next to us. Where did she think she was climbing to so frantically and fast with her fat little body? Was she the same ladybug who clung to me as a wee one? I rocked you ever gently, so you would feel safe in my arms. Little seed, I carried you to my breast, putting your jelly mouth there. At first your lips didn't take suckle, and then they did. How beautiful you were! You'd seen me from inside a thousand times, mornings, afternoons, nights. Now you saw my outside and I was frightened. Would you one day feel shame at the sight of me? Once I understood you were coming, my feet and ankles figured it out too—swollen like civet cats, and my toes, lumps of dough. I threw up and couldn't stop hungering for bacon drippings on sop bread. I touched hands to my belly, searching for you. When I felt a kick, I danced. A dark tree bloomed, dazzling flowers. My heart floated big and soft like a cloud of hyacinth petals. Now I rub the reddish-gold hairs on your head that feel like corn silk only softer, much finer. I tell you stories of the world when fish were birds that flew in the water and trees were the tiny children of the long grasses. I patty cake your hands that are warm as hot red peppers. My nostrils inhale the perfume of you. A white fragrance. You'll never hear how a cow kicked your pregnant grandmother in the stomach, I'll never tell you how she died in childbirth from my head large as a calf's trying to live. My father could not abide me. Not an hour old and I was already a murderer. Look at that dragonfly so suddenly huge.
" In the last year of my mother's life, she mentioned that I'd had a great-aunt whom I'd never heard of before. How could my grandfather's oldest sister be so invisible in family lore? I found that strange, especially in a Czech farming family where much is made of the blood ties.  My mother told me Anna was born with a big head and that my pregnant great-grandmother had been kicked in the stomach by a cow as she milked. My great-aunt wore a big hat and lived with her parents until her death at the age of 42.  My mother did not refer to her as Aunt Anna only as Anna. I wondered if her large head had rendered her in the family's eyes as an eternal child. Those bare facts sparked my imagination, and I began the Big-Headed Anna sequence. "