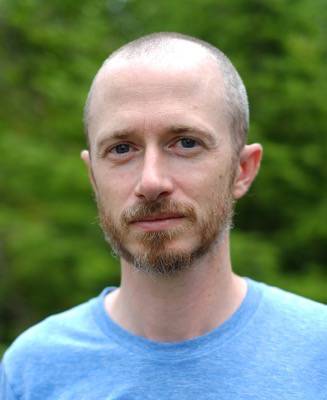 Adam Clay
Poetry
Adam Clay is the author of A Hotel Lobby at the Edge of the World (Milkweed Editions, 2012) and The Wash (Parlor Press, 2006). A third book of poems, Stranger, is forthcoming from Milkweed Editions. His poems have appeared in Ploughshares, Crab Orchard Review, Boston Review, Iowa Review, The Pinch, and elsewhere. A co-editor of TYPO Magazine, he serves as a Book Review Editor for Kenyon Review and teaches at the University of Illinois Springfield.
Performance Art
Like illumination, the light flatters our bodies
past the point of forgetting.

Remember how children careened
off their bikes into the void

of the avenue,

their skin holding back their bones,
despite the force of brick

upon the fragile human form?

The moment one goes from feeling
immortal to not feeling optimism

must be blurry,

I think, turning the nightstand lamp
off well before nine, imagining

the sleeping life blurring into the gestures
of the body, the way shaping the world

can shape our place within:

a lilac blooming before spring
and finding its way before its time.