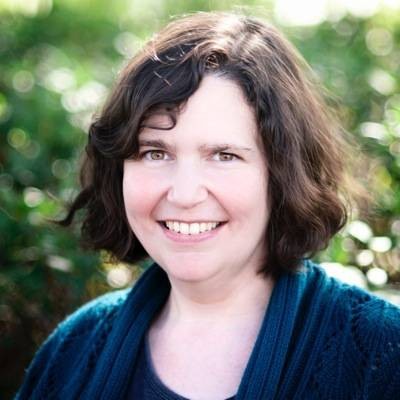 Sally Rosen Kindred
Poetry
Sally Rosen Kindred is the author of two poetry books from Mayapple Press, No Eden (2011) and Book of Asters (2014), and a chapbook, Darling Hands, Darling Tongue (Hyacinth Girl Press, 2013). Her poems have received two awards from the Maryland State Arts Council, and have appeared in Blackbird, Quarterly West, and Linebreak.
Proposing to Dickens
[Little Red Riding Hood] was my first love. I felt that if I could have married
Little Red Riding Hood, I should have known perfect bliss.
—Charles Dickens, A Christmas Tree
I want to be your Little Red.
I want to meet you in a wood.
We both know you were a flea-weak husband.
I don't want your hearthstone, your whining ring, spoon
unfolding the thick Christmas pudding
in the same cellar basin where I'd need
to stir the children's wash.
No dusk. No prone spoon.
Instead, our bodies tall between alders
(their thin leaves shaking like ghosts) and yours
in fur's smoke fury, asking
which path I'll take.
I want to find you in a bloodied blue dress,
grandmother, triumph-lined cheeks, saying
Guess

what?
and
The better to feed you with!
—
slinging for me your knife's wild story, a full bowl
of wolf stew.
I want to wait in my red child-
hood, wine-dark
as a closed book—
wait wolf-belly hard
for you to come with an axe,
blade eighteen chapters wide
to cut me out
of that mistaken house
as you did when I was twelve:
your Copperfield, wired on a shilling's worth
of whelks and pippins, lifting me away
from the mother spooned down
on the black den couch
and into the noon grit of your market streets—Southwerk
to Blackfriars, Hungerford Stairs—your mouth's dirty light
telling me
through, in sickness
and in hood, till death do us bread-
in-the-basket, death do us
teeth, my huntsman, my
alder, my Charles: your words,
my wolf,
first bliss
.
" A year or two ago I sort of lost my head and began reading biographies (yes, plural) of Charles Dickens. I did this because I found myself re-re-re-reading David Copperfield, remembering how it rescued me when I read it for the first time. When I came across Dickens's own feelings about Little Red Riding Hood, I knew a book had once rescued him, too, and so we connected, again—and I had to write (him) about it. "