With a Big Red Ribbon
by Barbara Westwood Diehl
Attention Locals: What better present than a gift of books from Baltimore-area writers. Journals, too. Tie a few up with a big red ribbon. Or put them in a basket with wine and chocolate and one of those little clip-on lights for reading under the covers. Throw in a gorgeous blank journal and an excellent pen to show your love. Here are a few to get you started. We'll be adding more soon.
BR contributors, past and present, from the Baltimore area: Publish a book recently? Send us the details. See books below. Thanks!
Shelley Puhak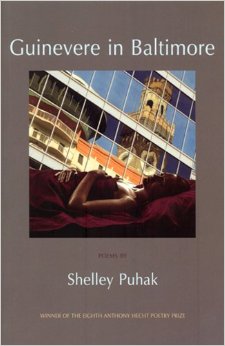 Title: Guinevere in Baltimore
Waywiser Press, 2013
Winner of the 2012 Anthony Hecht Prize, Guinevere in Baltimore comprises a sequence of dramatic monologues in which the Arthurian lovers navigate their doomed affair in our own age of austerity. Charles Simic, who contributed a forward to the collection, praises the poems' "sheer brilliance" and calls the book "masterfully crafted, a veritable feast for any lover of words." Baltimore's CityPaper notes that "local reader[s] will delight in the references to Baltimore, as in 'Guinevere, Meeting Lancelot at the Walters Art Gallery' or the exquisite 'Confession for the Bromo Seltzer Tower'" and declares that this is "a book easy to fall in love with."
When you find yourself on a fiscal cliff,
overfull of participles— going, going, gone—
ashen, cashless, and tempted to trickle down...
To purchase:
Direct from the publisher:
http://waywiser-press.com/order/wwp-order-online.html
Through Amazon:
http://www.amazon.com/Guinevere-Baltimore-Hecht-Poetry-Prize/dp/1904130577/ref=la_B002XRD7TE_1_1?s=books&ie=UTF8&qid=1385424342&sr=1-1

Moira Egan
Title: Hot Flash Sonnets
Passager Books, 2013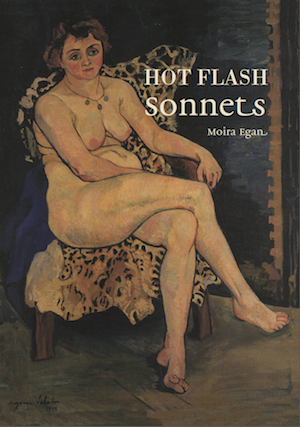 Molly Peacock says: "Impassioned sonnet virtuoso Moira Egan makes a magnificent obsession of the passing of the menses in Hot Flash Sonnets. Lusty candor is here galore—if the Wyf of Bath were reincarnated as a sonneteer, she would be Moira Egan—but it's the skill of this poet that dazzles, for she turns her stunning sequence into a vast landscape, contouring matters of beauty and aging in divinely controlled lines."
From "Sisters in Sweat Sonnet" (which won 2nd place in the BR 2012 literary competition on HEAT):
We're sisters in the sweat, hormonal buddies,
we swoon and flush, we peel our layers in legion.
We dress in gauze and veils, we're Salomes
of menopause. Rush, look out for the waves.
Available at the Ivy Bookstore, Minas, and on the Passager website here:
http://www.passagerbooks.com/order-pages/books/hot-flash-sonnets/
John O'Dell
Title: At Beauty's Pawnshop

Xlibris Corporation, 2013

Grace Cavalieri in the Washington Independent Review of Books, describes this full-length collection of poems as "emotionally fulfilling, musically precise."

From "What Fish Think":

They hope for elegant presentation
on a dish made by a master in love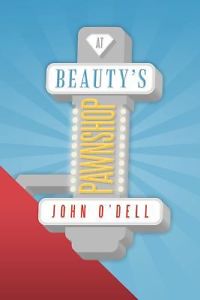 with his brush, or they dream of fresh
fallen plum blossoms in icy water

flickering in the lanky shadows
of mountains miles from the intrigue

of nets or a cormorant's cunning....

Available at http://www.amazon.com/At-Beautys-Pawnshop-John-ODell/dp/1479771090


David Taylor

Title: The War of 1812 and the Rise of the U.S. Navy
by Mark Collins Jenkins and David A. Taylor

National Geographic Books, 2012

Discover the epic naval story of the war that threatened to undo our nation in 1812. Riveting firsthand accounts bring alive this sea-level view of the conflict. Featuring a colorful, diverse cast of characters--from sailors, spies, and ship's surgeons to commodores, Navy wives, and privateersmen--and incorporating hundreds of photographs, period illustrations, and contemporary and original maps.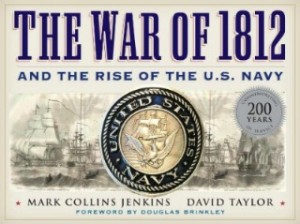 "I endeavor to be composed," she wrote. "I find all my fortitude is insufficient for the various calls upon it. Whenever you have a moment drop me a line! If I should hear a cannonading from Baltimore…"

Available at http://www.amazon.com/War-1812-Rise-U-S-Navy/dp/1426209339
Dean Bartoli Smith

Title: Never Easy, Never Pretty
Temple University Press, 2013

When the Ravens won Super Bowl XLVII in New Orleans, it was a joyous moment for fans and team alike. For Dean Bartoli Smith, a lifelong Baltimore football fan and writer for The Baltimore Brew and Press Box, it was especially sweet. In Never Easy, Never Pretty, Smith recalls the ups and downs and ultimate thrills of a special season while also showing how a football team impacts its fans and its city. Smith recounts the season from start to glorious finish while interweaving Baltimore's professional football history, telling his own story of growing up with the Colts, then gradually transferring adult loyalties to the new team in town, the Baltimore Ravens.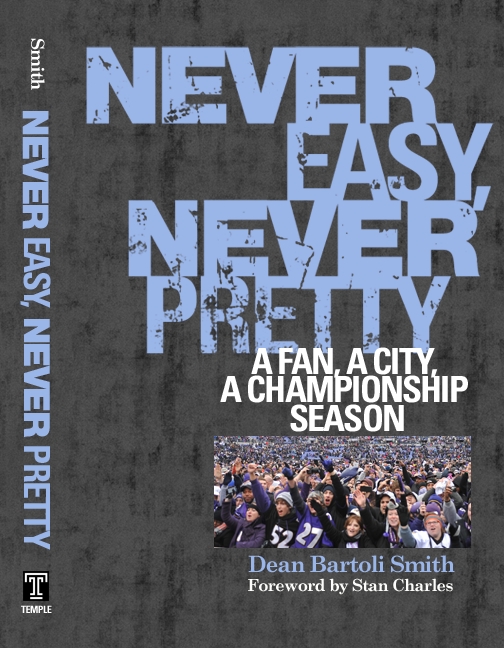 Family, friends and other fans share their recollections, too, letting us see how a football team becomes part of a community. Smith's game-by-game recounting of an improbable season brings back all the excitement and uncertainty as the team starts strong, wobbles, then finds its inspiration and character in the playoffs. For each game, Never Easy, Never Pretty features a diverse array of quotes, interviews and commentary from players, broadcasters and executives, including Joe Flacco, Ray Lewis, Art Donovan, Kevin Byrne, Steve Bisciotti and Ozzie Newsome.

Never Easy, Never Pretty highlights the Ravens' electrifying season and celebrates a team, a city and the emotional landscape during an unlikely run to a Super Bowl victory. The result is an insightful and poignant book about much more than a championship season.

"I loved this book. I couldn't put it down. Beautifully written, it's a must-read for Ravens fans! We all know the outcome and I still couldn't wait to read the next chapter. You'll have to read it to prove that it really happened! The most important plays are thoroughly detailed, giving that scary, anxious rush that we had most Sundays."
—Vince Bagli, retired Baltimore Colts announcer and sportscaster

"Dean Bartoli Smith's Never Easy, Never Pretty will help satisfy the hunger of so many Baltimore Ravens fans wishing to re-live the club's remarkable 2012 title year. It's a virtual play-by-play re-enactment. But, more than that, it's about the long love affair that's consumed so many in Baltimore, which commenced with a team called the Colts and continues, strong as ever, with the beloved Ravens."
—Michael Olesker, author of The Colts' Baltimore: A City and Its Love Affair in the Fifties
Never Easy, Never Pretty reaffirms why loving a sports team like the Ravens is so important. It is an entertaining account of an incredible season written by a fan for the fans. Smith celebrates the resilience of a team, the passion of its fans, and the character of our city."
—Keith Mills, Sports Commentator, WBAL
"You will get a kick out of reading Never Easy, Never Pretty—especially if you were a fan of the Baltimore Colts in the late 1960s and 1970s."
—Art Donovan, Baltimore Colts Hall of Fame Defensive Tackle
"Never Easy, Never Pretty offers a refreshing fan's eye view as if you are sitting at Memorial or M&T Bank Stadiums discussing the heritage of the Colts and the Ravens with fellow fans. The book will leave a legacy for future generations to understand the crossover between the Colts and Ravens—showing that Baltimore always was, and still is, a great football town."
—John Ziemann, President, The Marching Ravens Band
"As the subtitle indicates, this book is a fan's memoir, the view of a championship season from outside the team.... [Smith] recounts the Ravens' championship 2012 season in light of his personal background and the history of pro football in the intimate small market of 'Charm City.'... VERDICT: This is heartfelt writing."
—Library Journal

Available at http://www.amazon.com/Never-Easy-Pretty-Championship-Season/dp/1439911061


Brandi Dawn Henderson

Title: Whereabouts: Stepping Out Of Place
2Leaf Press, 2013
WHEREABOUTS: STEPPING OUT OF PLACE is an anthology of the best nonfiction stories from "Outside In Literary & Travel Magazine," an online journal founded in 2011. Editor Brandi Dawn Henderson presents thirty-eight emerging and established global storytellers who share stories discussing what it means to enter a new place; the kinds of worlds that exist to others that we, ourselves, do not experience; and how place and/or circumstance can affect who and how we are. Whether it is the story of a dog musher's girlfriend, a heavy-metal-loving Marine, an Inner Mongolian lover, or a Mormon missionary living in a dangerous land, this anthology explores the question: Why does anyone take the first step to anywhere he or she doesn't "belong?"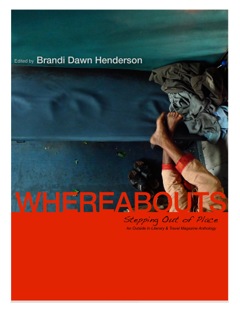 "The voices in Whereabouts offer a completely fresh approach to travel and life 'out of place.' Compellingly narrative and, at times, dazzlingly lyrical, we hear and feel the uncensored inside stories—both cerebral and sensual—of people settling in or on the move all over our bright world."
− Henry Hughes, Harvard Review
"Each tale in this brilliantly curated collection deals not only with places and the people that make them, but also with the transformative aspects of travel, inspiring us to take our own daring first steps into the unexplored."
− Margot Bigg, author of Moon Living Abroad in India
"The collected essays of Whereabouts capture the traveler's paradox: a fascination with the ephemeral sense of the exotic versus the desire to belong, or at the least make peace with one's role as outlier. … A joy to read."
− Joanne Cavanaugh Simpson, author of Literature on Deadline and lecturer in The Writing Seminars at Johns Hopkins University
Available at The Ivy Bookshop, Minás Gallery & Boutique, and through Amazon:
http://www.amazon.com/Whereabouts-Stepping-Literary-Magazine-Anthology/dp/0988476363
Jen Michalski

Title: The Tide King

Black Lawrence Press, 2013

Stanley Polensky and Calvin Johnson serve in Germany during World War II. Calvin, near death after being shelled, is given a bewitched herb by Stanley but then left for dead. Each soldier returns from the war and years pass. Calvin, discovering that he cannot age and cannot die, searches for Stanley to get answers.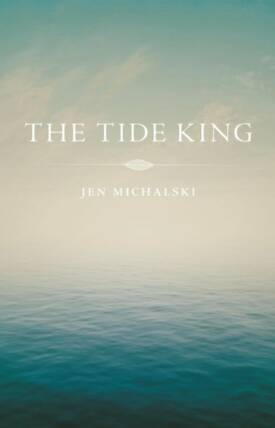 Michalski's The Tide King is the story of burnette saxifrage, an herb rumored in Polish folklore to provide those who eat it with immortality, and its effects on three generations of a Polish family over two continents beginning in 19th-century Poland and ending in 1976 America.

But it is also the story of young men's sacrifice during great wars, of a young child's experiences during the holocaust and being a war orphan, of the curiosities of the American century, such as 1950s country music and smoke jumpers in the Montana mountains and 1970s New York. Just as Viking king Cnut, who was rumored to be so powerful that he controlled the tides at his feet, discovered "how empty and worthless is the power of kings," Calvin Johnson and others cursed by the herb find in The Tide King that the power of youth and immortality is an empty gift, for they will continually witness the death of their families, lovers, dreams, and ideals.

"It's likely that this book will finally make Michalski known to the wider world-in a big way. Seriously, if I weren't entirely averse to all attempts to predict the future, I would say this book will be huge. But there's no accounting for people's tastes, so I will say instead, with some certainty, that it will be important."
—Baynard Woods, The Baltimore City Paper

"Though admirably multidimensional, Michalski never fails to tell compelling stories capable of challenging and surprising readers. That readership figures to grow substantially if she continues producing work of this caliber." - Baltimore Magazine "Jen Michalski's long-awaited novel, winner of the Big Moose Prize, promises to be an important book in the American lexicon."
—Rosalia Scalia, The Baltimore Sun

"The best of books challenge us to reexamine our beliefs. As I read The Tide King, I found myself reconsidering death, thinking of it not in the simple terms of negation and loss, but as an integral--and even welcome--function of life."
—Curtis Smith, Prime Number Magazine

"And as pieces fit into this sophisticated and brilliant puzzle of a novel, it is the stories that draw us in, as well as the real problems of characters we come to know through the writer's skill."
—Merridawn Duckler, Heavy Feather Review

"Go read it. If Jen Michalski doesn't get massive attention and deserving praise as a result of this novel, I'll be the woman in Indiana with her mouth permanently hanging open and a scowl on her face." - Melanie Page, Grab the Lapels "Michalski, much published and well versed in the narrative arts, gives us a chilling ride through the blasted emotional landscape of life's losers."
—Richard Derus, The Small Press Book Review

"Jen Michalski's The Tide King is a vividly told and engrossing debut novel, a profound exploration of mortality."
—David Gutowski, Largehearted Boy

"The book defies categorization. It's not purely realistic but neither is it science fiction. Perhaps all you need to know is that it is a good read and will--if you allow it--provoke thoughtful and intense conversations with yourself and others about the use we make of our lives and how we touch and care for others."
—Barbara Morrison, author of Innocent

Available at http://www.amazon.com/The-Tide-King-Jen-Michalski/dp/193785437X



Sally Rosen Kindred

Title: Darling Hands, Darling Tongue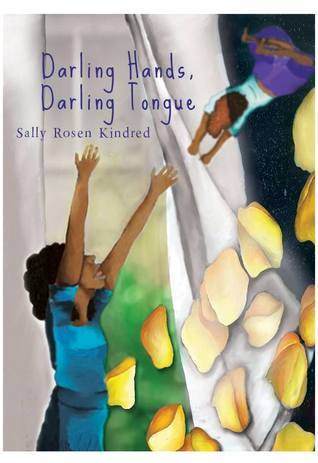 Hyacinth Girl Press, 2013

The poems in this chapbook journey back past our Disney childhoods to revisit JM Barrie's original Peter Pan and Wendy, giving fresh voices to Wendy Darling, Tinker Bell, Tiger Lily, the Lost Boys, and to consider the world of contemporary mothers reading this story to their children. In Weave Magazine, Angele Ellis writes, "The starting, exquisitely crafted free-verse poems in Kindred's Darling Hands, Darling Tongue supply what is missing [from the original story] by both reimagining and subverting Barrie's Edwardian boy's dream…."

From "Tinker Bell Thinks About What She Wants":
Peter,

pull me down. I want you
but wish I did not need your hands
to do my dirt work, your heavy heat to solder
or your pretty mouth to
tell me over, make me more
than a sliver of a dead child's laugh.
Kiss me kettle-hard: yank
my sorry ass from Never.
Somewhere I'm skin without wings.
Somewhere my name means tough as light.
Available at Hyacinth Girl Press: http://hyacinthgirlpress.com/yearthree/darlinghandsdarlingtongue.html



Rafael Alvarez

Title: Tales from the Holy Land

Perpetual Motion Machine Publishing, 2013

Featuring an introduction by the great Afaa M. Weaver, the stories in this book take place along the narrow streets and alleys of Alvarez's heartbreaking hometown, charting secret histories of the last 100 years through the difficult and hopeful lives of tugboat men, junk collectors, beautiful women, short order cooks and an artist who captures it all in house paint on the sides of abandoned buildings.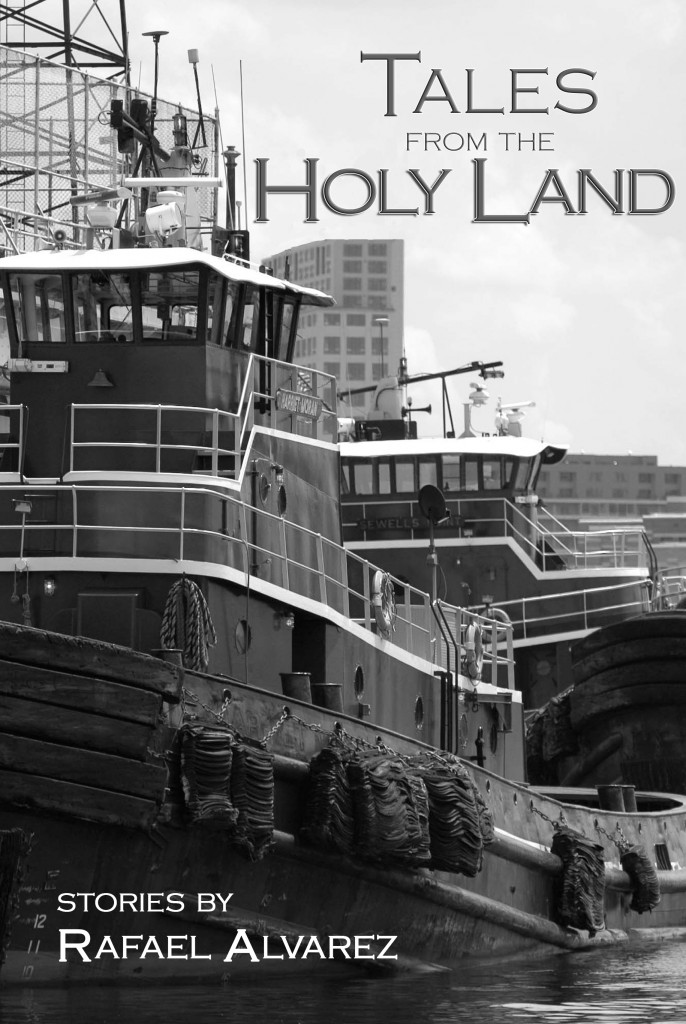 Here is what James McBride (recent recipient of the National Book Award!) had to say about Tales from the Holy Land:
"This is a Baltimore that most of us have never seen. Behind the marble steps, the tightly shuttered windows of the silent row houses, the chugging tugboats and worn waterfront factories, was a magical, old American city of immigrants and dreamers, drunks and gypsies, factory workers and watermen, saloon singers and bullyboys, all making it on nickels and dimes, conducting their lives in a silent symphonic march of gallantry, courage, and quiet dignity.
"These are Americans we rarely hear about, told by a gifted native son, who can point to the place in the Chesapeake Bay where his father worked a harbor tug and the factories where his grandparents left their sweat and blood. Alvarez's talents – poetic deftness, tight dialogue, burning descriptive passages laid out with seeming ease – shows why he was one of the gifted writers that turned The Wire into the greatest show in television history.
"His Tales are stories from the treasure chest of one of America's most talented scribes, and I am glad he shared them with us."

Available at Amazon.com, Barnes & Noble.com, or publisher's website: http://perpetualpublishing.com/product/tales-from-the-holy-land/
Comments: