Throwback Thursday - "A Love Supreme" by Mary Morris
by Holly Sneeringer
We are honored to feature "A Love Supreme" by Mary Morris, originally published in our Spring 2012 issue. It is an opportunity to revisit this elegant poem where different art forms converge, adding breadth and depth to the ongoing spiritual conversation that John Coltrane's song pulls us into. And the last line of this poem certainly lingers in our minds.
A Love Supreme
—John Coltrane


No coincidence that in Renaissance paintings
the angels are playing horns. They got that right.

It's about the deep choice, the passion
one comes into after so much suffering,

digging in and turning out
a hymn without words,

about the evolution of his song—the angelus,
acknowledgement (I have wronged),

how love turns itself on
finding resolution in the greater Master,

the one who saves you from yourself,
about pursuance (of this earthly heaven),

passages in psalms—notes,
translated through a horn—

a deep flower,
blue throat of the Lord.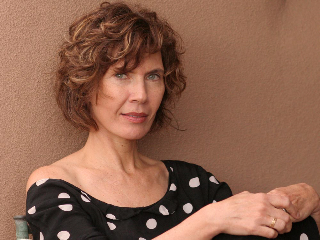 Mary reports that she is living and loving under the clear blue skies of New Mexico, working on a series of poems about her mother who is 93. She is actively seeking a publisher for her manuscript of poems and has recently published in Poetry, Prairie Schooner, and The Columbia Review.
Comments: