Milestones
by Barbara Westwood Diehl
Let me get a little sentimental here. For just a couple of minutes. I promise.
The Baltimore Review is now celebrating 20 years of publishing and, yes, this really is a very big deal for me. In the coming months, expect us to celebrate in as many ways as we can conjure up. And we're actually pretty darned good at conjuring up ways to celebrate. We also love a good party. More on that later.
Twenty years ago, the people listed on this page to your right were busy cooking up a journal that, we hoped, would feature not only local writers but writers from all over the U.S. From everywhere, really. We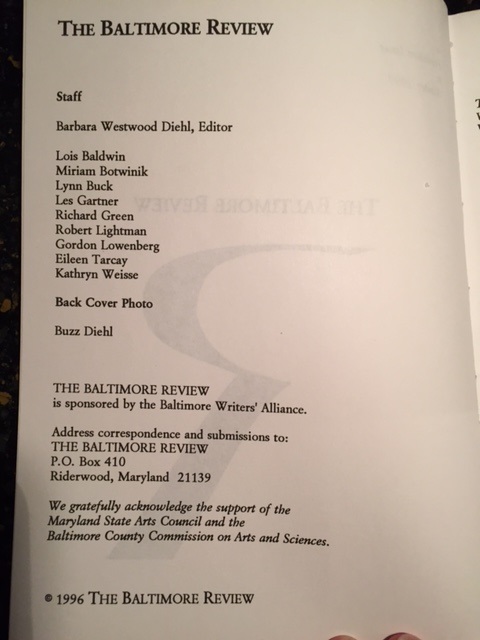 wanted to create a journal that would showcase the best writing we could get our hands on. We had a vision and went for it. We plunged in and did it without worrying too much about how we could actually pull it off. Somehow, it worked.
And it's still working.
I wish that all our founders could see how far we've come. I think they'd be more than a little pleased. I hope so.
I miss them. But the journal is also fortunate to have had many writers in the literary community contribute to the journal over the past 20 years. And I'm grateful for all of them, as well. The whole crazy—and smart and talented— lot of them.
A few images that pop into my mind—if only I had photos! Those Baltimore writers sitting around dining room tables—where all great ideas are born, right?—discussing names, logos, how to gather submissions, what kind of work to publish, how to review submissions, how to fund printing costs, how to get the journal into bookstores. That excitement.
Going to the Riderwood post office almost every day while my kids were in school to get the envelopes from our PO box.
Typing every accepted submission in whatever word processing program I used back then. Figuring out how to get bar codes and cover photos. Printing all the pages out to send to the printer, who would send boxes of the final book to the distributor, as well as some boxes to me. Finding the typo after getting all those boxes delivered. OK, forget that image. There's something to be said for POD. Seriously.
Driving to bookstores with boxes of the journal in the trunk of my Ford Escort.
Driving to editors' houses with grocery bags of submissions for their review. They'd write their decisions and comments on the envelopes.
Sitting at Artscape, Baltimore Book Festival, CityLit, AWP, Frostburg Indie Lit, Writers Center, Split This Rock, and other tables. Getting the word out.
That first table of contents: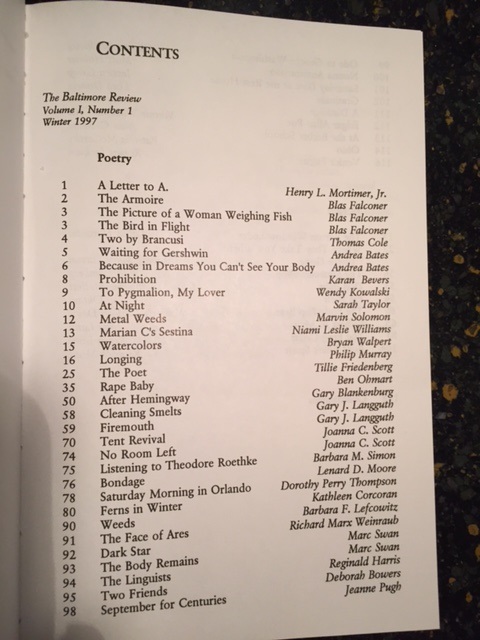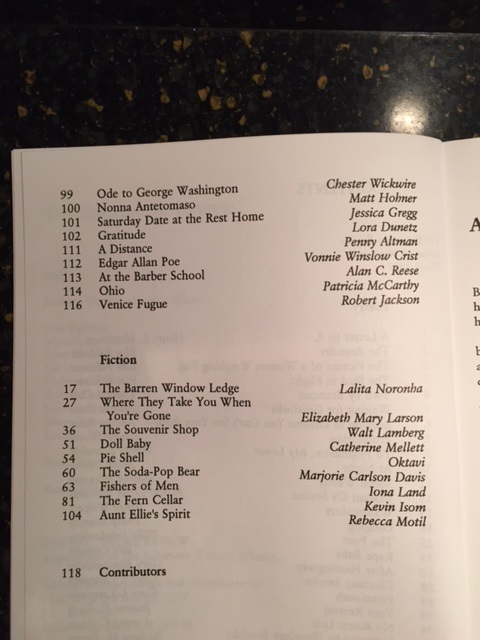 And now, the online world, and finding ways to take advantage of all it has to offer. But still putting out a book. Because 20 years later, we still love books.
"Milestones" will be our next contest theme. Expect to see that "milestones" idea used again and again in other ways, too, during the coming year. The blog, of course. And, yes, there will definitely be a party. Editors and contributors from years past, you're all invited.
Thanks!
Comments: