Creating Safe Spaces for Student Writers
by Lisa Lance

Q&A with Patrice Hutton, Founder of Writers in Baltimore Schools


Last year, I had the privilege to volunteer as an instructor for Writers in Baltimore Schools (WBS), teaching a weekly creative writing workshop to fifth grade students at Waverly Elementary/Middle School. It was one of the most difficult, and rewarding, things I have ever done. The first few weeks were a little rocky, as the students learned to trust me and I learned how to manage a classroom of 10-year-olds at lunchtime, but as we settled into our routine it became clear that they needed this creative outlet. My students loved developing new stories for familiar characters (they seemed fascinated with horror movies), writing and acting out their own plays, and expressing themselves through journal entries and poetry.
WBS offers in-school and after-school programs for middle schools students in both Baltimore and Washington, D.C., as well as the Baltimore Young Writers' Studio, a weeklong summer writing camp for Baltimore City Public School students. In the past year, WBS also held two Black Words Matter write-ins, which gave young people in Baltimore the opportunity to express their thoughts and feelings about the deaths of Michael Brown in Ferguson, Missouri, and of Freddie Gray in Baltimore.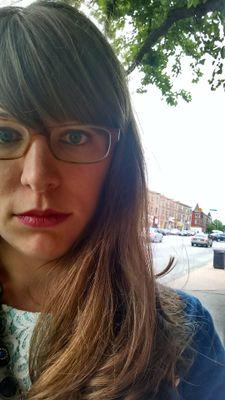 Patrice Hutton (patricehutton.com), founder and director of WBS, piloted the program her senior year at Johns Hopkins University, and it gained momentum the following year when she received start-up funding through an Open Society Institute Baltimore Community Fellowship.
Named one of b's "10 People to Watch Under 30," Patrice's fiction and nonfiction have appeared in Tin House Flash Fridays, TheHairpin, Public Books, Prime Number Magazine, and elsewhere. I recently had the opportunity to pick her brain about starting a nonprofit right out of college, her journey with WBS, and her own writing process. Here's what she had to say:
How did you get the idea for Writers in Baltimore Schools?
As a sophomore, I taught creative writing at an affluent Baltimore City public school — a school with the resources to send every K - 8 student through a creative writing program, run by an in-house creative writing coordinator. Other Baltimore schools don't have money for programs like this, so I started thinking about how to build an organization that could deliver programs like this.
What was the process for starting the organization? Did you have help along the way?
The Open Society Institute Fellowship program has my undying gratitude. From the startup funding to the network of fellows, they've mentored me through my twenties. I'm also lucky enough to be supported by a terrific advisory board, which I consult with daily.
What has been the biggest challenge so far?
Learning how to fundraise without having worked in a development office first. If I'd have known I was going to end up in this line of work, I would have tried to intern in a development office during college.
What has been the most rewarding thing?

Getting acquainted with Baltimore's young writers! And watching them grow up. One of our very first students — who I met as a 7th grader — is now a sophomore at Morgan State University and a staff member of our Baltimore Young Writers' Studio (our overnight writing camp).
Tell us about the Black Words Matter write-ins you've held.
Quite simply, we wanted to provide Baltimore students with a space to write about the events first in Ferguson and a few months later, at home in Baltimore. Our kids experience profiling and discrimination daily—on their walk to school, at the mall—and their anger, fear, and pain is palpable. At the write-ins, they expressed it all through very moving poetry, which was published by the Poetry Foundation, Real Pants, and a number of other online publications.
When did you know you wanted to be a writer?
My mom recently dug up some stories I wrote in second grade about a trio of lizards working through friend drama. I named the lizards after characters from The Baby-Sitters Club. So my origins of wanting to be a writer essentially lie in writing Baby-Sitters Club fanfic about reptiles, trying to work through the drama I was having with neighbor girls.
What's your writing process like?
I wish I knew! I'll tell the tale of two pieces of flash fiction I've had published recently (in the same place). I wrote the first piece all in one sitting, start to finish on a four-hour bus ride. The second piece required heavy historical research, so I wrote it very piecemeal: little more than a sentence or two per day for three weeks. But I'm grateful to have gone through the second process, as it's too much pressure thinking that every time I sit down on a four-hour bus ride I need to produce a complete short story. I actually like writing long pieces the best, especially if I'm waking up and going to the same coffee shop every morning. I like the daily thrill of sitting down and not being sure where the story is going. For revision, I have to be much harsher on myself and develop all sorts of checklists.
What's the best writing advice you've received?
A teacher told me that writing fiction is about "having the most interesting characters possible get into the most interesting trouble possible." I've clung to that advice, and it helps me at every turn.
What do you say to teenagers who are interested in writing?
Read, write, and find a loving critic for your work. I think a willingness to receive criticism is key for young writers, and we strive to create safe spaces for that in WBS programs.
Comments: