BR Contributor Kathleen Toomey Jabs, 10 Years Later: Black Wings
by Barbara Westwood Diehl and Kathleen Toomey Jabs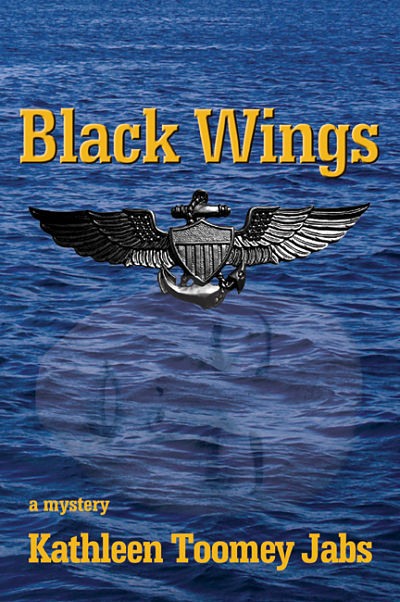 In 2002, The BR was proud to publish "You Have to Stand for Something" by Kathleen Toomey Jabs. Now, the BR is proud to have Kathleen as a guest on the BR blog. Congratulations on the publication of your novel, Kathleen!
Kathleen shares her story:
"You Have to Stand for Something" was my first story set at the Naval Academy, my first work to feature Bridget Donovan, and my first publication. After years of drafts and avoiding writing about the military, I'd finally found the conflict and the voice to explore the world of women at the US Naval Academy. My own military background was something I tended to hide or downplay. As a 1988 Naval Academy graduate, my experiences of school and the military, in general, were complicated. Once I started writing fiction in a military setting, I found I wanted to understand the women and tell their stories.
In "YHTSFS," Bridget is separated from her family for the first time. She deals with the rigors of plebe summer and tests the bonds of classmate loyalty before she chooses to stand by her classmate. Ten years later I can say those same descriptors are true for Black Wings, my first novel, also set at the Naval Academy and also featuring Bridget.
In 2002, I was at work on a collection of short stories and "YHTSFS" was the lead. I sent "YHTSFS" to The Baltimore Review because the web said, "short stories by writers from the Baltimore area and beyond." I was living outside of Washington, DC. My story was set in Annapolis. I figured the "and beyond" category fit me. I tailored my letter and sent off the story. Weeks later, I received a response--my story was accepted. I called my husband and danced with the kids. The sense of validation was intoxicating. Soon after the story was published, Barbara Diehl then, as now, the editor of The Baltimore Review sent me an email. An agent had contacted her after reading my story and she wanted to know if she could pass on my email. I read her note twice. Yes, I answered. Yes, yes, yes.
I corresponded with the agent, my mind overflowing with possibility. While I'd been writing linked stories, a novel made more sense. The agent made no commitment, but I felt like I had an agent-in-waiting. It was the boost I needed to start writing a longer piece.
I'd always felt Bridget had more to her story, that my short story was, ultimately, too short. When I set the story at the Naval Academy, one character didn't seem like enough. We lived so closely back then – a roommate just a few feet away, company mates up and down the hall. We were individuals, but we were also part of a pack, a tribe, of sorts. I wanted to reflect that world.
One day the words, "Audrey Richards wanted to fly," echoed in my mind. Gradually, I came to know Audrey—a fierce, driven, charismatic woman from New York. She replaced the original roommate from "YHTSFS," a character drawn more from memory. In Black Wings, Bridget and Audrey share some of the same plebe year experiences present in "YHTSFS." Many of those scenes still resonate with me and are drawn (partially) from my own experiences--the tension in King Hall (the dining hall), the plebe autumn formal, the marching and rifle maneuvers as well as the sheer physical exertion of constant physical training (PT).
At one point, as I read over a PT scene, I counted 8 pages for Bridget to do 2 push-ups. Every drop of sweat was (literally) a sentence! Was I recreating memory or did I really believe this description of Bridget's ordeal somehow furthered the plot? I eventually cut the push-ups to a paragraph. Plebe summer scenes with uniforms and rifles underwent similar revision as I separated my memories from Bridget's world. I'm not as brave or as mouthy as Bridget nor as resolute as Audrey, but through their experiences I was able to do and say things I wished I had. It was incredibly freeing.
Writing Black Wings, I approached the keyboard with a sense of wonder rather than a list of memories. I walked the Naval Academy cemetery to capture the mood and some of the landmarks, but when I sat down I wrote about mausoleums that didn't exist, honor boards that weren't held. I continued on that way, blending real-life places and bits of memory with fabrications to create what I hoped was a true depiction of Naval Academy life in the early years of female integration.
A female USNA grad wrote me after she finished the book. "Wow, that brought back some flashbacks. Did this really happen?"
"No," I told her, "but I think it could have."
http://fuzepublishing.com/books
Comments: