Book Free For All – Stumbling Across Paducah's Familiar Face in Baltimore
by Holly Morse-Ellington
I developed a ritual where every weekend I'd drop by Greg's Bagels for coffee on my way to The Book Thing of Baltimore. I tried to donate as much as I took from their selection of free books but, for me, books represent an experience that I prefer to hang on to like photographs. One rainy Sunday morning I'd accumulated a greedy haul. Not an entire storage crate's worth, several of which other Book Thing regulars kicked across the floor to spare their backs, but I'd filled a large shipping box. Before leaving I browsed the section of shelves reserved for reference, essays, and humor, which are usually stocked with encyclopedias and comic books. I was scanning the titles and illustrations on spines with disappointment when a familiar face stopped me. The profile of a man with a chubby face that could be mistaken for Alfred Hitchcock if it weren't for the cigar sticking out of his mouth.
There, among dictionaries of word origins and Garfield the Cat-like cartoons, I saw two books by Irvin Cobb, an author from my hometown, Paducah, Kentucky. Needing my hands, I set my box aside and put one of the supplied cardboard "Taken" signs on top. Both 1940s hardback editions of Exit Laughing and Favorite Humorous Stories of Irvin Cobb showed their wear. Exit Laughing's book jacket was yellowed and crumbling. The collection of stories lacked a jacket cover and corners of its brittle pages. Delicate as they were, they were pieces of my heritage.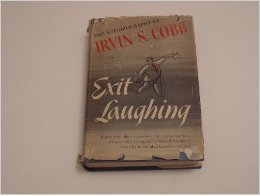 My grandfather introduced me to Cobb, Paducah's first Ambassador and an O. Henry Award winner, when I was a kid. One of our favorite ways to spend time together was to tell stories, and Cobb inspired many of the yarns he spun, including his tale that frontiersman Daniel Boone was our ancestor. When he thought I was old enough to appreciate Cobb's subtle humor, and to handle his first edition copies, we read Speaking of Operations aloud. As a youth, I couldn't appreciate the hilarity of surgeries and doctors, so my grandfather slapped his knee every time I should laugh.
My grandfather lived the majority of his life in Paducah, but he spent time during WWII stationed at Aberdeen Proving Ground. It was while in Baltimore that he learned of H. L. Mencken, one of Cobb's contemporaries and another author we liked to discuss. I thought it was a neat coincidence that my initials were H. L. M. From that teenage moment I began signing my name H. L. Myers and dreaming of combining politics and writing as Mencken and Cobb had done. My grandfather encouraged these dreams, even though they led me to law school in Baltimore and farther away from our close bond.
It felt like fate that, a few years after my grandfather's death, with law school behind me and a few satirical publications to my new, married name, I'd come across a piece of home among the hodgepodge of books on a Baltimore shelf. Despite their dusty and tattered condition, I tucked the two books under my shirt. Not to steal of course, but to protect from the rain on my walk to the car. I never went back inside to collect my stuffed box of "Taken" books. I've even broken free from my weekend habit of hitting up The Book Thing. I found all I needed.
#
We open books to discover what story awaits us. A friendship or love, a tragedy or truth we connect with. But what discoveries await us in the process of finding a book? Unlike browsing through bookstores, and even libraries, the experience of swapping and taking books from free book exchanges and websites can be full of surprises. It may be that you come across an out-of-print book that changes your life, or find a book with notes written inside that are more interesting than the published story itself. Maybe you reconnect with an old friend or make a new one while discussing or fighting over the single copy of that special book. Perhaps you've been going to free book depots or swapping titles online long enough to be a pro and you have some tips to share. Whatever your experience, Baltimore Review wants to hear about it for our blog. Submit your blog post of 500-words or less to editor@baltimorereview.org.
Comments: