AWP Envy
by Jennifer Lee
I'd been writing for over ten years before I even heard of the AWP conference. Friends who'd recently finished an MFA were going, and for days beforehand it was all they talked about. Nowadays I'm well aware when the annual writers conference rolls around. As surely as sap begins to run in the trees, friends planning to attend begin posting their excitement on Facebook.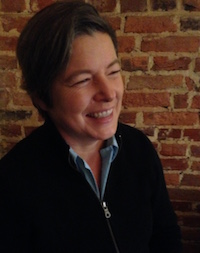 Every year I briefly think about going. There is the cost—travel, hotel, registration, and all the rest. There is also the matter of begging off my teaching job for a few days for reasons many might not appreciate. In 2016 the AWP conference was in LA, all the way on the other side of the country, and not for a minute did I seriously consider attending.
But as the 2016 conference approached, more and more friends posted enthusiastically about their plans to attend, and I felt the green spike of AWP envy once again begin to sprout. During the conference itself photos abounded of friends and acquaintances sipping wine around long tables of smiling writers. How I wanted to be there! How I wanted to have my own stack of books and journals purchased at the book fair, reunite with fellow writers I hadn't seen in far too long, and meet editors and publishers and writers whose work I admire. How I wanted to immerse myself in the literary community for three and a half days in that bright California sunshine.
My envy waned as the conference passed and everyone got back to the business of daily living. I would have moved on entirely if a final Facebook post hadn't alerted me to the fact that the 2017 conference will be held in DC. So close to home! I could drive! I could stay with friends! I made up my mind: AWP, here I come.
The possibility of attending the conference drove me to the website, where I checked out all that had been offered in 2016. I was smugly pleased that I'd seen Claudia Rankine, one of the featured presenters, at Goucher College in January and would see her again at the CityLit festival in mid April. But Jonathan Lethem? I missed him. I missed Emily St. John Mandel too, who is a major style crush of mine in literary and other ways. Well, I thought, as I perused the obsolete schedule of the 2016 conference, maybe these literary stars will be back next year.
When I looked at the schedule itself, the list was so extensive it caused an anxiety spike. How will I ever choose what sessions to attend?? I'm thinking there is a niche market here for something akin to a personal shopper. If selecting good conference sessions is a skill you have, let's connect in early February 2017, because I'm going to need some help.
February in D.C. does not compare to L.A. in March. I don't anticipate an offering of yoga for writers, and even if there is such a session it will have a very different vibe. And white wine on the patio after hours won't make any sense when the temperature is thirty-five degrees and the skies are spitting ice and rain. No matter. I'm not going to the AWP conference in 2017 for the sunny weather. I'm going for all the rest.
Comments: